Eleftherios Plafountzis is the founder of the tech start-up company, Prometheus Space Technologies. You probably haven't heard of this business yet because they only just started working towards some amazing space-related tech. In fact, the company is currently designing a satellite system that will provide a service known as 'active debris removal', which refers to the process of preserving the near-Earth space environment. Naturally, this area of space management is still a relatively new arena of tech development.
Thankfully, Eleftherios was able to answer a few of questions and clarify some of the new exciting developments in the world of space and his world.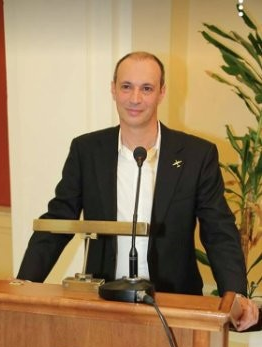 Eleftherios, when did you create Prometheus Space Technologies and what is the primary vision?
Prometheus Space Technologies was the result of hard-working level experience gained on the aerospace sector in the Hellenic Aerospace Industry, building and assembling parts of the Lockheed Martin F-16 Fighter aircraft. From 2002 until 2014 myself and my colleague and co-founder, we have worked and gained experience from every single F-16 built worldwide, and this offered us a vast working experience, only a few aircraft mechanics and engineers could reach.
Additionally, my studies on the open learning sections on the top world universities such MIT, Harvard, Ecole Polytechnique Federal de Lausanne, Australian National University and Queensland Institute of Technology, in the sectors of Aerospace Engineering, Astrophysics, Astronomy and Robotics,  lead my researches and my studies to the birth of Prometheus Space Technologies which we intend to be the more advanced space pioneer worldwide!
At Prometheus Space Technologies we intend to create a well-established organizational structure to achieve its goals and objectives of becoming the leading name globally, in the space technology industry. To do so, we work hard every day to make Prometheus the world's most respectable space pioneer, who does the space a safe area. When we make reality this mission, we will complete our vision which is: "To be the world's largest and leading provider of space products by ensuring a proper mix of quality with affordability".
Prometheus Space Technologies is going to offer a variety of space technology products to the global market. The intention of starting this business is to ensure that there is minimal risk of collision of the object during space travel.
What is the story behind the product you create?
The world scientific community can't hide the problem of space debris anymore. The threat is real, and it would be greater in the few years to come. It is the same problem humanity already has faced in the past in the sea's pollution, and it's hard to even now, with this advanced technology we have, to deal with it.
Hundreds of years ago, the ocean was uncharted.  It was vast, and it was clean.  As the industrial revolution began throughout the world and transformed and progressed into the 1900s, we saw the ocean as a dumping ground, too large to ever see the trash accumulate we were filling it with.  We made the mistake of thinking it was too vast to notice our trash.  But in only a fraction of our existence, the ocean has become polluted and filled with trash and garbage in a way that has put our entire ecosystem in jeopardy.  We now must work backward to solve the problem.
Prometheus, like all great companies, understands that knowledge of history is vital for venturing into the future.  Space today is no different than our oceans were 100 years ago.  We seek to proactively confront debris and trash in space in a way that keeps space clean as our world boldly ventures into the new frontier.  Prometheus seeks to build a foundation and name that will long be associated with space commerce for decades even centuries to come.
How you going to achieve this vision you describe, and how you intend to differentiate your business so you can compete effectively?
To complete our mission and establish our vision, we have designed and we are in the development phase of our current major project which is the "Charybdis" Satellite System and its mission is Active Debris Removal from Low Earth Orbit. Is a satellite structure with state of the art design and function far from the competition. In the payload area, it will deploy a system of our design type of shredders that would reduce debris parts mass to near-zero emissions  At the cone tail section will exit a tiny amount of dust or powder that will not be a threat to safe orbit and this will make the orbit safe. Additionally, there are designed two more pioneering configurations: One with the option of creation of a debris tank area that would collect debris space parts for recycling into Earth's interested company users. Finally, there is also a designed a configuration of satellite servicing mission through robotic deployment components.
Those functions are certain that is more effective and more cost-effective to any competitive company worldwide. So far, any project created to confront space debris is very costly and very risky in a way that the world scientific community decides that space debris removal is a hard and costly task to accomplished.
Prometheus Space Technologies presents a better, and improve, a cost-effective and serious low costly study capable of giving a solution to a top global problem with a tremendous impact. In short terms we are far ahead of the competition simply because we have development the most economical high-tech product, the most efficient high-tech product, we assure the simplicity of our product, we have Organizational agility, we sure promote creativity and new ideas, most of all we make a direct challenge to the Status quo, we provide to our investors potentially rapid growth, and finally, we have a strong and highly motivated team who willing to face challenges and opportunities!
Who is the team of Prometheus, behind all this, and how they can assure that they can succeed?
That's an excellent question and thank you for that because you give me the chance to present a business team that makes me enormously proud and they can assure the success of our efforts. Prometheus Space Technologies team is a great and strong diverse team with longstanding relations and extreme high motivation for global success. Ten formidable individuals create a complete team, covered all the company aspects. The cofounder's team is three aircraft mechanics with unique working experience at a global level and they can guarantee the fluent construction of the satellite system, and our Human Resources experience partner.
This team has the scientific support of three top university professors, and researchers in the aerospace field with many books and researches published worldwide who will put up the weight of the scientific validation of the structure and the process.
Our two high ranked Hellenic Air Force Officers with the scientific knowledge and the know-how from U.S. and European Universities can guarantee the process, the risk management, and Public Relations.
The team of formidable individuals completed with the marketing knowledge of our businessman associate and the high ranked police officer (ret) with the field of expertise in cyber and information security.
This great team has the support of top Greek professors in the field of Aerospace, Astrophysics and Astronomy. Additionally, we have the scientific assistance of the Electric Aviation and Aerospace Association of Greece and the technical support of the Aircraft Engineers Association of Greece for the technical part of the construction.
A team like this, how is it possible to fail?
You believe that you need to be lucky also, to achieve all those tasks you referred to?
Your question reminds me of a short story, which I always had in mind during the Prometheus Space Technologies creation. The sorted story goes like this:
"Someday the young Alexander asks his mentor Aristotle about the existence of luck.
Aristotle thought, and in some seconds, he responds to him:
"There is no such thing my boy.
Luck is when the exceptional hard work and preparation meets opportunity".
That's what we are and what defines Prometheus Space Technologies. Our hard-working, research, studies and preparation meets the opportunity!
Exactly what process was led to the birth of Prometheus Space technologies and I believe that is far and more than just luck!
What are the next steps to make your start-up company find its place into the market?
We are working on two levels. The first level is project development, and that requires a great amount of energy and we need to make progress regarding the lack of funding so far. The project development is a mandatory task to complete.  The other level is the development of the company itself.
We have so far real Organization agility and a versatile working environment and a complete company structure. Our next near future acts are to establish our office and laboratories area in Athens-Greece where our headquarters would hold. For establishing our global impact and performance we need to be able to work worldwide because our product is global. For achieving this, we plan to expand in London, UK because this is the place that offers the most opportunities of support to a start-up company, and at the same time we need to expand in the US market. So I strongly believe that we should operate in New York because we will maintain close contact with the Greek-American community and because New York provides a great support field on start-up. Due to my communication with great professional individuals in the US, I decided to create our main US office in the Houston, Texas because of the great space culture and due to the neighborhood with Johnson space Center, and for the Nasa's home of Orbital Debris Program Office.
In a little later phase, we will examine the possibility to expand into Darmstadt, Germany, home of ESA's Space Debris Office.
Is worth to mention that we already have made a deal with a great world's company and we will operate our satellite clusters through 25 ground stations all over the planet so that it would be achieved the control of our satellites from every place, every time!
I'm pretty sure that there are not many start-ups worldwide having that organizational structure and so great expectations.
How do you hope to get funding for your endeavours?
With total honesty, I strongly believe that our project is by far the most advanced and effective in every aspect of the need for Active Debris Removal field. I also believe that we have a very difficult task to accomplished until we reach our goals. The greater problem we have to face is the lack of funding. If we don't manage to fund our efforts, we will not be able to present to the global scientific community the more effective way to actually perform Active Debris Removal and space will be exponentially a not safe operating area.
We make our first steps by trying to make our own funding with a crowdfunding process. In that phase we will give the opportunity to the space enthusiasts all over the world to could participate and support our efforts for space scientific achievements and for the space protection and maintenance who actually will protect our planet itself. We will be thrilled to share our pioneering efforts and welcome all those enthusiasts in our team.
I need to mention that Prometheus Space Technologies is the first and only space company from Greece who actually designs and develops space structures of this size, performing so difficult tasks. So in this process, I need to ask the assistance of the Hellenic societies worldwide such as Greek-American, Greek-Australian, and Greek-Canadian, and of-course every place in the world exists a Greek heartbeat, we would be so grateful to feel that we make them so proud as we are.
When we will be open to funding stage, we want to cooperate with open-minded pioneers like us for a long-lasting partnership. We are known that is herculean the effort we have made, but the road to success was always hard and lonely. We offer a rapid and huge growth opportunity upon our success as the only pioneers who actually perform a real and effective Active Debris Removal.
What do you think the future holds for this industry?
Prometheus Space Technologies is a business in the space industry. It develops products that will help maintain the space and therefore ensuring the earth is safe in it. It is very important that we maintain and take good care of the space as much as we do the planet earth itself. This is what Prometheus Space Technologies does: it maintains and takes care of the space.
Our current major project Charybdis is not the only one we will develop. It is our first because we need to create our starting point but is just the beginning. In our plans is to give a solution to the major needs of the global scientific community and to give the solution to the more difficult tasks the universe needs. Our latter stages of development include the asteroids mining and protection, the low-cost space launch, the Lunar and Martian robotics use application, the space tether applications and the space elevator and our priority after the Charybdis success, is to develop a large scale space vehicle capable to perform complete defunct satellite removal from the upper Orbit stages and the orbital graveyard.
I don't know what the future will hold for Prometheus Space Technologies, I do know, however, that it would be the greatest space pioneer worldwide!
Thank you Eleftherios for sharing your thoughts!
You can follow up with Eleftherios Plafountzis at:
Website: www.prometheus-space.eu
LinkedIn: linkedin.com/company/prometheus-space-technologies/
Facebook: facebook.com/Prometheus-Space-Technologies-108713160553131/