Vincenza Celentano is a highly regarded make-up artist, who has worked in the television and film industry for over 15 years.
Vincenza runs her own makeup business at http://hausofv.ca, offering a wide range of cosmetic services such as skincare treatments and lash extensions.
Vincenza has worked on a variety of Hollywood blockbusters and celebrities, including Isabella Rossellini – Shut Eye, Genevieve Angelson – Backstrom, Candice Patton – The Flash, Rain Wilson – Backstrom.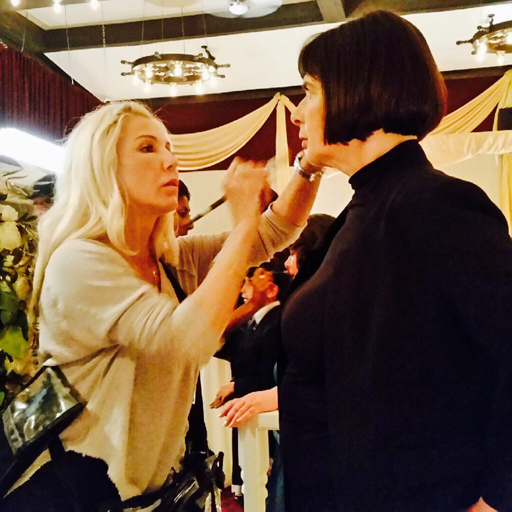 Vincenza was able to answer a few of our questions about the specifics of her makeup business and the world of film and tv makeup effects.
Vincenza, when did you realise makeup cosmetics was a career path you wished to pursue? Was there a specific event or person who encouraged your passion?
I always loved dressing my kids up for Halloween. I remember one year my neighbours couldn't recognise my kids because of the makeup I used. They all said I had a lot of talent and told me I should work in the movies.
I laughed at the thought. How could a housewife raising 3 kids find the time and effort to become a makeup artist?
I knew no one in the industry and had no connections. All I knew was how much I loved creating new, original makeup designs.
Before my makeup career, I loved to paint while the kids slept. My dad was always my biggest fan. He used to call me his Michelangelo, even though I could never live up to that name. His encouragement was important, however, since it made me try more every day.
Is the makeup artist industry very competitive? How long did it take for you to start getting gigs on movie and tv sets?
Yes, it is very competitive, but I think every industry is at the end of the day. You must be hard working and dedicated to your craft. It's all about knowing what people need before they do.
I was very fortunate when trying to break into the movie industry. I met an amazing makeup artist while I was volunteering, and I must have stood out to her. I was always passionate about this volunteering position. After my volunteering work was over, she asked me for my contact information and offered me a job. I started working with her on commercials just 3 weeks later.
I assisted her for around 6 months before she decided I was ready for the industry and threw me out of the nest. I was so scared, but she believed I was ready. As a result, I started running my own dept on commercials for makeup and hair.
It was an incredibly rapid rise. I was only 4 months into school and was working full time as a makeup artist. I am very fortunate and grateful for all the help I have received along the way.
What are your most popular services?
Eyelash extensions are so popular now, not just on tv series, but movie sets as well. It's awesome because it saves us makeup artists a lot of time and effort when preparing someone for the camera. It's also great for underwater scenes – we don't have to worry about mascara running!
What makes your makeup services different and better than other providers?
I wouldn't say my makeup services are strictly better than others, however, I certainly bring a high level of professionalism and friendliness to everything I do. One of the drawbacks of being an actor or an actress is the makeup process. Sometimes the process of applying, refining and removing can take up to 15 hours a day. Naturally, it can make the person's skin appear sluggish.
What I can provide is microdermabrasion, which helps with resurfacing the skin. It essentially helps with removing any dirt, smoothing out fine lines as well as low light therapy. Also referred to as cold laser treatment, low light therapy is designed to stimulate your skin's collagen, which helps give the skin structure and a youthful appearance.
Having beautiful skin is important to building someone's self-esteem and confidence. I always strive to offer fantastic services that achieve just that.
Is there a noticeable difference between makeup services on a film set and working in a conventional beautician setting?
There is a noticeable difference between makeup process on a film set and working in a beautician setting. One thing that I have certainly noticed is that film sets often use dark studios with ambient lighting. As a result, when makeup needs to be adjusted or refined, you need to be able to adjust to differing light levels and apply makeup promptly. I've discovered that what looks good in everyday life doesn't necessarily transfer well on screen. Sometimes the makeup can look too heavy or not have the correct shade of foundation.
It's also very important to be watching the actors/actresses and base the makeup off how they perform. Specific scenes and moments in the scene will likely require different makeup applications. Sometimes you'll need to change, refine, add or remove something completely!
What type of skills and qualities do you think people need to thrive in the makeup business?
In my experience in the makeup industry, I think communication and people skills are crucial. If you want to become a makeup artist, being passionate, humble and respectful of your clients and others is crucial. Indeed, you need to be able to work as a part of a team. Natural talent is great; however, a lot of the skills can be learnt. A great personality is key!
Thank you Vincenza for sharing your thoughts with us!
You can follow up with Vincenza at http://hausofv.ca