DC is ready to roll out its exciting film lineup as kicked off with Joker at this year's Venice Film Festival. While there's been some huge buzz about the movies rolling out for the Marvel Cinematic Universe's Phase 4, DC has come up its own solid lineup of films. The comic book banner's film division has more in store for fans and we've got the full list of movies for you to keep handy.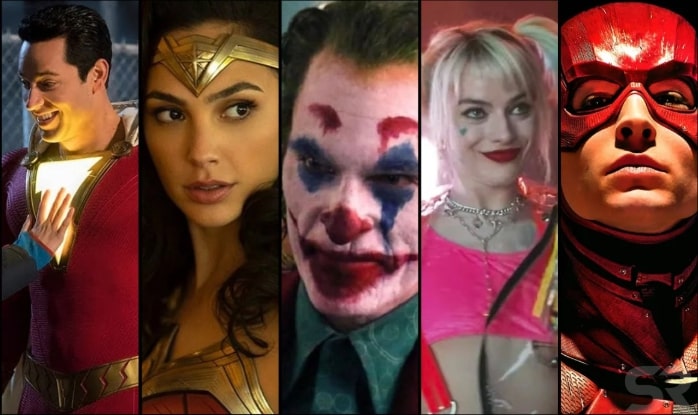 Joker
Todd Philips takes the Joker's origin story and brings it into the psychological thriller genre making it nothing like any other movie from DC.
Release Date: Oct. 4, 2019
Director: Todd Phillips
Starring: Joaquin Phoenix
Birds of Prey
After being the highlight of DC's Suicide Squad, Marot Robbie takes her enthralling performance as Harley Quinn in a stand-alone film.
Release Date: Feb. 7, 2020
Director: Cathy Yan
Starring: Margot Robbie
Wonder Woman 1984
After Wonder Woman reached blockbuster status in 2017 director Patty Jenkins and star Gal Gadot returns to bring a sequel to the big screen.
Release Date: June 5, 2020
Director: Patty Jenkins
Starring: Gal Gadot, Kristen Wiig, Pedro Pascal, Chris Pine
The Batman
Robert Pattinson as the caped crusader was a controversial choice that Matt Reeve's is willing to risk on in the new Batman movie.
Release Date: June 25, 2021
Director: Matt Reeves
Starring: Robert Pattinson
The Suicide Squad 2
A sequel to the 2016 film Suicide Squad will be brought to us by Guardians of The Galaxy director James Gunn with Margot Robbie and Viola Davis returning to reprise their roles.
Release Date: Aug. 6, 2021
Director: James Gunn
Starring: Margot Robbie, Viola Davis, Idris Elba
Aquaman 2
Jason Momoa and Amber Heard are ready to return to Atlantis in the Aquaman sequel.
Release Date: Dec. 16, 2022
Director: (TBA)
Starring: Jason Momoa, Amber Heard
The Trench
James Wan sinks his teeth into the horror genre once again this time, with a spinoff out of the Aquaman universe.
Release Date: (TBA)
Director: (TBA)
Starring: (TBA)