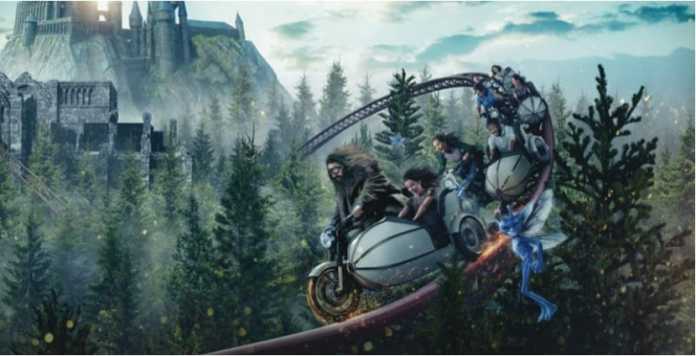 It appears that Universal Orlando failed to anticipate the popularity of Hagrid's Magical Creatures Motorbike Adventure. The new ride unveiled last week at Universal Studios Islands of Adventure.
Since its grand unveiling, the Harry Potter-themed ride has caused logistic issues for the theme park. Hagrid's coaster easily became a highly anticipated attraction at Universal Studios Florida not long after details about the ride were released back in February.
The ride takes Potterheads on an adventure through the Forbidden Forest. The experience is complete with magical creatures and a fully animated figure of our favorite groundskeeper. The roller coaster features state-of-the-art special effects amongst its many thrills including a drop of 17 feet.
Hagrid's Magical Creatures Motorbike Adventure is a fast-moving, heart-pounding journey through the Forbidden Forest on Hagrid's motorbike and the latest #HarryPotter roller coaster to open. See what it's like to ride it for yourself: https://t.co/l44DAX5FBT pic.twitter.com/ICoWxFrwpk

— Good Morning America (@GMA) June 18, 2019
On its opening day, all the excitement lead to 10-hour wait time as fans lined up for the ride. Aside from that, the ride is causing logistic issues for the Florida theme park. The lack of a soft opening meant the team managing the ride couldn't properly schedule maintenance. In a Tweet posted Universal Orlando Resort, visitors were notified that Hagrid's coaster won't be available to guests until midday for the following weeks. The Tweet read:
"Hagrid's Magic Creatures Motorbike Adventure is even more popular than we could have imagined – and we've been working hard to make sure everyone who wants to ride gets to do so," Universal said in a statement. "But this is our most sophisticated, high-performance, ride system ever – and our team needs time to take care of the ride's daily maintenance and technical support." Read the full announcement below:
— Universal Orlando Resort (@UniversalORL) June 18, 2019

Ben is is a senior journalist and sport columnist for Best in Australia. He previously worked for the BC and other radio stations.