Over the weekend the US and the allied nations of France and Britain performed air strikes across Syria. After the strikes had concluded the US President Donald Trump exclaimed that the efforts were executed perfectly and added "Mission Accomplished".
The allied forces focused their attacks on government sites where chemical weapon facilities were located. It has been estimated that roughly 105 missiles were launched onto the facilities in retaliation to the suspected chemical attack that took place in Douma last week.
Vladimir Putin, the Russian President, stated that he condemns the Western attacks in a serious way. Earlier he had also warned that Russia would intercept the missiles fired. The warning comes as Russia is currently providing military support to Syrian President Assad.
In a stand-off between the superpowers, the deconfliction line was used to ensure that there would be no collateral damage of Russian military or civilians.
President Trump had also tweeted out to their allies France and the UK, saying that they thank them for their wisdom and the power of their military.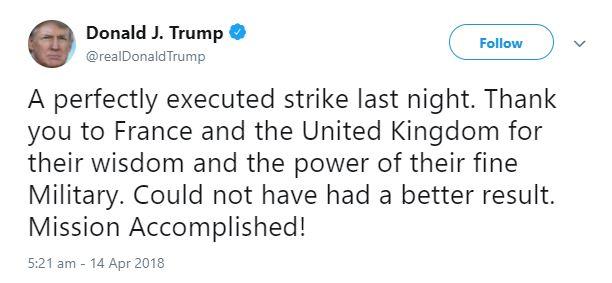 A briefing held by the Pentagon on Saturday stated that the strikes on the chemical facilities had set the chemical weapons programme of Syria back by years.
The recent bombings had also sparked a bitter exchange between the representatives for Russia and the US at the United Nations. The current bombings have been the most significant attack by Western powers against the government of President Bashar al-Assad in just under the past decade that the Syrian civil-war has been taking place.
President Assad responded to the strikes stating that the aggression will only make the country of Syria and its people more determined to fight terrorism within the country.
The strategy for the airstrikes was to destroy the chemical weapon facilities that are located within Syria. Lt Gen Kenneth McKenzie listed the 3 targets that were the purpose of the operation during a Pentagon briefing.
Barzah chemical weapons research and development centre
Him Shinshar chemical weapons storage facility
Him Shinshar chemical weapons bunker facility
Mr McKenzie also added that the operation was a success with no interference from Syria. No missiles that were launched were intercepted by defence systems and all aircrafts from the mission had returned.
He also mentioned that Syria had fired approximately 40 defence missiles after the attack was complete and no Russian defence systems were operated during the strikes.
The US stated that the scale of these new strikes is double compared to those that were carried out in April 2017.