There is a variety of bed linens in the market today, namely different colours, patterns, fabrics and prices. Essentially, this should work in the best interest of the buyer, given that you have a wide range of products to choose from. However, one should also note that the piece of linen you select has its own way of care for it to last long. While there are some specific instructions on how to take care of specific types of linen, there are others that are common to all. This article will look at some common instructions on how to take care of your bed sheets.
Read and understand the accompanying instructions
Every type of bed sheet has its own instructions on how to care for it. When you buy, it should be your priority to read and understand these instructions. Should the washing water be hot, warm or cold? All will be listed right there.
One mistake that most buyers do is to throw away the care instructions the moment they unwrap the bed linen. Always keep the instructions for future reference. The instructions  show you not only how to wash, but also how to dry the linens. If you have many linens and fear that you will confuse the instructions, consider taping the instructions on a card. This will help you remind which instructions belong with which linen.
General guidelines for washing
If you don't have the care instructions for your specific bedsheets, then you don't have to worry. You can go the common way. Things like the temperature of the water, the type of soap to use or avoid and other common things can be done even in the absence of the guidelines.
In most cases, it is advisable to use less detergent when washing bed linens and to rinse thoroughly to remove the detergent residue that might have have become struck to the sheets while washing. Things like bleach can only help break down the fabric fibers of your sheets. This should be avoided at all means.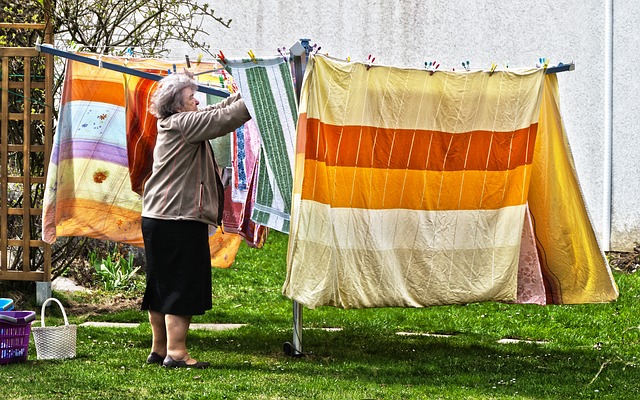 General drying guidelines
After washing, you also need to understand how to dry the sheets. Leaving the sheets out in the open with natural sunlight to dry sufficiently is the best practice. However, be careful not to over dry the bed linens, as this can intensify the wrinkles on the sheets. After removing the sheets from the dryer, fold them promptly. This will also to help reduce the wrinkles on the sheets, since leaving the sheet unfolded will only make the creases worse. Just in case the sheets have over dried already and have developed wrinkles, you can hand-press or iron the sheets to remove the wrinkles.
Wrinkles on your bed sheets can be very unappealing and reflect poorly on your domestic maintenance and decorative skills. By making sure that your sheets are folded immediately after they have dried, you will find that the quality of the linen fabric will be maintained for a longer period of time.
While many people would choose to ignore the best practices when washing and caring for their linens, one would just wonder why then you should buy such expensive, high-quality sheets? In order to get value for your money and years of use from your sheets, it is imperative that you learn how to take good care of them.
There are a wide variety of linen retailers throughout Australia, all of whom can provide the best advice as to how you can properly maintain the quality of your bed sheets. Even if you have lost the instructions of care or are unaware as to how to wash your linen, a reputable seller will help you get things done correctly.