If you're wondering whether Teak outdoor furniture could be right for your home, you've come to the right place. Today we're exploring six things you should know about Teak outdoor furniture.
How long will teak outdoor furniture last?
One of the most common questions buyers have when designing their exterior entertainment areas is how long will Teak outdoor furniture last? They're often quite shocked when we tell them that they can expect their new setting to last for up to a century when cared for properly but this material is quite durable so that's certainly an achievable benchmark.
While the actual lifespan of your new setting will depend on many factors such as how often it's used and how well cared for it is, this type of wood is known for quite happily lasting decades so you can bring your new pieces home with total confidence.
What types of teak outdoor furniture are available?
When it comes to the types of pieces available, dining sets are generally most common, however, loungers, bars, storage and many other types of accessories are also easy to find. If you're looking to create a cohesive design, we suggest matching a lounger or two and a storage chest with your dining set so you can easily make different zones flow, however, the choice is yours.
You can also have custom pieces created if you're looking for something that isn't easy to purchase pre-made so your imagination is the only real limitation to the type of item you can find.
What kind of design can I create with teak outdoor furniture?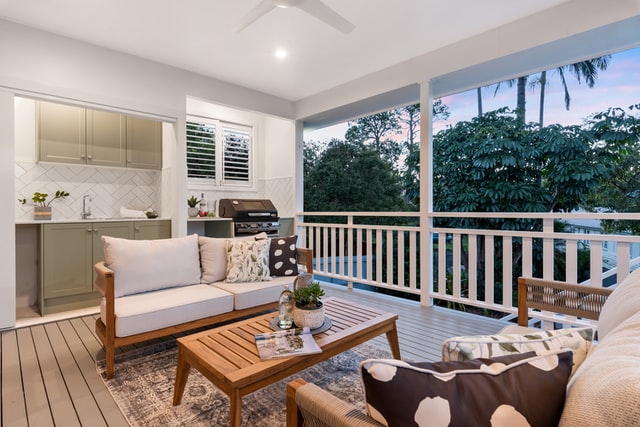 We absolutely adore natural, rustic looks created with these types of settings but in reality, the only real restriction, much like the types available, comes down to your imagination.
Resin art, soft furnishings and other customisations are available and will allow you to create your perfect private oasis in your backyard, no matter what your idea of that is.
What climates can I use teak outdoor furniture in?
As Teak outdoor furniture is crafted from such a strong and durable wood which features natural water resistant properties, it can be used in pretty much any climate.
Sun, rain, wind and even snow should have little to no damaging effects on your selected pieces as long as they're properly maintained so you can rest easy knowing that the new centrepiece of your new entertaining area can stand up to anything the elements can throw at it.
Does teak outdoor furniture need to be covered during winter?
Carrying on from our previous point, your new setting can be left uncovered year round with no negative impact.
We're talking tables, chairs and other design features made from the same type of wood that ships have been made from in the past so unless you actually want to cover your new setting when it isn't in use, this really isn't necessary.
How do I prevent outdoor furniture from turning grey?
The last question we often receive is how customers can prevent their new settings from turning grey. While the chances of this happening are quite low if you're caring for your entertaining area properly, it's perfectly logical to want to take steps to further protect your investment.
In this instance, we suggest using an eco-friendly sealing agent if you want to be 100% sure that the colours of your newly designed space will stay vibrant for years to come.
Looking to create the perfect outdoor entertaining area? Now that you've got more information about Teak outdoor furniture it should be clear why these pieces are sure great choices meaning all that's left to do is go shopping, enjoy!