Sunglasses, like hats, watches and other accessories have a practical utility but are a means by which we can express ourselves through stylistic choices. More than simply eye protection, sunglasses are a distinct fashion statement that gives a lot of freedom to both men and women.
For men, there are hundreds of classic and trendy sunglasses styles to choose from and this can make choosing a pair that suits you difficult. Ultimately, the decision on which sunglasses to go with requires you to consider your face shape and personal preferences.
Some of the best designer sunglasses brands for men can be found on dedicated websites. These sites offer a diverse range of brands that suit different complexions, face shapes and preferences.
Let's take a look at the best sunglasses styles for men.
Wayfarer
Created in 1956 by Ray-Ban, the Wayfarer is perhaps one of the most enduringly classic styles that have stayed in high demand for decades. The best thing about the Wayfarer is that they look good on pretty much any kind of face because of their thickness.
Wayfarer is a great choice for people who want to wear them with a variety of outfits without worrying about if they suit. They are definitely still the style of choice for many celebrities and music icons.
With their celebrity endorsement and iconic history it's no surprise that the Wayfarer remains one of the best styles of sunglasses for men.
Aviator
It would be inaccurate to call the Wayfarer the most iconic style of sunglasses when it has competed for that title with the humble aviator style. These sunglasses were developed in the 1930's for American pilots to protect against the sun's glare and have always had a connection to aviation.
They are probably most popularised by actor Tom Cruise in his role in the film Top Gun which exemplifies US aviation culture. This kind of pseudo-military reverence for aviators explains why they are such a popular choice amongst men to this day.
Aviators tend to look best with longer faces and strong jawlines but are wearable by just about anyone. Most frames are metal with 2 or sometimes 3 bridges between the lenses.
Round frame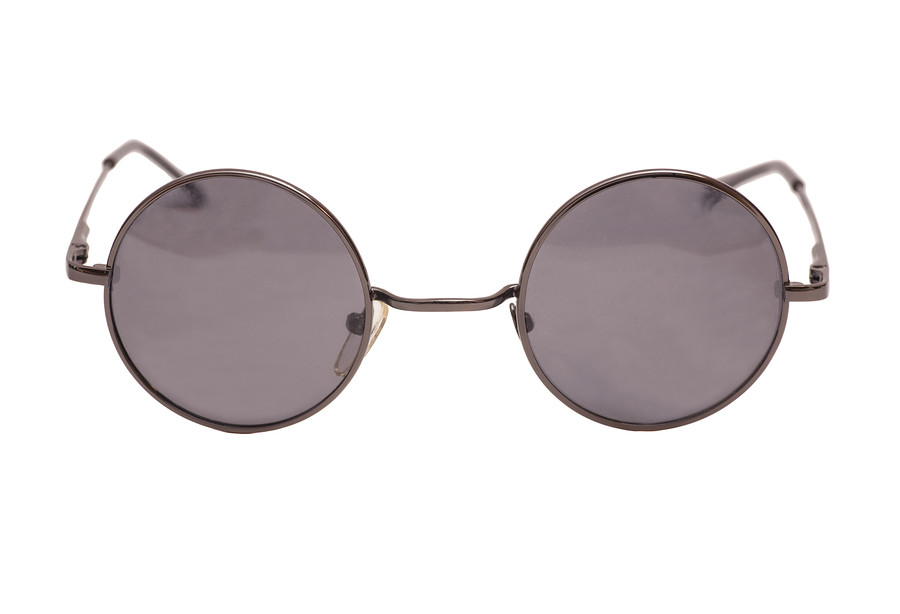 Round frame sunglasses, sometimes perfectly circular, are a more hipster style that people pursing a vintage look would consider. These frames are normally associated with hippy or anti-establishment culture having been popularised by Beatles member John Lennon.
They are also a popular choice for those seeking a steampunk or Victorian era look complete with top hats, waistcoats and gadgets with exposed mechanical parts. Whether seeking something vintage or something niche, round frame are a very distinct choice of sunglasses for men.
Clear frame
Sunglasses with clear or translucent frames have an effortless coolness about them and can be applied to other styles of sunglasses. For example, you could go with a pair of clear frame aviators to add a modern touch to a classic style.
Wooden frames
There's no better way to bring your look back down to earth than with wooden frame sunglasses. This style is not only refreshingly different but is also more sustainably manufactured than the sunglasses made from plastics and alloys.
Every kind of wood from bamboo to walnut has been used in sunglasses and this gives you a lot of natural choices of shade and richness. This is a really innovative style that grounds the wearer in the real world a little bit more.
Notch Bridge
This style was coined in 1957 by Persol and grew to infamy in the 1960's when it was worn by Steve McQueen. They are known by the little notch that is seen in the bridge above the nose as well as the ease of transporting them as the bridge folds the sunglasses.
This style screams 1960's and is very popular amongst those who identify with alternative fashion. The notch itself has transcended this style and been incorporated in other types of sunglasses as well.
Colourful frames
Coloured frames are a great addition to any sunglasses collection. They add a pop of colour to your outfits that people don't expect and allows you to have some fun without looking like a clown.
It's cool to make your favourite colours a subtle part of your style with frames like these.
Mirrored lenses
Bringing an 80's coolness to modern styles, mirror lenses have become very popular of late. These lenses shift in colour depending on the angle they are being viewed at, creating a profoundly dynamic look.
While at their peak back in 2014, mirrored lenses have remained very popular amongst several celebrities. They are praised for their ability to create a youthful and fun feel without jeopardising the rest of your outfit.
Which style will you go with?
Your choice of sunglasses should come down to which style enticed you the most. It's a good idea to try on this style of sunglasses to see if it suits your facial structure before making a purchase decision.