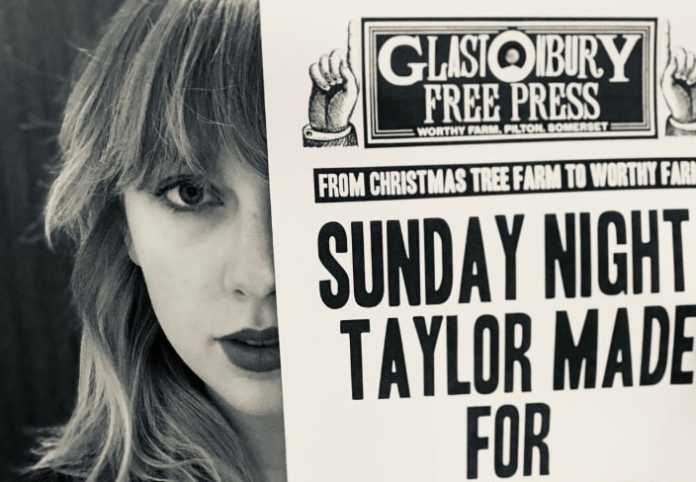 Speculations about United Kingdom's Glastonbury Festival have made buzz surrounding Taylor Swift. Now, the songstress herself has confirmed rumors that she will be headlining the June 28 event on social media. In a tweet she posted on Sunday, Swift wrote:
"I'm ecstatic to tell you that I'll be headlining Glastonbury on its 50th anniversary. See you there!"
Along with the post is a photo of her holding up a custom Glastonbury Free Press issue. The personalized edition of the festival's in-house publications boasts the headline, "Sunday Night Taylor Made for Glastonbury!"
I'm ecstatic to tell you that I'll be headlining Glastonbury on its 50th anniversary – See you there! 💋 pic.twitter.com/2gJ40mEiDH

— Taylor Swift (@taylorswift13) December 15, 2019
This is exciting news for fans in the UK where Swift had no confirmed concert dates prior to this announcement. Earlier this year, the multi-Grammy award-winning singer had released only a handful of concert dates for her "Lover" tour.
Swifties all over the world couldn't hide their disappointment when Taylor Swift announced her mere four-stadium concerts in California and Massachusetts. Her announced United States concerts are the only dates confirmed for her "Lover" tour in the country next year.
The good news is, fans from a number of countries around the world such as Brazil and those in Europe will be able to experience Swift in concert. Swift previously explained the rationale behind the limited dates in an Instagram post last September that read:
"I want to celebrate the album and perform it live with you in a way that feels authentic to the music. I want to go to some places I haven't been, and play festivals for the first time in ages…and where we didn't have festivals, we made some."

Ben is is a senior journalist and sport columnist for Best in Australia. He previously worked for the BC and other radio stations.