Stefan Segers is a wedding photographer based in the Netherlands who is passionate about capturing candid shots of the newlyweds and their guests as they enjoy the big day. His business, Trouwshoot, has become very popular in the Dutch wedding scene over the years.
Stefan answered some questions about his business.
Why did you start a wedding photography business?   
I got married in 2006 and for our honeymoon I bought my first digital SLR. When I came back from our honeymoon and checked out our photos I thought to myself that it would be great to use my camera more and more.
So I called up out wedding photographer and told him I wanted to use my camera more and if it would be possible to come along with him and be a second photographer. So I did this 3 times and after that I was certain that I wanted to be a full time photographer.
I was working as a graphic designer and web designer that time and I made some time to combine this with getting to learn photography. I went to the Photography Academy for the basics and did a lot of photography workshops a different photographers.
Also YouTube is one of my biggest places to learn photography and after ten year I still use YouTube everyday to learn and get inspiration.
What do you believe is the most special moment of the wedding to capture as a wedding photographer?
Since I also got married and have my own wedding photos I know what photos are very important to me. For me I love photos from me and my wife but even more I love to see the special moments between my guests. Portraits of the guests is also very nice because years later you will see how they looked back then. Getting all those photos in an album you will have a great book of history.
Not only the photos during the day are important to me but the photos from the wedding party are also very important. In the evening when the wedding party starts there were more guests then during the day and It is great to see all those guests again in the wedding album.
Also the wedding party is the part of the day that nobody ever forgets. Getting pictures from the beginning until the end of the night is very important to me.
So as a wedding photographer to me it's most important to be the first at a wedding and stay until the wedding couple goes away (home/hotel), so I will get the whole day and can tell the complete story of the day.
What photography services do you offer?
I offer different services as a photographer. I do not work with an hourly rate but work from the beginning of the wedding until dinner (when couples do not have a wedding party) and you can upgrade photography with the party photography.
I will stay taking photos until the end of the party. From all the wedding photos I can create a wedding album. This album is 25x25cm and can be upgraded to 30x30cm to get even more impact of your wedding photos.
Also it is possible to get parent albums. These albums are a copy of the original but in a smaller factor that you can give as a present to your parents. Also photo collages are great to have on your wall and big prints are products I can provide. At my office I have a big wall with all kids of different products on the wall where the couple can get inspiration.
Why are you different to other photography services?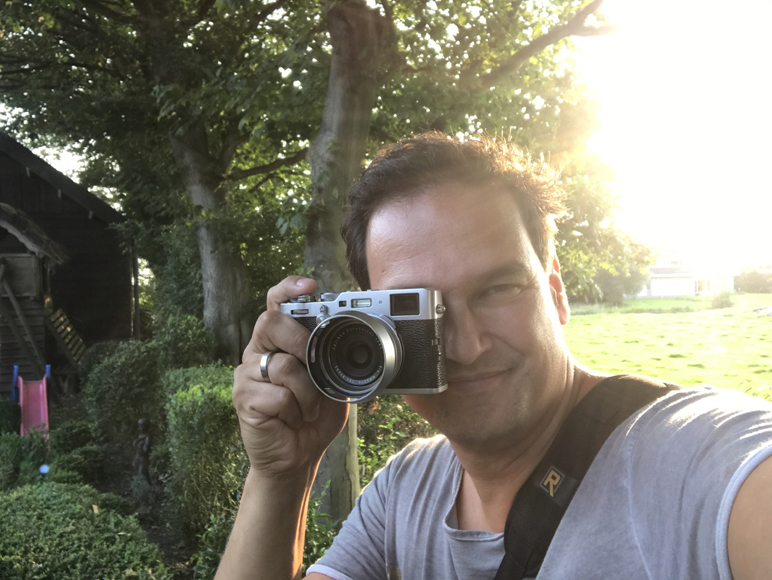 I try to be different then other photographers during the day and after the wedding day. During the important moments of the day I am like a fly on the wall. I am there when you need me but you will not see me at all. But during the wedding photoshoot I tell you what to do and how to do it so I can get great images.
If I just observe I will not get enough great images so that's why I do posing, but try to do this in a way you have no idea that you are being posed.At the wedding party I'm usually the first on the dance floor, and because of that the guests think me more as a guest then a photographer and do more crazy things that I love to capture.
During the dinner I try to download all the images of the day and will select the best of the day on my laptop. If there is time I will show a slideshow with the best images up until now. After the wedding I will select all the images and will edit all of them within a week. In this same week I also design the wedding album and will send this within a week to the couple.
My goal is to have this all ready within a week so the couple can check all the images and the album on their honeymoon.
Are there any special editing techniques used in your photos?
I try to photograph the image as good as possible within the camera. With my Fuji X-system I can select a film simulation which gives great image straight out of the camera. Some images that need some extra light, contrast of composition are edited.
Also, images that I want to give a special look are being edited in my software. For years I have used Adobe Lightroom but since 2014 I switched to Capture One Pro. This software gives so much better quality images and speed so that my workflow is much better now and more organized.
For wedding images I never use Photoshop because I can do all of my color corrections and edits with Capture One. For me, speed and quality is key to my clients and with my software I have it all.
Do you try to tell a romantic story with the photos that you take?
With my images I want to show the story of the day. The images of the photoshoot with the couple I try to make look like a fairytale. What I mean by that is that when the bride looks at her wedding photos it looks like she is in a fairytale.
The dream world of the perfect couple, and she is the one in the images.  So with all the images of preparation, photoshoot, ceremony, diner and wedding party the couple will get a mixture of funny, romantic and a happy story of the day that they can remember for the rest of their lives.
Thanks to Stefan for answering these questions.
You can contact Stefan Segers at https://www.trouwshoot.nl