Marvel fans are probably still bitter about the comments made by acclaimed director Martin Scorsese earlier this year. Who is going to forget Scorsese's Empire Magazine interview where he declared Marvel movies didn't count as real "cinema." The remarks have prompted the likes of James Gunn, Robert Downey Jr., Bob Iger, and Francis Ford Coppola to weigh in on the matter.
While the buzz around the whole ordeal has died down, Scorsese's daughter Francesca thinks it's something to just laugh about. The 20-year-old actress shared an Instagram story showing a photo of Christmas gifts wrapped in Marvel-themed paper. She then wrote in the caption, "Look at what I am wrapping my Dad's X-mas gifts in."
The playful prank is probably the best way to finally settle the whole debate about Marvel Studios' films. Francesca's post has since expired but you can still see the post in the photo below: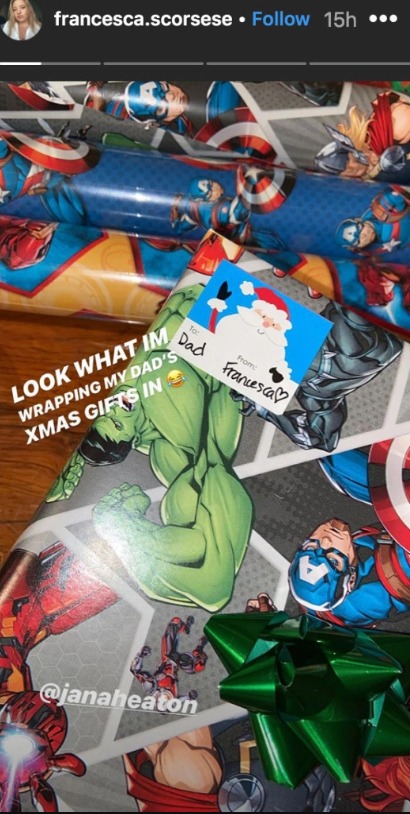 As a refresher, here are Scorsese's actual words from Empire's October edition. Referring to Marvel films he said:
"I don't see them. I tried, you know? But that's not cinema. Honestly, the closest I can think of them, as well made as they are, with actors doing the best they can under the circumstances, is theme parks. It isn't the cinema of human beings trying to convey emotional, psychological experiences to another human being."
The Godfather trilogy director Francis Ford Coppola backed Scorsese's belief saying superhero movies are "despicable."
"Martin was kind when he said it's not cinema. He didn't say it's despicable, which I just say it is," Coppola told the press not long after Scorsese's remarks gained notoriety.