The reality star and beauty mogul Kylie Jenner reveals that she spent a whole day with her baby daughter at the hospital.
It's hard to imagine but even billion-dollar stars like Kylie go through very human experiences. In this case, one of the most stressful ones you can experience as a parent to a 1-year-old baby.
The celeb revealed on her Instagram story last Sunday that she spent her day at the hospital with baby Stormi. The story featured a photo of Stormi bundled up in a blanket while she was sound asleep with a pacifier in her mouth.
To caption the photo Jenner wrote, "Spent the day in the hospital with my baby. She had an allergic reaction but is 100% okay now and we are home."
"Nothing else matters when these things happen. God bless all the moms with sick babies," she added. "I'm sending so much love and positive energy your way." the star added.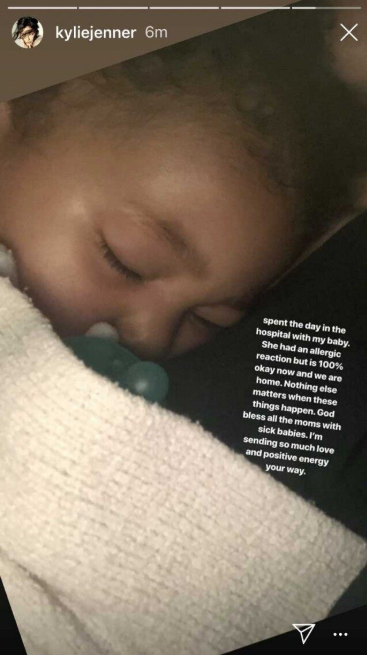 Don't expect the stress to wear this mom down. In the past, Jenner expressed her desire to "have another baby" with boyfriend and baby daddy Travis Scott. The pair recently celebrated the 28-year-old rapper's birthday back in April. In a series of family photos Jenner posted on Instagram, she suggested that their family might be growing.
In the caption, Jenner wrote: "Watching you evolve into the partner, friend, son, and father you are today has been so fulfilling,"
"My real life bestie & hubby all wrapped into one. I love you and I'm so so proud of you. happy happy birthday. Let's f**k around and have another baby."