The legally married husband and wife have yet to be wed in an official ceremony. Pop sensation Justin Bieber and model Hailey Bieber (née Baldwin) tied the knot back in 2018. The civil ceremony was held secretly in a New York City courthouse.
The main reason behind the married couple's decision to delay their bigger and more public wedding ceremony is reportedly Justin's mental health.
According to a source from People, the couple will "still have their wedding when they feel they are ready," adding that Hailey is fully supportive of prioritizing her husband's mental wellness.
Justin and Hailey's happy marriage has been plagued with issues and controversy. Since they made their marital union Instagram official back in November last year, the pair have been receiving backlash from online trolls.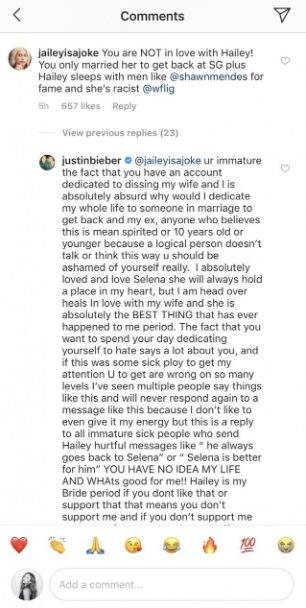 Just last month, Justin had to respond to an Instagram user who suggested that he married Hailey to make ex Selena Gomez jealous. In a lengthy comment he posted as a reply, Justin expressed his admiration for Selena Gomez but reiterated that he is "head over heels in love" with his wife. "This is a reply to all immature sick people who send Hailey hurtful messages like 'he always goes back to Selena' or 'Selena is better for him,'" the singer wrote.
Despite the challenges that entail the married life, Justin and Hailey seem to be enjoying each other's company to the fullest. They even got a puppy named Oscar.
There is no word as of yet on when the exact date of their wedding will take place. We'll just have to wait until the couple is ready to make a public announcement or not.