The choice to introduce office cleaners is not always made easily for local businesses.
While some want to cut costs and have oversight of all activities in-house, there are obvious benefits for using these practitioners for necessary cleaning tasks.
Time to look at 6 incentives for hiring office cleaners.
1) Enjoying professional cleaning service results
One of the best incentives that clients can have for hiring the services of office cleaners is being able to enjoy a pristine environment that looks and feels at its optimal best. From sparkling windows that offer a transparent shine to desks that are clear of debris, carpets that appear brand new and rubbish bins that are empty, it pays to have a premises that delivers a professional appearance. When outlets rely on staff members to carry out these tasks, there will always be cases of oversight and a lack of knowledge and resources to ensure that the standards remain high.
2) Adhering to occupational health & safety needs
While a majority of tasks that office cleaners do are simply for the sake of maintaining high commercial standards and impressing upon guests, staff and management alike, there are situations where occupational health and safety regulations are factored into the equation. If rubbish collections attract pests and parasites, if spilled liquids lead to electrical faults or if there is structural damage linked to a lack of cleaning oversight from the business, then they can be left liable for the incurring costs and potential legal action. While they are extreme cases, specialist cleaners will know what to look for and identify any potential warning signs.
3) Saving operational time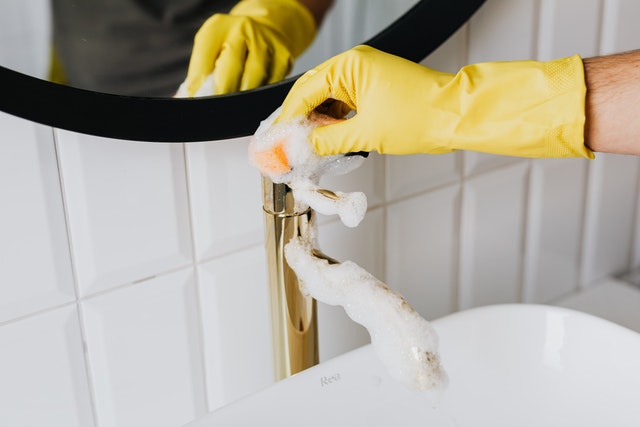 Enterprises that are looking to hire these office cleaning professionals will recognise that internal staff groups already have a lot on their plate and asking them to carry out regular cleaning responsibilities will be a drain on their time. This is not to allow them to pass over responsibility for their desk area, but there will be kitchens, walkways, hallways, bathrooms, group meeting rooms, carpets, windows and more that require regular attention. By introducing these practitioners during selected times and dates over the working week, participants will be able to focus on their core duties without distraction or interference.
4) Saving the business money
There is no question that the intervention of office cleaners will save an organisation money over the long-term. By leaving waste, spills and filth lying around the premises, these surfaces become harder to clean over time. From carpet stains to garbage infestation and beyond, the use of these contractors will allow outlets to avoid costly mistakes and cases of oversight if they have these practitioners arriving for selected periods.
5) Identifying a cleaning program that works for the office
Thankfully constituents can pick and choose how office cleaners go about their work. From rubbish collection to carpet vacuuming, window cleaning, desk cleaning and more, they will be able to customise a program that meets the needs of the environment. This ensures that members don't have to stick to a one-size-fits-all format.
6) Cross-referencing sources & picking the right provider
The good news for commercial constituents who are looking into office cleaners is that they don't need to worry about security breaches and privacy risks because these specialists adhere to the same high standards and cross checks as every brand. In order to have a license in the city, they must pass these security checks before applying for any role with office clients. If there are contacts who don't quite meet the standard, then there will be hundreds of other alternatives ready to jump at the task, ensuring that organisations use a team that they have confidence in.