Criminal offences can carry some serious legal consequences if you are convicted, including jail time and large fines. Not only that but they can have a very serious impact on your reputation, ability to work and your family life. If you've been accused of breaking the law, it's important to get good legal advice from early on in Victoria, especially for serious offences such as drug possession or assault.
Victoria is the only state that will not expunge records. A criminal conviction is permanent. Meaning that if you are being charged in Victoria for a criminal offence, then it can remain on your record after 10 years. So one mistake in your younger years might follow you for decades, making it impossible to ever get a career of the ground or even find a job.
Even if you plan to plead guilty, good legal advice is essential and could be the difference between freedom and many years of prison.
We have done research on the local lawyers in Southbank whom specialise in Criminal law, so if you're being accused of a crime and need sound legal advice read on below.
Local Criminal Lawyers in Southbank, Victoria:
1# Papa Hughes

Papa Hughes have some of the experienced criminal lawyers in Melbourne available to work for you, both of their Principal lawyers have over 20 years of experience and are accredited criminal law specialists.
They have an excellent reputation built throw client results and they pride themselves on their client focus. They provide prompt consultation and will undertake cases for many different criminal offences including violent offences and sex offences including rape.
They have undertaken a number of high profile criminal cases over the years and have been involved in defending complicated criminal matters including murder and manslaughter.
They have many glowing testimonials and are credited by clients for keeping them out of jail, getting bail under difficult circumstances, and fighting for them in court.
If the number of very grateful clients is anything to go by, Papa Hughes is an excellent law firm to pick when it comes to criminal matters.
They have experience in working on trials, guilty pleas, Supreme court matters and appeals, bail applications and county court appeals. So no matter what offence you're accused of, Papa Hughes are sure to get you a great outcome.
2# Balot Reilly Solicitors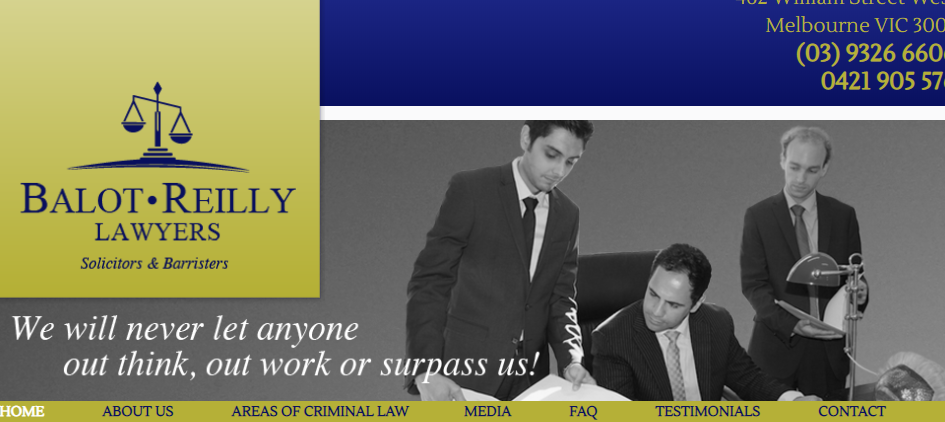 Balot Reilly Solicitors are a highly experienced Melbourne law firm with the incredible versatility to defend clients from all over Australia.
They have worked on large criminal cases in every Australian state and this has afforded them invaluable experience in state and federal laws and helped them to develop creative defence strategies based on experience.
Balot Reilly have experience in defending many different criminal offences and can help with almost everything, including highly complicated criminal matter or simple driving offences.
They never over-promise and will ensure that the communicate the legal process and what is happening to you clearly, so that you know what to realistically expect. They take a practical approach to getting you the best legal outcomes.
They have a fantastic reputation in Melbourne legal institutions and are well regarded in the courtroom, having developed excellent relationships with senior court officials and Barristers, ensuring that you get fair treatment during your court proceedings.
They also have a keen understanding behind the psychology of juries and know how to deliver exceptional arguments to get the best results for you during a trial.
Remarkably, their lawyers also speak many languages, which is appropriate for the Melting pot of Melbourne and essential for understanding legal proceedings.
3# Joseph Burke Law
Joseph Burke are an outstanding choice for their 24/7 service offering. It doesn't matter what time of the day you need them, they will pick up the phone.
They help with a number of criminal offences, including assault, drug offences, sex offences and driving offences. They can also assist with white collar criminal offences.
They can also help with bail applications, which can be highly stressful for accused to deal with alone.
Their private law service will devote maximum time and effort to your case, unlike the overburdened free legal services in Melbourne.
They understand the legal process for criminal offences very well, through years of education and experience and so can offer excellent advice and representation to you.
Joseph Burke founded the company in 2013 and has since then expanded to hire a legal clerk and continues to grow. Their team are contactable through phone and email 24 hours a day for legal advice.
If you need legal advice fast, or someone to represent you during bail proceedings than Joseph Burke's commitment to great customer service and incredibly quick response times might be just what you need.
4# MK Law

MK Law have over 30 years of experience to offer and a great track record of proven results over that time.
Their knowledge of the criminal justice proceedings in Victoria, and good relations with the legal institution in Melbourne can produce significantly better results than their clients could ever hope for when representing themselves or working with a free clinic.
They of 24/7 legal advice, a free initial interview and they're happy to swing past your office or meet you for free. No pumping you for billable hours with every interaction. MK Law is honest and ethical and committed to helping to decrease the stress involved with criminal charges, rather than adding to it with financial stress.
Their flexibility in coming to meet you can be a massive plus for potential clients who are struggling to maintain a job, or who can't travel for legal advice (very useful if you're being accused of a driving offence and your car has been impounded or your license suspended).
Their fee's are very reasonable and transparent, they will tell you upfront after the first interview what the cost involved will be – no surprises.
MK Law also have excellent client rapport, with more than 300 positive reviews online singing their praises.
5# Doogue + George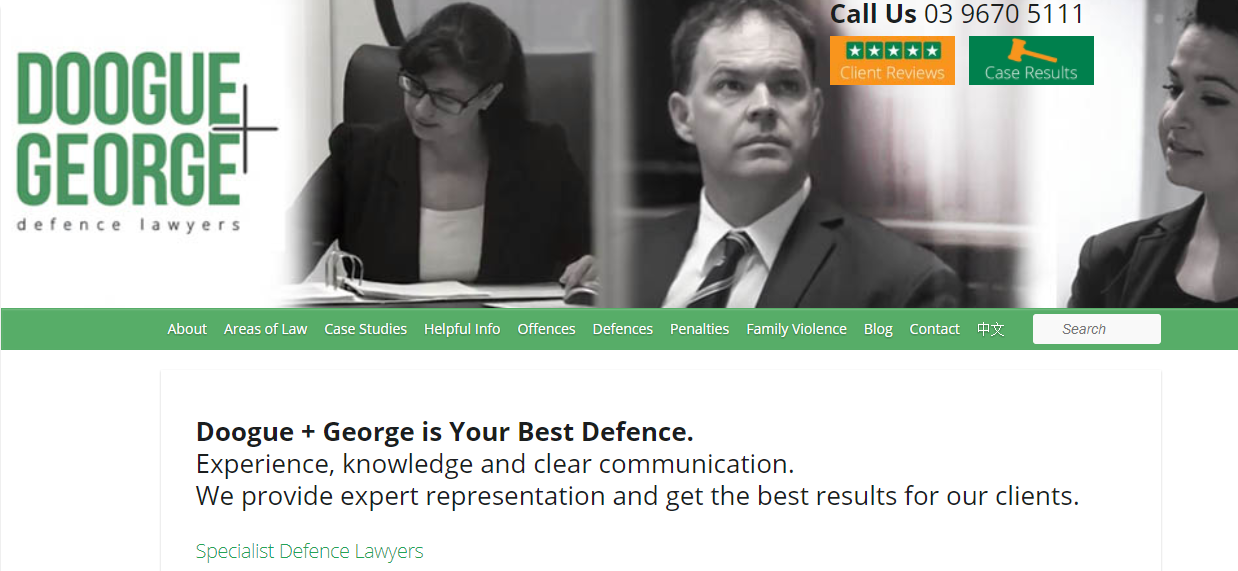 Doogue + George can provide you with excellent representation irrespective of whether you plan to plead guilty or not guilty. They are not there to pass judgement and just want to do their best by you based on the letter of the law.
Doogue + George are highly experienced with 8 of their 16 solicitors being accredited criminal law practitioners who can provide clear advice in layman's terms to help alleviate some of the stress involved with dealing with criminal offences.
They deal with many types of criminal offences, including cases of assault and violence, bail offences, offences against children, drug offences, family violence, fraud, murder, robberies, sex offences and federal offences.
They are also experienced in dealing with white collar crime, such as fraud, tax evasion and bribery. They have been involved in several royal commissions and inquests, making them one of the best placed and most highly experienced firms for large criminal trials.