Cash Your Gold has opened its new gold dealer store in North Brisbane, offering the best value for gold and silver items, regardless of their condition and, sizes.
Cash Your Gold, leading gold buyers in Brisbane has recently opened their store in Queensland, Brisbane with an ultra-fast process for selling gold. Anyone can walk into the gold dealer's Brisbane office to get their metals evaluated without any obligation. With a decade of experience, these gold brokers make selling gold as smooth as possible for the customers.
In recent years, the price of gold has risen sharply with the instability of the world economy, leading to more people investing in yellow metal to protect their wealth. There has been a lot of media attention on the topic, but many people do not know where to sell their gold or how much they should expect to get for it.
In reality, gold prices are as variable as any commodity's daily price; however, they tend to rise with inflation over time. And it's crucial to sell gold to a reputed gold broker to make sure that you only get the best prices according to the current value. And this is where Cash Your Gold has earned the reputation of being the most reliable gold buyer for the people in Brisbane.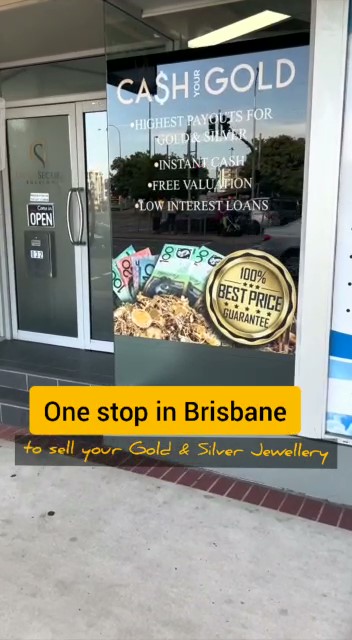 Precious Metals of Any Type Welcome
Cash Your Gold is growing to become one of the best gold buyers in Brisbane, providing the highest price for their unwanted gold and silver. They offer competitive gold prices based on the current market value of the items.
The team at the Brisbane branch is the most professional, trustworthy and reliable gold buyers. They have built their reputation on the quality of their customer service and the honesty of the business they conduct. All gold items that come into the store are carefully weighed and valued to ensure the customers receive the best deal for their gold and silver.
They buy gold and silver of any weight, regardless of their physical condition. If you have broken or damaged jewellery, they still buy it off at market rates. They deal with all kinds of precious metals in the form of:
Gold necklaces
Gold bracelets
Gold earrings
Gold rings
Gold nuggets
Gold pendants
Diamond rings
Diamond necklaces
Diamond bracelets
Diamond pendants
Gemstones
Silverware
Gold bars
Silver bars
Gold scrap
Gold bullions
Silver bullions
Gold coins
Silver coins
Selling Gold Has Never Been Easier
Many people struggle with the idea of taking their valuables to a local gold buyer only to be told that the price offered was significantly less than what they could get if they sold it privately. But with Cash Your Gold, the process is made very simple and quick.
Gagan Gambhir, the Co-Founder of Cash Your Gold, said, "When people are parting with gold and silver items that are near and dear to them, they only want the best price that's worth their while. And they don't want a long process that can drag on, but something quick that they get cash on hand. This is why we have made the entire process of selling gold to us as quick and easy as possible to cut down the hassles and give them the best price they can ever get in Brisbane."
They have a very simple 3-step process:
Visit their store on 832 Gympie road, Chermside between 9:00-5:30 Monday – Friday, 10am- 3pm Saturday. You can also book an appointment for their exclusive Mobile Service.
Their staff will evaluate your gold and silver items in front of you based on live market prices without any obligation to sell.
The gold dealers will make you an offer, If you accept the offer they will pay you in cash or bank transfer.
The entire process takes no more than 15 to 20 minutes.
The Best Market Price for Gold in Brisbane
Gold can be a confusing topic and there are many myths and misunderstandings about it. The new branch of Cash Your Gold in Brisbane is here to guide the localities about selling gold to make an informed decision. They are a locally-owned and operated business with over ten years of experience buying and selling precious metals.
Whether it's a tiny amount of gold or a huge collection of old coins, they can help you sell them for the best price.
At Cash Your Gold, they never offer anything less than the highest payout rates for gold or silver. They are licensed and accredited by the Australian government. This means that they meet the highest standards of buying gold and customers get access to the best market prices on the day they sell.
They even provide you with pawnbroker services. Cash your gold Pawnbroker service offers you the lowest interest rates. You will receive cash on-the-spot for your gold or silver item regardless of your credit history. They  provide maximum payouts on your gold and silver with no hidden charges or fees.
So, if you have been planning to sell or pawn your gold, or any other precious metal for that matter, you can get the best-possible price at Cash Your Gold..
About Cash Your Gold: Cash Your Gold is one of the leading  gold buyers in Brisbane that offers highly payout rates if you wish to sell unwanted gold and silver items. With a decade of experience, these gold brokers make selling gold as profitable and smooth as possible for the customers.