What does your perfect breakfast look like?
It's no secret that Sydney serves up a great breakfast and the best coffee. But with so many mouth-watering locations to try, it can be tough to know where to start.
So where better to relax and have a morning meal than a jewel in Sydney's crown – Darling Harbour. 
Unfortunately with so many options and no lack of overpriced tourist traps, it can be overwhelming to choose where to go. 
If you want to keep money in your pocket, a smile on your face, and uncover a hidden gem in your own backyard, you need to know before you go.
That's why we've rounded up a list of the top 5 best breakfast spots in Sydney's Darling Harbour for 2019. 
Hungry for more? Let's get right into it.
Warning: Don't dive into this list if you're hungry.
1. Braza Churrascaria
Looking for something new for breakfast? 
You might know Braza Churrascaria as an authentic Brazilian barbecue restaurant. But there's more to this Darling Harbour hotspot than the 'all-you-can-eat' menu. In fact, their breakfast is different from anything else you'll find in Sydney. 
With gluten free and vegetarian options, this is Sydney's best kept breakfast secret. As a combination of authentic Brazilian and Aussie favourites, it's the perfect blend of old and new.
Try something wild and exotic – like the Acerola juice. With 180ml of Acerola juice containing the same amount of vitamin C as FOURTEEN litres of orange juice, this is a juice that gets you going in the morning.
Or settle in with a classic like the Morning BBQ Fix. A hearty plate crowded with smoked BBQ brisket served with homemade chorizo, eggs, baked beans, chinese broccoli and sourdough. 
Our personal favourite? The traditional Brazilian 'Misto Quente' breakfast sandwich with smoked ham & mozzarella cheese is a great choice. But if you're making us choose two favourites, we'll take all 7 flavours of their tapioca pudding too.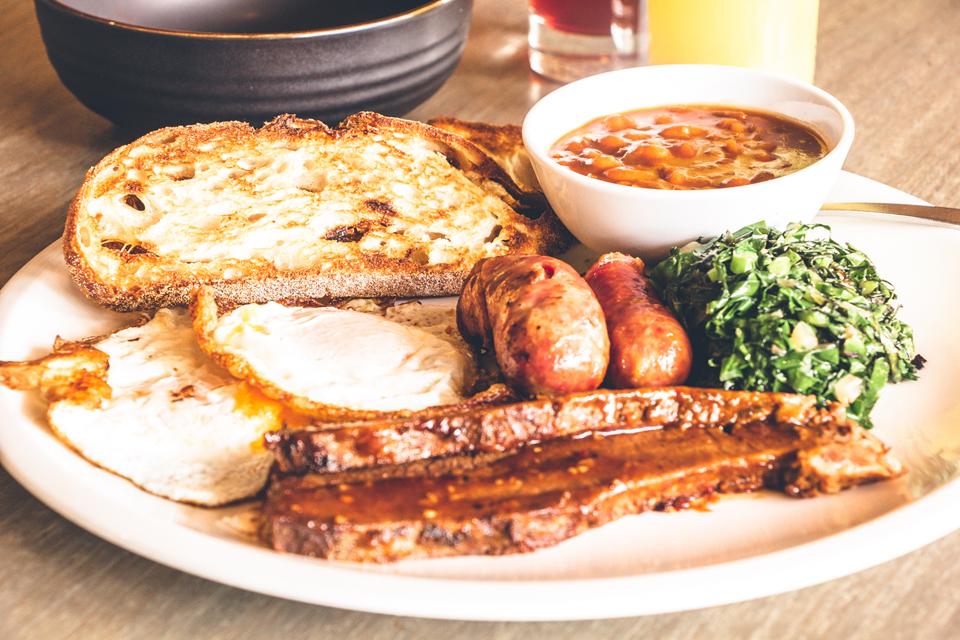 Address: 1-25 Harbour Street, Sydney. NSW 2000
Contact Number: (02) 9572 7921
Website: https://www.braza.com.au
How to get there: Google Maps
Price Range: $9 – $20
2. Coffee Box
There's nothing worse than desperately needing a caffeine hit to get your day started and being served subpar coffee. Lucky for you, there is no chance of that at Coffee Box.
With many tourist spots around the harbour offering mediocre brews, this little sea container in Pyrmont is where the locals go.

Serving up some of Sydney's smoothest and richest coffee, Coffee Box is a must stop any day of the week, whether you need to get through a busy day or need an instant pick-me-up after a big night out on the town.

While we are all guilty of having coffee for breakfast more often than not, if you are feeling hungry too then Coffee Box have plenty of tasty bites to grab and go. Snacks rather than full servings, from house made pastries to the perfect bacon and egg roll, there's always something to tickle your tastebuds.
The best part? While there's limited seating their menu is designed to be eaten on the go. So grab something that you can hold and dig in as you stroll around Pyrmont.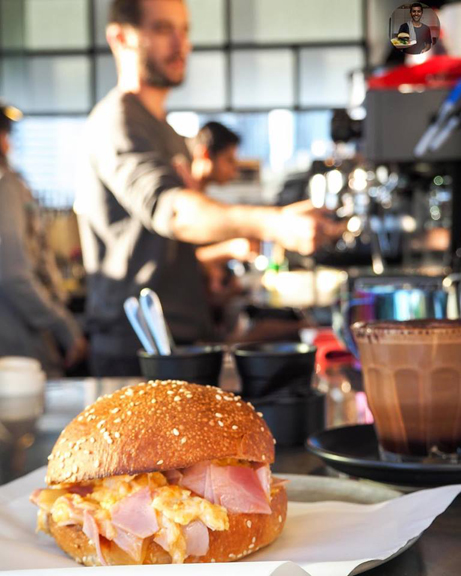 Address: Level 2, Harbourside Shopping Centre, 2-10 Darling Drive, Darling Harbour, Sydney.
Contact Number: (02) 9281 2853
Website: https://www.facebook.com/coffeeboxespresso
How to get there: Google Maps
Price Range: $6 – $10
3. Blackbird Cafe
What's better than a great breakfast? A great breakfast with stunning water views!
With balcony views of Sydney's Darling Harbour, Blackbird Cafe offers a typical Sydney brunch menu filled with your favourite modern Australian classics. 
Big night out? The Ultimate Big Breakfast will be sure to cure that hangover. Loaded with crispy bacon, mushrooms, hash browns, a truly amazing Italian sausage, grilled tomato, beans and eggs, you'll be leaving Blackbird cafe full and ready to enjoy your day.
If you're up for trying something different from your typical cafe fare, try the prosciutto schiacciata. 
It's a traditional Tuscan-style flatbread, topped with prosciutto, goats cheese, sun-dried tomato and rocket and sure to bring you back time and time again.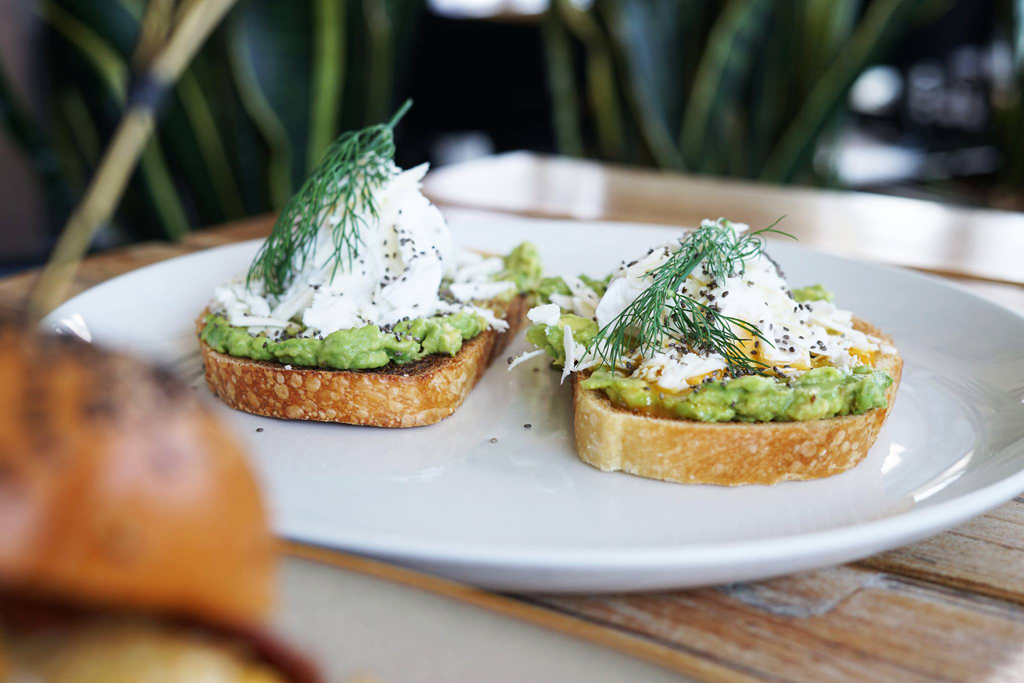 Address: Wheat Road Balcony Level 1, Cockle Bay Wharf, Darling Harbour NSW 2000
Contact Number: (02) 9283 7385
Website: https://www.blackbirdcafe.com.au
How to get there: Google Maps
Price Range: $12 – $24
4. Pancakes on the Rocks
Pancakes are a timeless classic.
If you grew up in Sydney, you are likely familiar with the institution that is Pancakes on the Rocks and their fluffy buttermilk pancakes. But don't think for a moment you have to go to the Rocks to enjoy a breakfast treat.
With a Darling Harbour location you'll find what you're looking for – whether something sweet or savoury, there will be a pancake option for you. 
Then again…why not treat yourself to both? 
Start off with something that celebrates the lucky country we call home, like the Australian Sunrise — two buttermilk pancakes served with bacon, eggs, and grilled bananas and pineapple. 
There's always room for dessert too. So we like to follow up with a sweeter option such as the apple crumble or black forest pancakes. 
If you're a crepes over fluffy pancakes person, The Ultimate is your go-to. Two silky crepes filled with cream cheese and sultanas, served with raspberry coulis and vanilla ice cream, it's more than worth its name.
Celiacs rejoice as almost all pancake dishes come with a gluten free option. So you won't have to sit there longingly looking at your mate's stack wishing that could be you.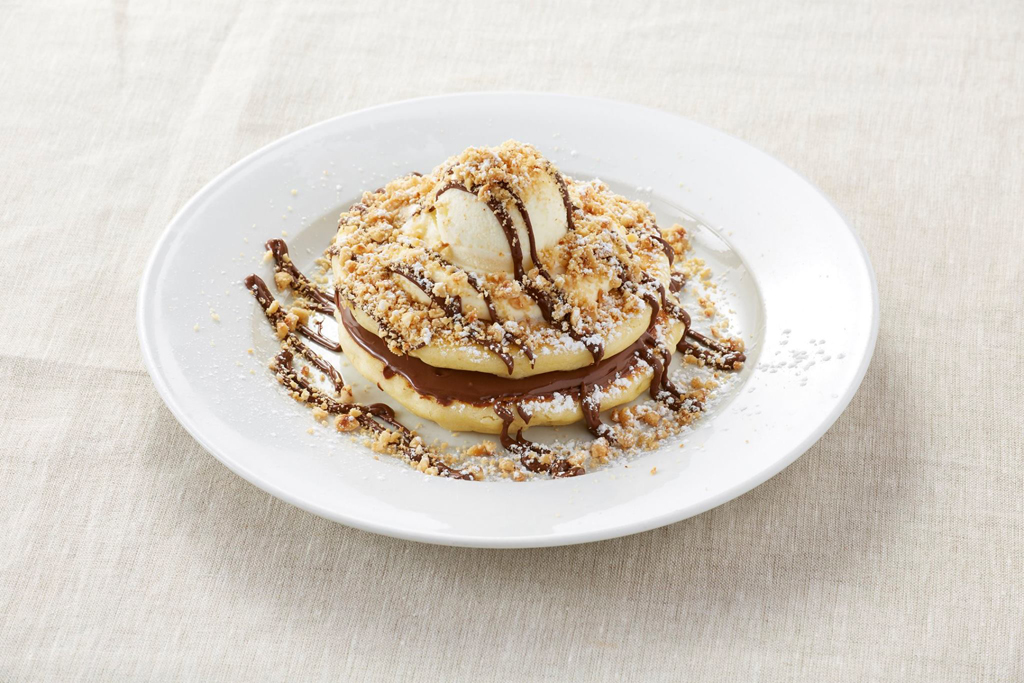 Address: Shop 230 – Harbourside Shopping Centre, Darling Harbour, Sydney.
Contact Number: (02) 9280 3791
Website: https://pancakesontherocks.com.au
How to get there: Google Maps
Price Range: $11 – $26
5. Planar
If you're looking for your next breakfast spot, we think we may have found the perfect place in Planar. 
Located on the ground floor of The International Convention Centre (ICC), Planar will have you enjoying your brunch with some of the best views of Darling Harbour. 
The waterfront dining location presents modern Australian cuisine, with a menu that will have something for everyone – from smashed avo and smoothie bowls, to crispy bacon and eggs your way. 
You may have had an Acai bowl (or three hundred) before, but have you tried a blue algae smoothie bowl? Not only does Planar's Blue Lagoon Smoothie Bowl taste amazing, topped with seasonal fruit and home made granola, but it is also an aesthetic delight (see: Highly Instagrammable) and will look great on your social feed. 
The classic Nutella stuffed french toast is another must try, served with strawberries and maple syrup. It's super indulgent, and even better, it's super delicious. 
Once you're done with breakfast, grab one of Planar's many fresh juice options to take with you on a walk around the harbour. 
That's how you start the day off right.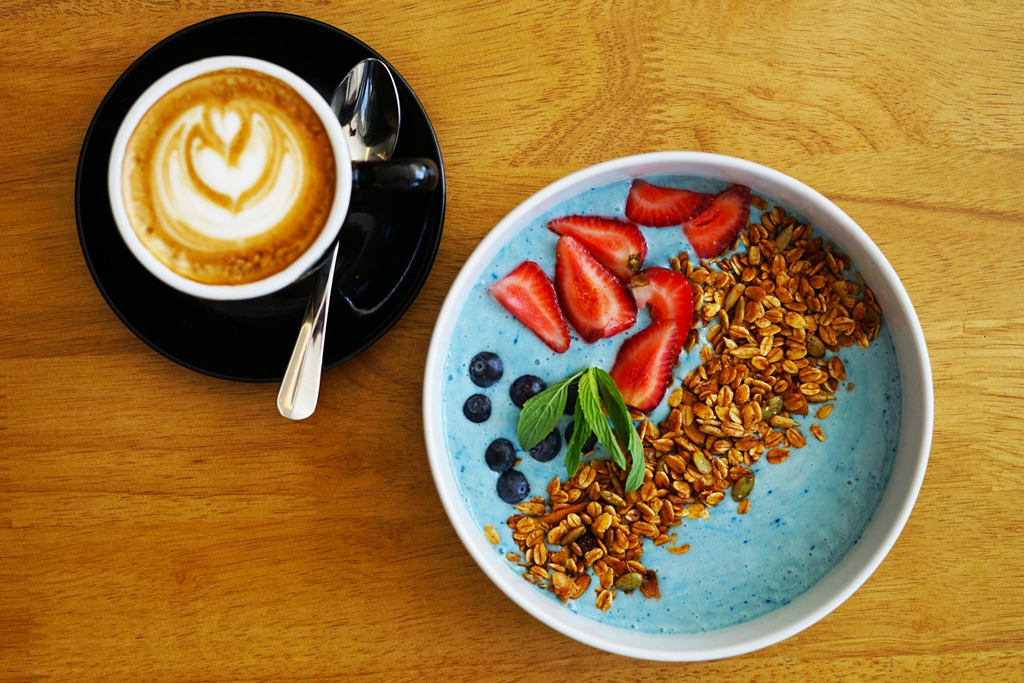 Address: ICC Sydney – Shop C08, Ground Floor/14 Darling Dr, Darling Harbour, NSW.
Contact Number: (02) 9212 6789
Website: https://www.planarrestaurant.com.au
How to get there: Google Maps
Price Range: $13 – $23
If you've spent your life thinking the best breakfast spot is in the Sydney CBD, then it's time to think again. Darling Harbour has the views, the food, and the prices to make it Sydney's breakfast hotspot.
The only thing missing – is you!
Have you got a favourite breakfast spot at Darling Harbour that we have missed?
Let us know!