Our homes are very dear to us and this is the reason why we take good care and always make sure that there is nothing affecting the structure. One of the ways we do it is by balcony waterproofing; an important aspect because if neglected can damage the wood and concrete in your home.
On the other hand, rather than repairing a damaged structure, it is often best to repair the small problem because it is less expensive. With the right knowledge and tools, most people can handle balcony waterproofing on their own. However, here are certain things that the owners need to consider before starting with this crucial task.
As well as this, it may be beneficial to enlist the assistance of a professional. They will know exactly what they are doing and the likelihood of something going wrong is much smaller. You are probably not an expert in waterproofing, so it is best to leave the task to someone who is.
If you are willing to give balcony waterproofing a crack yourself, then be sure to have a read below at some of the most important points you need to be aware of.
Patching Concrete
The waterproof coating that you add over the concrete will not work as a patching compound, and it will not be good enough to keep the water from seeping in. So you need to first take on the task of patching concrete.
In order to do this, you can take simple patching compound from the local hardware store and hence there is no need to mix new concrete for an area as small as a balcony. This will certainly safe you a bit of time.
Before you start the patching, you need to make sure that you carefully clean the cracks and chipped area and allow the patching to thoroughly dry before you add another coat of waterproofing on it. This start will ensure that you lay a platform to help you do the job in a perfect manner.
Direct Water Wisely
You need to be careful enough to direct water towards a runoff spot when doing balcony waterproofing. So, when applying the coating make sure that you avoid swirling brush towards door or building itself. If you do this, it can create trenches that will trap the water and then a puddle may be formed near building.
Make sure to create long strokes by your brush and direct it away from the building to the edge of your balcony where you can direct the water to runoff. As you reach the end of balcony you can also add a bit of extra pressure to the brush because this will help grade the coating downward.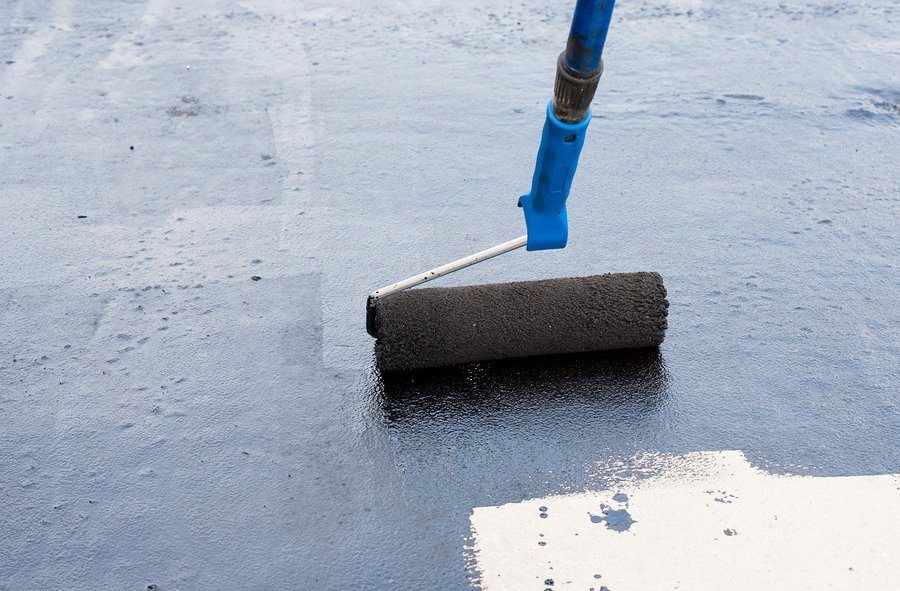 Keep Sealing the Concrete
You need to continue sealing the concrete as needed. Over time a waterproof paint or seal still needs to be used during the balcony waterproofing. In order to use right type of sealant, you need to follow along the manufacturer's instructions on the brand, the type and application process of sealant.
It will be good to keep in mind the use and foot fall on the balcony. To keep the balcony protected, you need to continue sealing it on regular basis if there is more foot fall. Failure to do this may result in a less than perfect result.
Why do it on a Regular Basis?
If there is constant seeping of water in your structure it will become weak and there are increased chances of it coming down with time. It is important to fix the issue while you still can, before it gets out of control.
Although, this may not be immediate, but there is still a danger of it occuring and, you will need to spend a huge amount of money to correct this problem. So, you need to take proactive measures in balcony waterproofing and make sure that it is in best condition at all times.
The above points will help you to be effective in your efforts to do the same. However, if you are not confident on taking on this balcony waterproofing project with a DIY approach, it is best to take help from the professionals who have years of experience in doing these tasks.
Just these seemingly small tasks will add value to your house and keep it safe for a really long time. So make sure that you are always ensuring your balcony is properly waterproofed and safe for family members and friends.