AxiTrader is a Forex broker that operates around the world. It was founded in Sydney in 2007, at the start of the currency exchange boom, before expanding into London, China, Germany, the Middle East and Latin America. It is regulated both by ASIC in Australia and in the UK, so it can generally be considered trustworthy and reliable.
Spread
The spread offered by AxiTrader differs depending on which account you have. The standard account, which is commission free, features a spread that is possibly a little higher than the average – although not by much. The pro account, which charges commissions on trades, only charges very low spreads.
In deciding whether you should get the standard or pro account you should look at whether it would be more economical to pay a flat commission and small spread or a larger spread. In general, the larger your trades are the more it makes sense to have the pro account.
Training
AxiTrader offers a free demo account, which is useful for beginners to Forex trading. The demo is available for a 30 day trial, which allows people to get at least a little bit of practice in trading before they start to risk their own money.
Funds
There is no minimum deposit to set up either the standard or pro accounts, nor is there a setup fee. This means that even if you don't have much money to spare you can still get involved. Leverage for both accounts is also available, up to 400:1.
This is on the low end of the scale for leverage, meaning that the risk of losing more than you can cover is less than with other brokers – but the potential profits are also lower. Accounts can be set up in Australian, Canadian, New Zealand, Hong Kong, US and Singapore dollars, as well as euros, pound sterling, Japanese Yen and Swiss Francs.
Trading options
AxiTrader has a huge number of trading options available. The broker offers more than 80 currency pairings, along with metals and futures in commodities. This is a huge number of offerings to satisfy even the most hard core traders, but the sheer number and complexity of all these options can be a trap for new players.
It is advisable for beginners to Forex to only gradually expand the currencies and commodities they trade in, beginning with the major currency pairings.
Summing up
AxiTrader is a large platform, with a number of options for traders. It has a huge number of offerings, as well as low entry costs and options for practising. The relatively low potential leverage means that the risk with this broker is not as high, but neither are potential profits. Beginners should be careful not to bite off more than they can chew, while experienced traders have to look out to ensure their profits aren't being limited.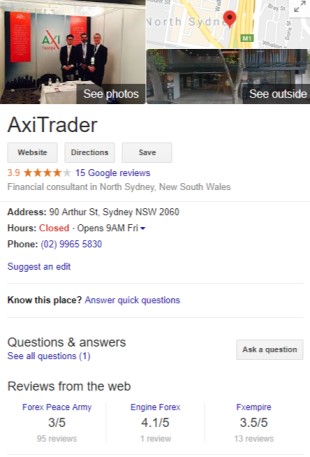 AxiTrader Reviews*:
Google reviews:
"Excellent customer support. Great promotions and trading platform."
Digant Desai – source
"Good user-friendly platform and generally helpful, responsive support. Like it."
Ross Kenny – source
Forex Peace Army Reviews:
"I opened a live account one month back.Account opening,deposit,execution of order,chat service everything is fine.So I give a 5 Star without problem"
"I have traded in Axitrader for about 4 months now. My experience is excellent .They provide great leverage (1:400) decent spreads, fast executions and super fast withdrawals, hassle free. They have a great support team, friendly fast and helpful. Benjamin Malone helped me setting up my accounts and processed my documents timely and efficiently. Thank you Ben and all your team for your great work! Clearly a trustworthy broker ."
****
*reviews were selected