Home
Authors
Posts by Anand Kumar Jha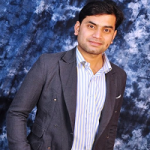 Anand Kumar Jha aka AnandKJha™ is an SEO expert and digital marketer
with
more than 7+ years of experience. He is a Google search, Google Analytics, Hubspot Inbound Marketing certified digital marketer.
He has a team of 5+ experts for SEO & digital marketing research, process, and management. He has helped small businesses in India, UK, Canada, Australia, and Dubai to grow. He wants to create small business success stories around the globe using digital marketing tactics and tools.
Visit his website to know more.