Home
Authors
Posts by Amit Goyal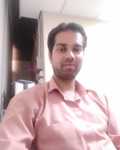 Amit Goyal is a writer who has written on a range of topics. He is enthusiastic and passionate with an interest in food, health, the stock market, entertainment and politics.
While most celebrities would instantly jump on to be a part of the iconic and long-running sketch show Orlando Bloom wasn't one of them....
Over a year after his death, revered chef Anthony Bourdain was honored with two Emmy awards for his culinary television show 'Anthony Bourdain: Parts...