Home
Authors
Posts by Amit Goyal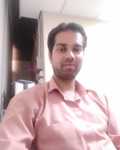 Amit Goyal is a writer who has written on a range of topics. He is enthusiastic and passionate with an interest in food, health, the stock market, entertainment and politics.
ABC's Stumptown is the television adaptation of Greg Rucka's graphic novel of the same name. The series stars Colbie Smulders as veteran woman Dex...
While Matt Damon's upcoming racecar drama "Ford v. Ferrari" is keeping him busy as of the moment, he already has another flick lined up...