Struggling to cook up some ingenious promotion ideas for your restaurant? Eager to "wow" the customers with some exquisite marketing strategies? Let's have a look at some avant-garde promotion ideas to fascinate most rumbling tummies around and, at the same time, swell the profits of your restaurant.
Have a simple yet stunning functional website
Having a dedicated user-friendly website is crucial to increasing footfall in your restaurant as most of the customers tend to hunt online before venturing out in search of a decent restaurant. Apart from the customary information, like the accurate address, phone number and operational hours, deck it out with an attractive menu, food blogs and photos of drool-worthy food, cheery interiors, joyful employees and satiated patrons.
Make the website search engine friendly
Just having a website is not the end of the journey. You simply can't expect people to land in hordes as soon as you make your website live. Unless your website is developed and designed in line with search engine guidelines, people will find it hard to spot in search engine result pages. A strong online presence is what your catering website needs and therefore, you should never ignore importance of search engine optimization. You need to add related keywords in the body copy, make the design responsive, add proper Title and Meta descriptions in all pages, add an XML Sitemap and submit your website's XML sitemap in Google Search Console so that search engine bot can find all the pages of your website easily and effortlessly.
Show up on the top of your search engine
Do you aspire to be the first name that comes up when starving souls, in pursuit of appetizing food, hunt for a restaurant online? Employ Search Engine Optimization or SEO to make your restaurant website rank highest in any search engine against keywords entered by the customers. Another option is an online advertising service called Google Adwords that will allow you to run your ads at the top of the search results page.
Get a local food blogger on board
Blogging plays a huge role in client acquisition. Getting some influential food bloggers in the door could help you garner reviews and extensive publicity. You could invite these food bloggers over for a complimentary meal or drinks and courteously ask them to share their valued feedback online.
Excite loyalists with loyalty programs
Reward your esteemed clientele, who frequent your restaurant, with discounts and other freebies. This would result in your loyal customers coming back to your restaurant over and over resulting in adding to your sizable client base. Some examples of rewarding your loyalists could be : one coffee free with on every 5 purchases, cumulative rebate on selected items etc.
Indulge in charities and bring in celebrities
Alluring celebrities in the door could seem extravagant, but redirecting a considerable chunk of the proceeds to a social cause and letting the celebrities know about your goodwill, would not only entice them in for a lessened charge but also help you popularize your business and increase your customer base.
Partner up with foodie apps
With online-driven customers in today's day and age looking for instant gratification and user-friendly ways for ordering food, booking reservations online and earning loyalty points etc. its only prudent to tie up with food delivery and reservation apps. Even the loyalty programs could be incorporated into these apps to compile and analyze customer behavior data.
Leverage holidays and popular events
Promoting your restaurant business alongside popular holidays and big events, is a fun way to promote and achieve a roaring business. These events are marked with a heavy footfall of ardent patrons reveling in the holiday spirit, who tend to popularize your business by sharing positive reviews and tagging you in their posts on social networking pages.
Get people in the doors in the down time
The most authentic and tested approach to adequately leverage your under-utilized staff and other utilities that get squandered during off-hours, is to get your patrons in the doors during down-times. Some examples include, giving away discounts on weekday nights like Tuesday or Wednesday nights, or handing out offers and freebies between 2 pm to 5 pm.
Have combo-meals at fixed price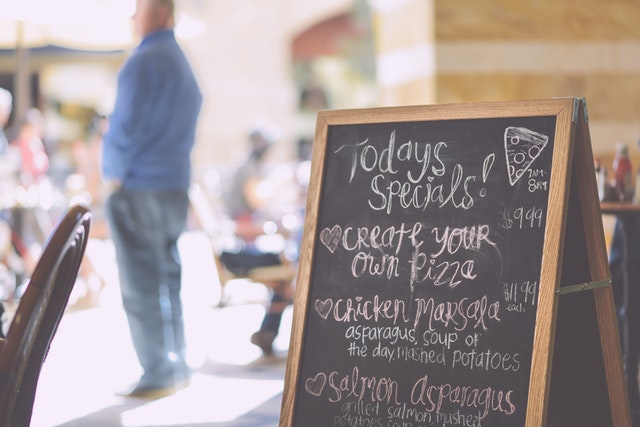 There must be some high-priced items on your menu card, like a bottle of wine or an exotic meal, that the customers can't fancy! You could club these items with your regular items and create a set menu that would bring down the total cost by 15-20 % thereby making these expensive items accessible for your patrons as well as fresh customers.
Having a strong social media presence is the name of the game for your restaurant business. Its an inimitable platform to flaunt your laurels, share positive reviews from renowned food bloggers, and show off positive press. It also gives you an opportunity to leverage your patrons' positive word when they share and tag your business on their pages.
The above out-of-the box marketing strategies, will help you delight your customers and eventually win over fresh ones, staying way ahead of the curve in the restaurant industry.