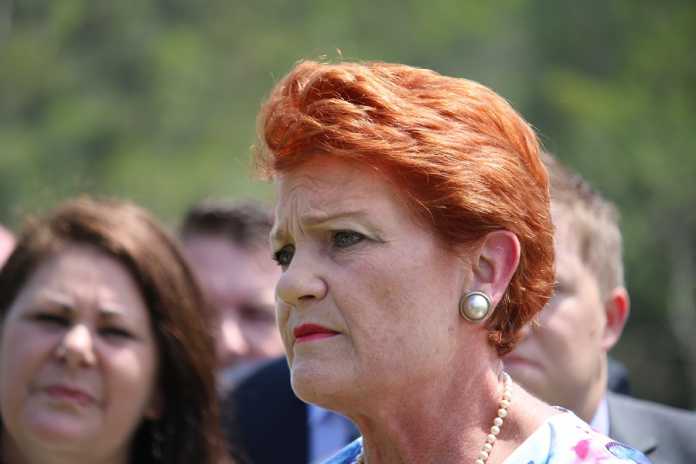 Prime Minister Scott Morrison has said it was "regrettable" that several of his senators supported Pauline Hanson's "it's OK to be white" senate motion.
The motion was put forward by Pauline Hanson, the leader of the One Nation party, and was defeated with just 28 votes to 31. The motion was supported by Coalition senators.
In her address, Senator Hanson cited a "deplorable rise" of racism against white people in Australia as well as "attacks on Western civilisation". She punctuated her speech with the slogan "it is OK to be white".
While Senate motions hold little sway and are mainly used to make a political statement, the Coalition's support for the motion was met with immediate backlash.
Attorney General Christian Porter defended the motion on Twitter, saying that it proved the Government "deplores racism of any kind".
The Government Senators' actions in the Senate this afternoon confirm that the Government deplores racism of any kind.

— Christian Porter (@cporterwa) October 15, 2018
Mr Porter's tweet was then retweeted and agreed with by Finance Minister Mathias Cormann.
The Government indeed deplores racism of any kind. https://t.co/ABqqMj08XE

— Mathias Cormann (@MathiasCormann) October 15, 2018
Prime Minister Scott Morrison was quick to express he thought the support by his senators for the motion was "regrettable" and this prompted Senator Cormann to make an apology for his statement.
He also added that the Coalition was actually going to vote against the motion when it was first brought up in September but that an "administrative error" caused what happened.
During the debate in the senate, Greens Leader Richard di Natale pointed out that "OK to be white" was a popular slogan used by white supremacist groups.
Labor's Tony Burke also took the opportunity to blast the Government on the issue.
It's pretty simple really. @ScottMorrisonMP @cporterwa#auspol pic.twitter.com/qKm5ObzUs7

— Tony Burke (@Tony_Burke) October 15, 2018