Jiten Thakkar is a well-known entrepreneur and business coach, known for his expertise in helping businesses grow and succeed in the online world. In 2023, he has come up with a comprehensive master plan for online business growth that entrepreneurs and business owners can follow to achieve their goals.
Jiten Thakkar's 2023 Online Business Growth Master Plan revolves around five aspects.
The first step in Thakkar's master plan for budding entrepreneurs is to focus on building a robust online presence. This includes creating a well-designed website, developing a strong social media presence, and establishing a strong brand identity. By doing so, businesses can attract more customers and increase their online visibility, which is crucial for success in today's digital world.
Next, Thakkar recommends focusing on SEO (search engine optimization) to improve search engine rankings and increase organic traffic to the business's website. This can be achieved by optimizing website content, creating high-quality backlinks, and conducting keyword research to identify the most relevant keywords for the business's products or services.
Another essential aspect of Thakkar's master plan is to focus on content marketing, including creating and sharing valuable content that appeals to the target audience. This can include blog posts, videos, infographics, and more. By consistently producing high-quality content, businesses can build trust and credibility with their target audience, leading to increased conversions and sales.
Thakkar also emphasizes the importance of leveraging technology to streamline processes, automate tasks, and improve overall efficiency. This includes using tools such as customer relationship management (CRM) software, marketing automation software, and analytics tools to track and analyze the success of different strategies.
Finally, Thakkar emphasizes the importance of tracking, measuring, and analyzing the success of different strategies to improve and optimize results continuously. This includes regularly reviewing website traffic, conversion rates, and other key metrics to identify areas for improvement and make informed decisions about future strategies.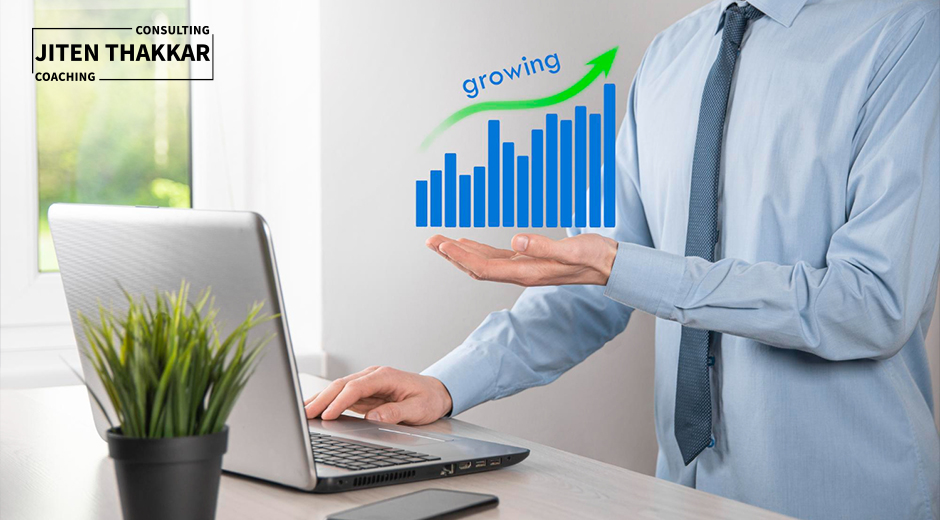 To describe the above deeper, here is a step-by-step actionable strategy that, when combined with the right approach, consistency, and a growth mindset, will help you achieve success in 2023:
Establish your business goals
Before you can start working on growing your business, you first need to set some specific goals. What do you hope to accomplish with your company in the next year, five years, or ten years? What are your sales, customer base, and profit margin goals? Once you've decided what you want to accomplish, you can start making plans to make it happen.
Choose the right online marketing strategies
There are several online marketing strategies you can use to grow your business. Depending on your business goals, you may want to focus on SEO, social media marketing, PPC advertising, or email marketing. Choose the strategies that will work best for your business and focus on using them effectively.
Create high-quality content
One of the most crucial components of any online marketing strategy is content. You must create high-quality content relevant to your niche to attract customers and convert them into buyers. In addition, this content should be updated regularly so that your customers always have something new to read.
Use effective SEO techniques
SEO is one of the most effective methods for getting your company noticed online. To rank higher in search engines, make sure your website is SEO-friendly. Use effective keywords and backlinks, and make your website user-friendly.
Use social media marketing
Social media is an excellent platform for connecting with customers and promoting your products or services. First, check that you have a solid social media strategy and are reaching a larger audience across multiple platforms.
Make use of pay-per-click advertising
PPC advertising is an excellent way to expose your business to a larger audience. You can target specific keywords and demographics and will only be charged if someone clicks on your ad.
Provide incentives to customers
Offering customer incentives is one of the most effective ways to increase sales and attract new customers. This could be a discount or a free gift with purchase on your products or services.
Use email marketing
Email marketing is a great way to reach out to your customers and keep them up to date with your latest products and offers. You can send regular emails with special offers or create email newsletters to keep your customers informed.
Keep track of your results
It's essential to track the results of your online marketing campaigns so you can see how they are performing. Use a good analytics tool to track website visitors, conversion rates, and how much money you make from your online efforts.
Stay up to date with the latest trends
The online world is constantly changing, so you must keep up with the latest trends. Keep up with the most recent PPC advertising tactics, social media fads, and SEO strategies.
In the words of Jiten Thakkar, he believes
"There is no single formula for success, but a growth mindset, persistence, and determination are the key essential ingredients. A growth mindset allows you to learn from your failures and persist through setbacks. Persistence allows you to keep going when the going gets tough. And determination ensures that you never give up on your dreams."
He mentions that,
Success is not something that can be easily attained. It takes a lot of effort, commitment, and persistence to succeed. To get there, there are no short cuts. You must be prepared to invest the necessary time and effort and persevere in the face of the inevitable difficulties and obstacles. So if you want to be successful, don't look for shortcuts. "Just focus on putting in the hard work and dedication required, and be persistent in your efforts."
In conclusion, Jiten Thakkar's master plan for online business growth in 2023 is a comprehensive and actionable guide for entrepreneurs and business owners looking to succeed in the online world. By following these steps and continuously adapting to the changing digital landscape, businesses can achieve their goals and thrive in the competitive world of online commerce.