The business world has never been more global. Indeed, you can head to any major city centre, whether across Australia, in the United States or in Europe, and find the same outlets operating under the same business models, like McDonald's, H&M and Enterprise Rent-A-Car.
In order to remain competitive in today's global marketplace, businesses of all shapes and sizes must do the same – promoting their products and services to a worldwide audience to capture a share of the market and secure their position in their industry. But doing so isn't always simple.
In today's article, we chat exclusively to Craig Dempsey, the Founder of Biz Latin Hub, an organisation offering support for brands wanting to expand internationally. In our talk, Craig shares the secrets of his journey and offers advice for entrepreneurs ready to grow.
Craig… tell us about your journey with Biz Latin Hub
I've had a long and varied career, with a stint in the Australian armed forces to boot, before I transitioned into the national resources sector, filling roles in Senior Mine Operations and Project Management.
After spending a lot of my time in Latin America, I quickly spotted a gap in the market for offering support and back office services for brands that wanted to expand into new territories and decided to launch a business with British co-founder David Wright back in 2014.
In just a few short years, we've been able to work with incredible brands, such as CargoJet, IFU, the Macromill Group and HubSpot, and we offer services including company formation, legal, recruitment, due diligence and more. We've worked hard to create a team of real expats that are dotted around Latin America, all ready to help take great business ideas to the next level.
We've so far helped hundreds of businesses, both local and international, and now we're planning on expanding across the globe. We've already announced plans to open an Australian office in Sydney, which I'm looking forward to, as well as a British office in London. We're hoping these two new headquarters will help us to take more fantastic businesses to the next level globally.
Why start with Latin America? Why not Europe, or the US?
It's hard to deny just how lucrative Latin America is. Not only does the territory have a $5 trillion US dollar economy, but it's home to more than 600 million citizens in countries like Argentina, Bolivia, Brazil, Chile, Colombia, Ecuador and Peru – and many of those citizens are joining the growing middle class, all of whom have access to a disposable income and are ready to buy.
When I visited countries like Brazil and Peru, I quickly realised just how powerful those markets were becoming. Despite an upcoming election and nation-wide strikes from truckers earlier in the year, Brazil's economy is still on the up, whilst Chile is thought to become Latin America's first developed country before 2025. There is some real change on the way, and businesses that can enter the market before these countries grow will reap the rewards of loyal customers, strong brand recognition and an established presence. For me, those things are really exciting.
Another reason Latin America is such a great option for businesses looking to expand is that of location. If you've already got a presence in the United States, then distribution will be easy as pie.
If you don't, then starting in a country such as Chile or Bolivia will put you slap bang in the centre of the territory, and make it easy to expand into new countries like Brazil, Colombia and Argentina, all of whom are enjoying growth and seeing more citizens enter the middle class.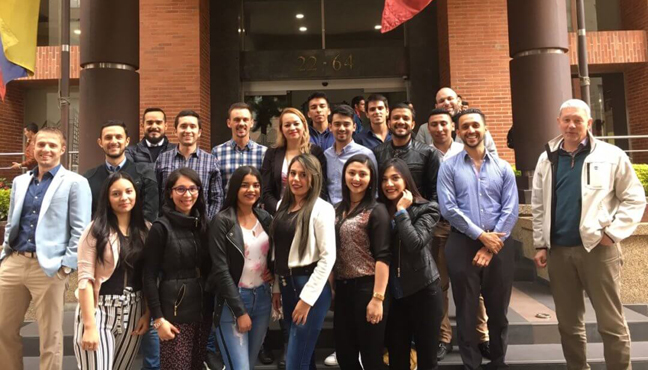 What is the key to international expansion?
For us at the Biz Latin Hub, one of the reasons why we have been able to grow so quickly is because of our expertise. We've worked strategically to find top talent in countries across Latin America who know their markets like nobody else, and who can recommend the best strategy for the business.
One of the biggest mistakes we see businesses make is assuming that they know everything about their market. Sure, you might know everything about kids' fashion in the United States, but in Uruguay, you know nothing. Finding professionals who can take your business to the next level is key; sometimes you have to swallow your pride and accept help.
Something else that we think is important is localisation. You cannot bring your products and services to a new territory – particularly one that speaks a different language – and expect consumers to be interested right away. Not only do you need to think about translation, but you need to look at your audience and make changes to make your products truly accessible and desirable. If you don't, you won't last long in a new market, regardless of where you end up.
What advice would you give to entrepreneurs looking to expand?
Do your research. It's so easy to look at a competitor and think "oh, we need to do the same". In short, all businesses are different, and so taking the time to visit a new territory, speak with your potential customers, and get to know the market is so important. The truth is that expanding into Latin America might not be the right option for you.
You might realise that there are too many local competitors, or that consumers don't have the same interests and attitudes as your clients at home. But finding out for yourself before you spend thousands of dollars is important, so never underestimate the power of research and development. It'll save lots of time and money.
I'd also encourage entrepreneurs to think about Professional Employer Organizations companies that will employ talent on behalf of your business. This means you can hire great talent to grow your business in a new territory without legally having to establish a business in the country; everything from salary to human resources is handled by the PEO.
Of course, this may not be the best option for your business long-term, but it reduces risk and makes international expansion more affordable and accessible to businesses of all ages and makeups.
Expanding certainly isn't for everyone, but with the right strategy, you can take your company to the next level and unlock hundreds of thousands of dollars in untapped revenue. Good luck!