When you're looking to get the most out of your transition to a new job, it's vital that you have some foundational points to guide you through it.
You'll need to adjust both from a personal and professional standpoint, and will want to hit the ground running.
By using the points below to guide you, it'll be easier for you to move forward and get the most out of this opportunity. Use these strategies to assist you.
Map out your new home and way of life
Once your new employer e-mails the offer of employment, it's time for you to wrap your mind around the fact that you're living somewhere new and different. The more you're able to control, the easier it'll be to make decisions that count, and before you know it, you'll be ready to make your new area home.
First things first, get the lay of the land and start looking into apartments or houses in the areas that speak to your sensibilities. You'll need to look into things like your work commute, traffic patterns, cost of living and attractions.
Thankfully, we live in the age of the internet, so it's a lot easier for you to hit the ground running with your home search, thanks to virtual tours and other media.
However, never sign a lease until you get your feet on the ground and see it in person. You'll want to get a feel for the neighborhood and also see the property for yourself.
One of the best things you can do is place an informal visit to the office before your first day of work. This way, you can make introductions, build a rapport and start asking for recommendations on places to live and tidbits you should know about your new area of residence.
You'll also want to begin planning out how long you'll live there once you're all moved in, so you can address any obstacles and put any matters into place.
Work with professionals to ease the transition
One of the easiest ways to get started is to hire a moving company to assist you. There are companies that can assist you so that you don't have to lift a finger, while ensuring that your possessions are moved in a timely manner.
Before signing your offer of employment, negotiate things like moving expenses with your job's human resources department. You'd be surprised at how willing your job may be to handle such expenses if you ask.
Regardless, ask around for some price estimates so that you can make this switch at a cost that serves you.
Go in with a notepad, positive attitude and willingness to learn
Once you start at your job, take it upon yourself to be the first person to arrive and the last person to leave. When you adopt this mindset and come in with a willingness to serve, it will immediately set you apart and you'll find yourself climbing the ladder.
Develop a rapport with your boss and keep a notebook handy so that you can map out your thoughts, write down things that will help you improve, and otherwise figure out how things work at this company.
Never limit yourself to your job title. If there's any way that you can help, offer assistance and take advantage of every opportunity to learn. You'll quickly find your hands full with new and exciting challenges that will make your job fulfilling.
Begin building authentic relationships
Finally, take time to be social and relate to people in your office. The more you become a team player and learn about the interests and personalities of others, the sooner you'll feel right at home.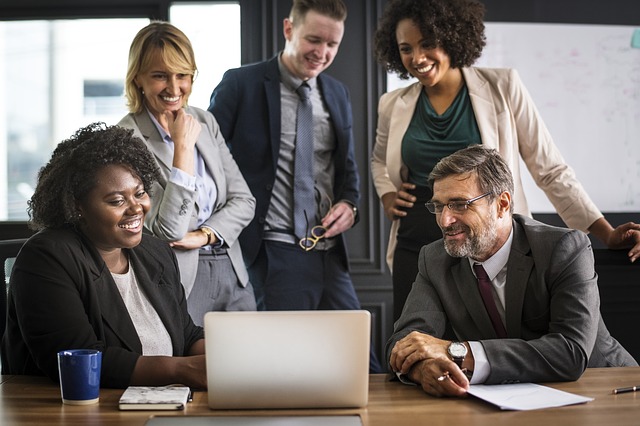 Take advantage of invites you get and also don't limit yourself to your work social setting. Explore activities that you've always wanted to engage in and find your community.
If you follow the tips presented, you'll quickly transition into your new job and this new change in your life.