Dubai is so exuberant and versatile that it allows you to experience the finest in every category, from culture, nature and architecture to shopping, leisure and entertainment. In fact, the city has a long list of things to see and do on every visit here. But, if you are overwhelmed and don't know what to do in Dubai, read on; this exclusive post will guide you on the quintessential stops that you should add in your Dubai travel program.
Best things to do in Dubai
#1 Seek out the fantastic city views at Burj Khalifa
There is quite nothing like taking in Dubai's glamorous cityscape than from a sky-high perspective. And the observation decks at 124th and 148th levels of Burj Khalifa (the world's largest building) are the most ideal for that. For the most premium experience, try to visit here right in time to catch the sunrise or sunset views. Along with the fantastic ever views, you also get to enjoy one of the world's fastest elevator rides plus a multimedia display on Dubai's evolution from a modest fishing village to a high-tech global city.
#2 Hit Dubai mall's main attractions
If you think that malls are just meant for shopping, Dubai's malls are more than that. Not to mention, the Dubai Mall, next to Burj Khalifa (in Downtown Dubai), is an absolute world for shoppers, leisure seekers and adventurists alike. The best thing is that it caters to every preference and ability. Shop at its over 1200 outlets while your tiny ones take charge of the miniature metropolis of KidZania Dubai or your impulsive teens make the most of the  largest of its kind VR Park Dubai, Ekart Zabeel, Dubai Ice Rink etc. It is a destination for art, culture and marine lovers too, thanks to its attractions such as Dubai Aquarium and Underwater Zoo and the brand-new Infinity Des Lumières.
Before you leave the place, make sure that you watch the stunning extravaganza of light, water and music with the Dubai Fountain show at Burj Lake. It was the world's largest fountain show until the launch of Palm Fountain show recently, which again is in Dubai (at the Pointe, Palm Jumeirah) and a definite see for its sheer grandeur. 
#3 Experience the world's largest observation wheel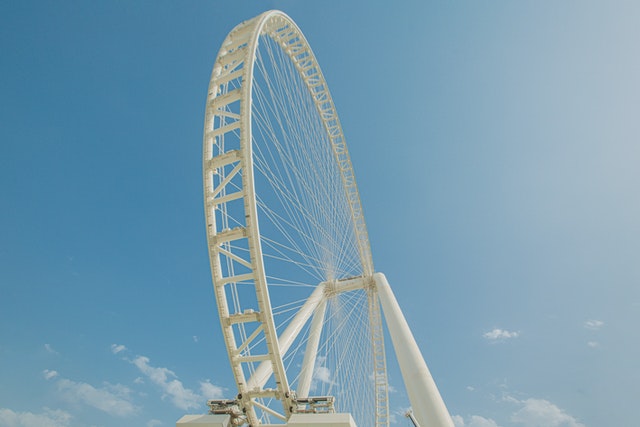 Majority of Dubai's brand-new attractions are not only groundbreaking but also record-breaking. One of the latest sights to join this league is Ain Dubai. Located on the striking waterfront district of Bluewaters Island, it is the world's largest and highest observation wheel.
A rotation on one of Ain Dubai's 48 spacious cabins lasts for about 38 minutes; this lifts up to a height of about 250 meters, promising you the most spectacular views over Dubai Marina, Bluewaters Island, Jumeirah Beach Residence (JBR) and Palm Jumeirah.
#4 Get a dose of Emirati culture at al Bastakiya quarter
For those who wish to revisit Dubai's modest past, Al Bastakiya Quarter is one of the top places to visit in the city. Also called Al Fahidi Historical Neighborhood, this traditional district in Old Dubai gives you a slice of what was like life for the locals in the 19th century.
Take a walk through its labyrinths of streets for a look at the region's age-old structures which are still preserved to its original state. Most of them now function as a museum (like Dubai Museum inside the oldest of its kind Al Fahidi Fort), art gallery, or a cultural landmark such as the renowned Sheikh Mohammed Centre for Cultural Understanding (SMCCU.) 
#5 Catch the view at the Palm Jumeirah
There is no shortage of observation decks in Dubai. But, the View at the Palm is the region's only lookout point where you can delight in the entirety of the largest of its kind Palm Jumeirah (with its giant palm-tree like design complemented by a crescent on the top).
Don't miss it; it is located on the 52nd level of Palm Towers and makes a perfect, cost effective alternative over a helicopter ride, a seaplane tour, or a sky diving session which till recently was among the few options to delight in the full display of Palm Jumeirah. 
#6 Enjoy an insider look at the iconic Burj Al Arab
Dubai is popular all over the world for its top of the range accommodation choices. Opened in 1999, Burj Al Arab continues to be the majestic and high-end of all. A stay in this five star hotel may not be possible for all, but you can now take a look at its out of the world comforts and extraordinary segments for a fraction of cost.
It is courtesy to the recently introduced Inside Burj Al Arab experience; this butler guided tour gives you an up-close and detailed display of some of the hotel's most exclusive attractions such as the expensive ever Royal Suite, the largest of its kind atrium, the one of its kind Experience Suite, and the marvelous UMA Lounge. 
#7 Desert safari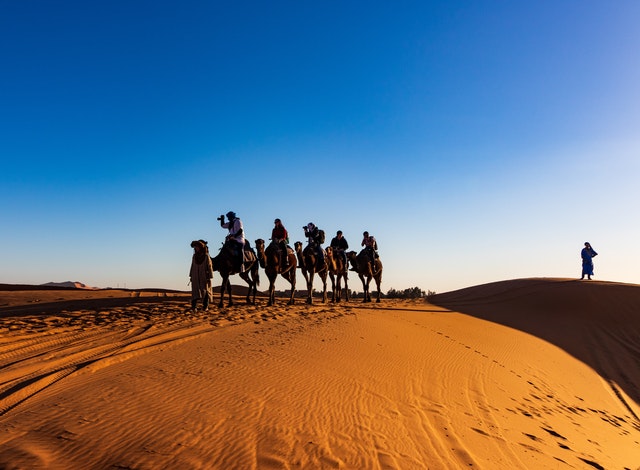 The Arabian Desert, one of Dubai's greatest scenic charms, is just a few minutes' drive away from the city center. Experience it on a guided desert safari tour. This allows you to immerse in the sheer size and enormous beauty of the seas of golden sands with a 4X4 dune bash. Subject to your desert safari package, you can also expect to participate in a spectrum of desert-inspired actions like camel ride, sandboarding, dune buggy ride etc.
Choose from morning or evening desert safari complete with BBQ dining, traditional live shows (including Belly Dance and Tanura) and cultural activities such as henna tattooing, Shisha smoking etc. 
#8 Have absolute theme park fun at Dubai parks and resorts
Dubai, in recent years, has made a name for itself as a haven for the theme park enthusiasts. Thanks to some of its outstanding theme parks that range from the world's largest indoor theme park (IMG Worlds of Adventure) to the Middle East's first of its kind Ski Dubai.
But, if you are looking for ultimate theme park fun and entertainment, make your way to Dubai Parks and Resorts. It is so massive that its grounds boast of four cool parks including the Hollywood-themed Motiongate Dubai, Hindi-cinema based Bollywood Parks Dubai, LEGO-themed LEGOLAND Dubai and LEGOLAND Water Park. 
#9 Wander around the souks
Whether you are here for shopping or not, it is difficult to imagine winding up a Dubai holiday without a session of retail therapy. If you wish to stock up your suitcase without really stretching your pocket, don't just limit your shopping spree at the city's malls; make tracks for Dubai's souks as well.
From Gold Souk and Textile Souk to Perfume Souk and Spice Souks, these traditional bazaars tucked away in the parts of Old Dubai have some coolest souvenirs, apparels and merchandise all available at a rate that you never imagined. 
#10 Dhow cruise
Want to experience the dynamic, fast-paced city of Dubai at a super relaxed pace? Come aboard a traditional dhow which was once widely used for pearl farming and fishing in the region's pre-oil phase. This refurbished wooden sailing vessel is now used as a floating restaurant which makes a perfect spot to admire the illuminated skyline views as the sun sets in.
Choose the cruise location at Dubai Marina or Dubai Creek and embark on a sail experience that lasts for about two hours with all dining (buffet style), refreshments and live entertainment arranged onboard.
Conclusion
So, are you ready for a Dubai holiday with some treasured moments? Do your part; get all travel arrangements (including Dubai visa, accommodation and airline tickets) right, and mostly, add a few or all of the above things to do in Dubai. It promises you the best time of your life.