Wedding glasses are the glasses that are used for toasting each other after cutting the cake. The wedding glasses are usually decorated with ribbons or flowers for the special day and kept near the wedding cake.
These glasses create a lasting wedding souvenir and can be further used by the couples to toast each other on their anniversaries or special moments. This is considered as one of the traditions in all the Christian weddings.
Nowadays, there are wide range of styles and variants available on the market. You can choose options according to your wedding theme as well. Other than this, personalised wedding glasses are also offered by the vendors, where the bride and the grooms name is engraved along with their wedding date.
The wedding event becomes more special when wines are served in perfect luxurious drinking glasses. The taste and texture of the wine is enhanced and the experience is amazing! These toasting flutes come in many styles such as silver, crystal, glass or pewter.
Types of Wedding Glasses
Mason Jar Toasting Glasses
These are trending and favorite wedding drink glasses. They are mostly made up of glass, crystal or plastic.
Mason Jar Drinking Glasses (with handles)
The another option is the same mason jar toasting glasses accompanied with handles to hold them well and drink with ease.
Champagne Glasses
If you are serving champagne then a flute is the best option. You can add a flag to your glasses to look more impactful and exciting.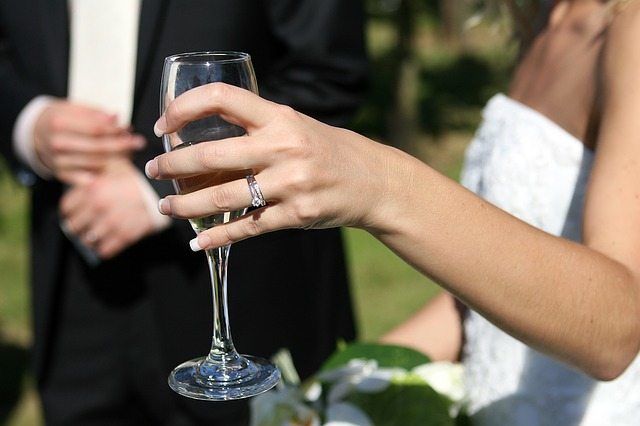 Personalised Wine Glasses
You can arrange personalised wine glasses for yourselves with the names of the bride and groom engraved along with the wedding date. Other than this, you can also engrave the monogram of your initials or maybe even add a love quote.
It is also a great idea to gift personalised drink glasses to your bridesmaids and groomsmen as a token of your wedding remembrance.
Vintage Milk Bottles
This is one of the popular and amazing ideas to add to your wedding preparation. Use the vintage milk bottles as your wedding drink glasses. These can be paired with fantastic tags and colorful straws for a chic look.
Engraved Beer Glasses
How about engraving 'his' and 'her' on the beer mugs? Isn't that unique and elegant? This is a great idea for all beer lovers. You can also arrange these for all the guests as their drink glasses.
Punch Mugs
If your wedding theme is vintage then punch mugs will be a perfect choice to serve wine or champagne punch in. It will help to give the wedding a classic look.
Bottles
The last option is a brilliant if you are planning an outdoor or destination wedding. You can convert your bottles into your drinking glasses.
Soda or beer bottles can be used and served in ice tubs for the guests to enjoy the drinks by doing self-service. Additionally, you can combine these with champagne bottles and straws for your special bridesmaids and groomsmen.
These options will surely help you to arrange the perfect wedding glasses for your big day. Make your day special by choosing the best option. This will be one-time investment but will last forever as a memento. If you have a budget issue and want to have elegant and unique drink glasses, then keep these glasses only for your bridesmaids and groomsmen.
For more options, you can contact any event management company for diverse ideas and arrangements or else hire a professional for organising the entire wedding including all the other small things like cake, drinking glasses, theme, flower décor, food, etc.