It can be so important to find the top and best clothing alteration businesses in Perth. Some items can be very expensive, especially when they are designer items, or when they are for a debutant or wedding.
Even some of the best dresses for women or the best suits for men will need an alteration if they don't fit correctly or have some other issue.
Formal dresses, leather items, and work uniforms can also be pricey, so it is crucial to make them last for as long as possible. There can be many reasons why items will need altering.
Sometimes bits and pieces are purchased from overseas and once they arrive it is then uncovered that they don't fit or match as well as they need to. Other times, pieces are purchased in advance and then body changes can occur, such as putting on or losing weight.
Children and teenagers can grow faster than expected, or pregnancies can arise. Sometimes items are tried on but once a little bit of time is spent in them, it is then realised that they are not as well-fitting as initially thought.
With all of the bad luck that might lead to needing a clothing alteration, it's clear that maintaining your wardrobe will be important in looking and feeling your best.
Even though altering and restoring is an easy fix and a relatively straight forward process, many people become stressed when their items need to be edited. This is understandable, especially when it comes to weddings dresses that cost thousands of dollars.
Brides, bridesmaids, grooms, and groomsmen all need to look perfect for the special day, making it so important to find the right altering company. If a mishap occurs only weeks or days before the big day, this can cause a complete meltdown and can put a negative spin on the day.
If clothing items are purchased from online or even overseas, it can be impossible to reorder them in time for a special event. To best avoid these kinds of situations, it is best to do some research and find a store that can be depended upon.
In Perth alone, there are so many different businesses to choose from, making it hard to decide on which the best one is for the individual. Furthermore, when so many have great reviews and feedback, it can be hard to decide which one is the right choice.
This is why this article will take an in-depth look at the 4 top and best clothing alteration businesses in Perth. After reading people will be able to quickly and easily choose a company that is right for them and can have peace of mind knowing that they are in reliable and capable hands.
Who are the top and best clothing alteration companies in Perth?
Do you think your business deserves to make it on this list? Get in contact with us today and we will review your business!
Final Touch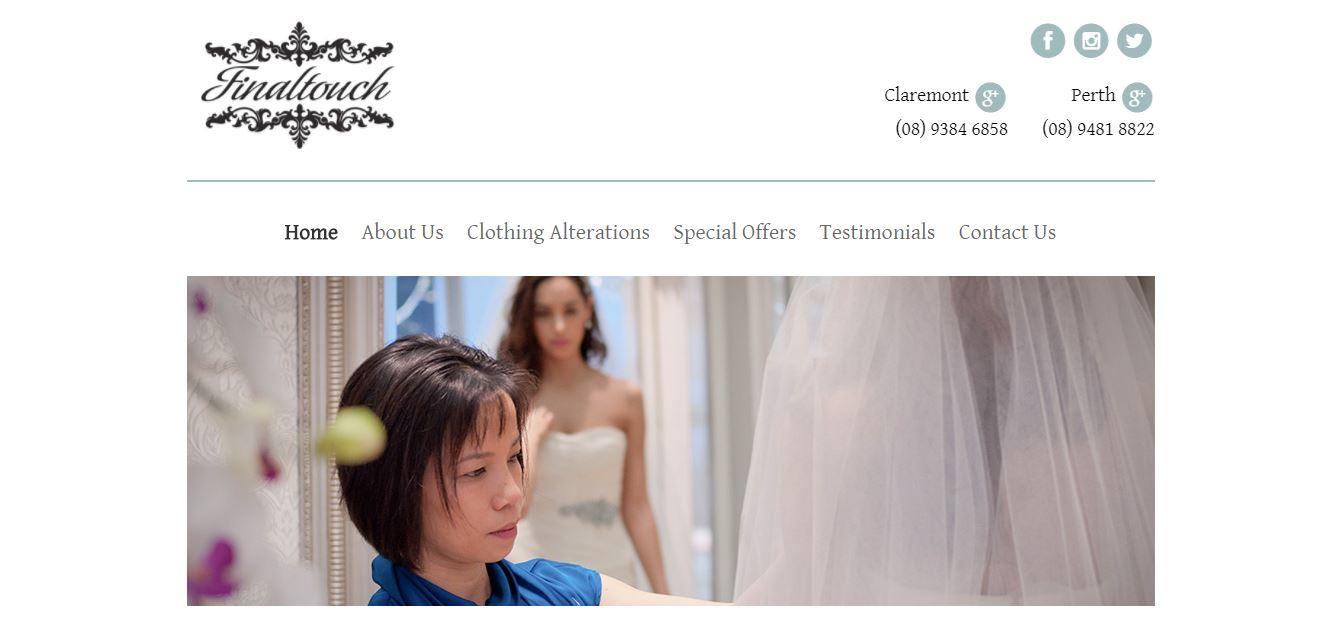 Final Touch are specialists in not only alterations but precision tailoring as well. Many people flock to Final Touch because of their work with high-end designers and even a celebrity or two using their services.
This company has raving testimonials and positive feedback that can be easily viewed on their site and social media pages. They are able to take on projects big or small and merge together their contemporary styling skills with traditional tailoring.
With years of experience in the field (they have been in business since 1982), clients can be certain that their garments will be handled with the utmost delicacy and care. Final Touch offer a variety of services included altering for bridal garments, formal wear and suits, school ball, and prom attire, evening gowns, and evening wear as well as general clothing.
With stores in Claremont and Perth, they are able to give people a couple of options which can be extremely handy when there is an emergency such as missing buttons. With their background in design and manufacturing, they have an in-depth understanding of the construction of a garment and are able to work with any type of fabric because of this.
Such fabrics and materials include silk, lace, beading, and sequins. To further take care of their clients, they offer a special fifteen percent discount for items that are purchased from selected stores such as Satch and Jigsaw and the full list of stores can be found on their website.
Absolutely stunning images can be viewed on their Instagram account and Facebook page that are sure to take every women's breath away.
Whatever the occasion and whatever the type of garment, customers can be sure that they will be happy when they walk away from Final Touch with their new and improved garment.
Perth Best Alteration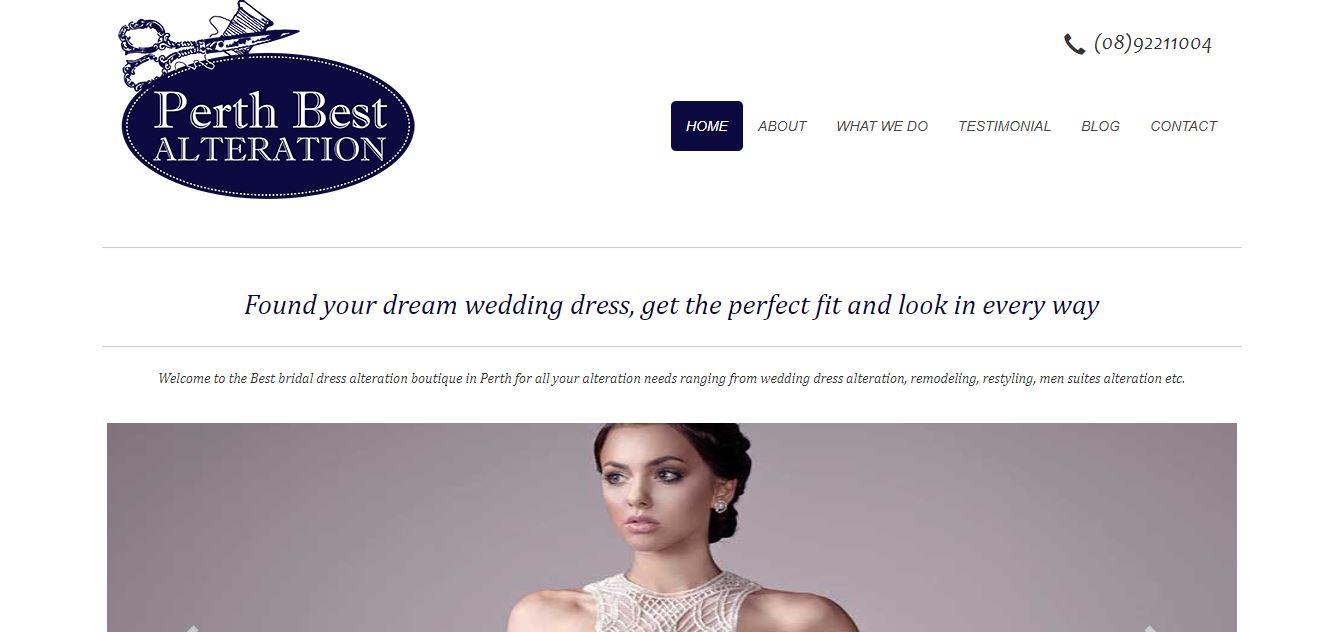 Perth Best is an expert company that will ensure brides have the perfect fit for their special day. With the convenient location of Perth CBD, they are able to quickly create gowns from scratch and have an excellent eye for detail and construction.
This business prides themselves on working with embellishments and are able to create a look that is modern, elegant and comfortable. Further services they offer are ironing and dry cleaning.
This is extremely handy as sometimes an item doesn't need to be edited as it simply needs a quick iron or clean. They are even available for last-minute emergencies such as sewing on buttons, sewing up a tear or replacing a missing sequin.
Perth Best strives to put themselves ahead of the rest with a few distinguishable offerings. First of all, they work under the supervision of a top fashion designer with over twenty years of experience.
Secondly, they offer a same day service for any quick jobs that may arise. Thirdly, they stock a wide range of trims, fabrics, and laces so any garment can be quickly restyled.
And finally, they offer a money back guarantee so customers can have peace of mind knowing that they will always get what they want.
With great testimonials featured on their website and social media pages, this business is not one to be missed. They even have sister sites that offer couture wedding dresses for sale.
For any bride that wants to feel secure and looked after, Perth Best is the perfect place to visit.
Megan Adele Alterations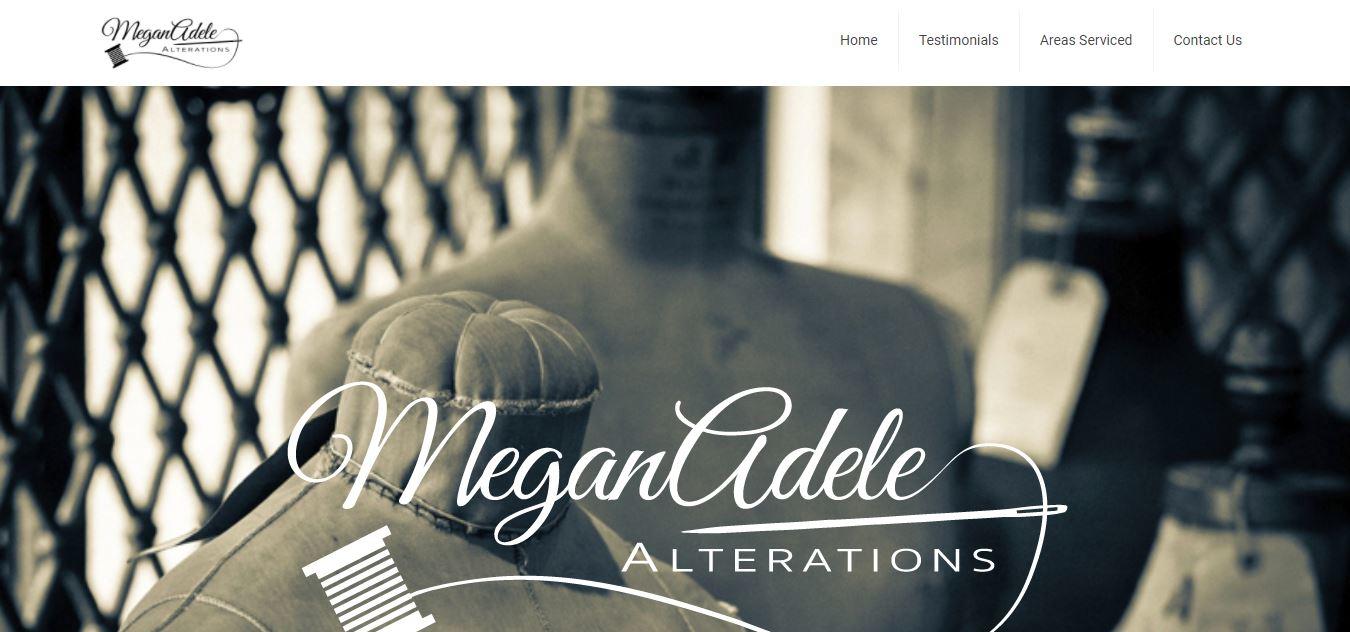 The team at Megan Adele pride themselves on been reliable, fast and friendly. Located in the CBD, they are able to cater to the city and surrounding suburbs.
The professional staff at Megan Adele offers a variety of services and are efficient at delivering them in a timely manner. They are able to restyle and revive any old garment that needs new life breathed into it.
This is perfect for those who need to restore an old dress that may be passed down to their daughters or grand-daughters. The team are also able to shorten or rehem any piece of clothing as well as take out or lengthen.
This means that people are still able to enjoy their items, even if they have lost or put on weight. Megan Adele are apt in performing repairs, and are able to do this with a quick turnaround.
This is especially important when a suit needs to be fixed for a meeting or a child's outfit needs to be mended for a church event. One of the most important services they offer is wedding alternation for brides and bridesmaids.
Many clients choose them as their preferred store as they are able to make any gown fit perfectly. With over 30 years in the business, clients are able to feel safe when choosing this amazing organisation.
In 2017, they were even a finalist in the Belmont and Western Australia small business awards.
For those looking for the perfect gift, this business is able to provide personalised embroidery on towels and handkerchiefs. This can make a fantastic keep sake and a great favour to give out at receptions.
For those who are looking for a personalised and friendly service, they need not go any further than Megan Adele.
7 Star Clothing Alterations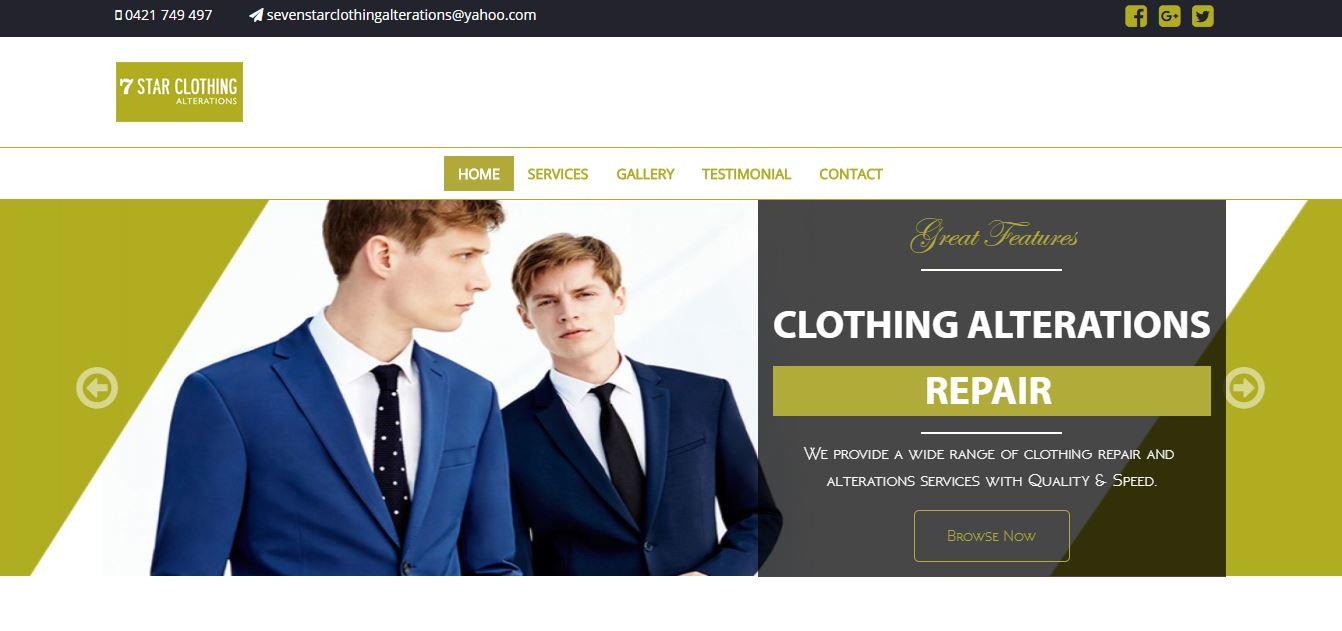 7 Star is a reputable store that specialises in clothing repair and, of course, altering fabrics. Some of the things that make this business stand out from the crowd is the fact that they also offer leather repair, dry cleaning and invisible mending.
This is extremely handy as leather can be quite pricey can does tend to obtain cracks over time. The store is able to cater to leather seats, garments, belts, shoes and much more.
This professional team use their years of experience to offer a service unlike any other. They are even able to put a shirt or other item together upon request and with provided fabrics.
Located on the busy High Street of Perth, customers are able to pop in on their lunch break and easily drop off their items for editing. Many people flock to this store as they know that their garments will be returned in a timely manner and that the team members always aim to go above and beyond.
Adjustments can be made on trousers, jeans, dresses skirts, jackets, coats, evening wear as well as bridal gown and leather. Any enquiries are welcome and professional advice can be given upon request.
With great testimonials featured on the website and social media pages, it can be clearly seen why this company is one of the best in the business. For those who work or live in the city, 7 Star may be the right choice for them.
So which clothing alteration company is the right fit for you?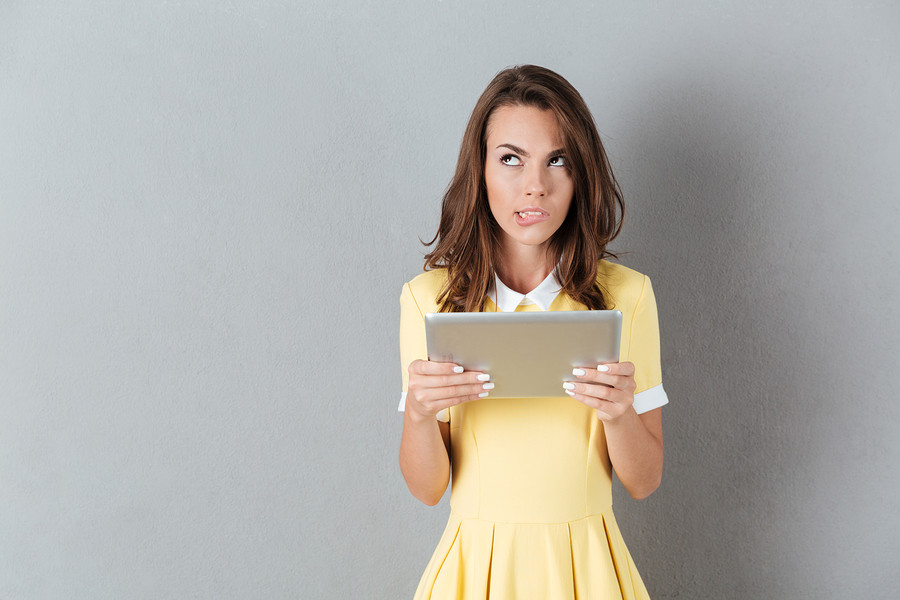 While this article has explored the ins and outs of the some of the best company's in Perth, there is still the decision to be made about who to choose. When deciding which business is the best for the individual, it is important to factor in exactly what the needs are.
For customers who are looking for a gown creation or designer quality, then it may be best to seek support from Final Touch or Perth Best.
For those who want a professional service that is personalised and friendly, then Megan Adele will probably be their best choice.
If someone needs a quick repair or has a special leather item, then 7 Star would be the business for them.
It is also important to factor in location when making a choice. As all company's offer great services, it may be wise to simply make the decision based on which store is closest to the individuals home or work.
Furthermore, it can be a good idea to decide on what the set budget is as some stores may be able to cater to higher budgets whereas others are more focused on a speedy service. The best way to get an idea of price is by personally contacting each company.
This way, clients are able to find out an estimate of the costs but can also get a feel for the staff. It is important to feel a connection with a team member, especially when they are helping out with the big day.
Before making the final decision, it is also imperative to get an exact time-frame of when an order can be completed. There is no point in choosing a company to make a gown or shirt that cannot be delivered in time for the desired event.
Establishing the time-frame, costs and work ethic at the beginning means that there will be less confusion in the long run, and everyone involved can be crystal clear about expectations. Businesses can know when they need to have things done by, and customers can have peace of mind knowing that it will be achieved by that date.
At the end of the day, all of the mentioned stores are great alteration companies and the choice is simply up to personal preference. Whatever option is chosen out of the four and whatever the needs required, customers seeking garment editing can be sure that they will have a great experience in a time efficient and effective manner.