Dentistry could be viewed as a fairly benign routine that people have to encounter on a semi-regular basis, but that should not deter from the need to secure a quality, reliable practitioner.
If anything, the scarcity of the need to see a dentist only once or twice a year makes it imperative that the professional examining, assessing and servicing your teeth is the best possible expert available.
As has been documented by those within the industry itself, dental health is linked to all manner of other aspects for your wellbeing. It happens to be so much more than removing some plaque and making that smile glow a little bit whiter than before.
Whether you feel an obligation to revisit the same dentist you have been making appointments with for the past decade or more, or have just run out of patience with the concept as other issues have taken preference, it is a long-term investment in your own health to discover a practitioner that works for you.
This is a field that will only evolve and increase in significance over time given the hot topic of tooth decay.
With young children across Australia and overseas suffering from a lack of correct dental care, the only solution to combat this concern is to see a professional who will service you on the spot as well as provide you with the tools to maintain healthy habits in between consultations.
One of the best ways to take care of your teeth and bodies between consultations is to watch out for new trends in healthy nutrition.
The real trick then is to sift through the average services from the top ones. Given the sheer size of the Sydney marketplace in particular, that task can be made all the more difficult to decipher which dentists are worth your hard earned money.
Local dentists in Sydney:
Make getting dental work easier by getting one of reliable dentists in Sydney!
The Paddington Dental Surgery
The Paddington Dental Surgery is home to a team of qualified dental professionals who specialise in personalised family, general, and cosmetic dental care. They are the ideal team to visit for everything from routine checkups to surgical procedures.
Situated in the heart of Paddington, the clinic is careful to make every single patient who comes through their doors feel comfortable and secure. Their professional nature and qualifications help them clearly explain all procedures and put patients' minds at ease.
The Paddington Dental Surgery provides expert services including, but not limited to:
General Dentisty
TMJ Therapy
Snoring and Sleep Solutions
Crowns and Bridges
Veneers
Dental Implants
Invisalign
Teeth Whitening
Regular Check-Ups
The clinic is equipped with the latest technology that the dental industry has to offer and the team continue to strive for excellence with all of their services. Their stellar reputation has made them one of the most trusted dental clinics in Sydney.
Rainbow Dental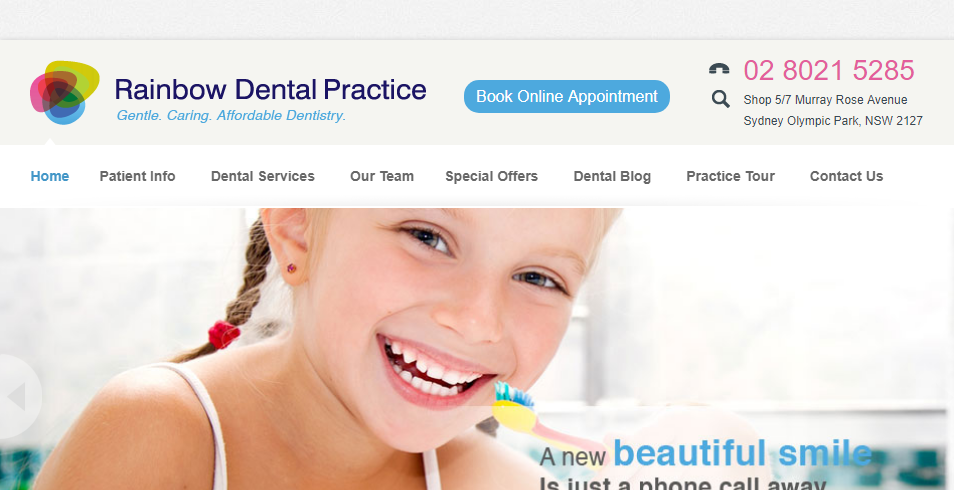 On their website, Rainbow Dental says its mission is to "provide the highest quality of dental care in a safe, comfortable and calm environment" and they definitely live up to this promise. This practise is committed to delivering outstanding dental results while still being affordable for most people.
The practise is small in size but makes up for it with a big heart, holding family values close and providing personal attention to each and every patient. No matter what reason a patient has for coming, from an routine clean to a robust cosmetic treatment, they are greeted with a smile in a judgement-free zone.
Rainbow works hard to make sure their patients feel appreciated for their patronage and do everything they can to make sure your appointment goes smoothly. They also provide same-day emergency dental appointments for when you need a solution right away.
The practise provides high quality dental care for traditional, preventative and cosmetic dental problems. They know that even seemingly small changes in your smile can have a huge impact on your self-esteem and work hard to make sure you leave the practise feeling good about your teeth.
Rainbow's principal dentist Dr. Shalini Sunkara is both highly skilled and experienced with using advanced dental care techniques that leave you with an outstanding smile. Through the combination of highly accurate dental science and artistry, Dr Sunkara and her team are well-equipped to transform your smile and give you the self-confidence you deserve.
Rainbow Dental is able to assist patients with a range of dental issues including:
Missing teeth
Unsightly, stained or washed-out fillings
Chipped, cracked or worn teeth
Permanently stained or discoloured teeth
Rainbow offers highly affordable dental care packages that make the practise approachable by a broader range of patients. The practice's reception staff are also able to speak fluent Chinese, making it easy for those with a Chinese heritage to visit and get the full benefit of Rainbow's services.
Smile Concepts: Centre for Advanced Dentistry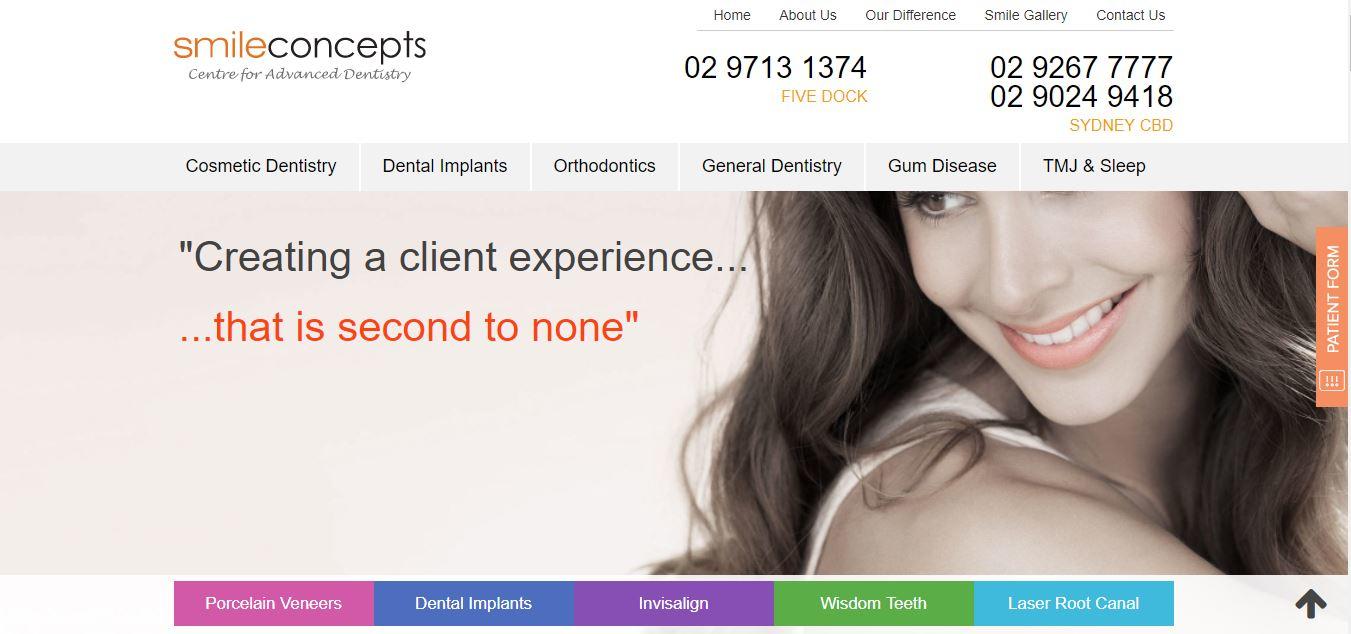 Situated across two separate locations in Sydney's CBD and at Five Dock respectively, Smile Concepts: Centre for Advanced Dentistry is an enterprise that aims to achieve so much more than just standard dentistry.
As their own website illustrates, one of their main modes of operation is to inform the customer as much about their dental health as possible, equipping them with the tools and knowledge to prevent damage and maintain an understanding about best practice day to day.
With the dentist-patient educational relationship a prime objective, Smile Concepts boasts over 40 years of combined experience across a variety of cosmetic and general dental services.
Affiliated with and certified from some of the most prestigious health centers across Australia including the Australian Dental Association (ADA), Australian Society of Cosmetic Medicine (ASCM) and the Australian Medical Association (AMA), this company lays claim to a healthy 4.9/5 patient review rating that stands up to any peer or customer assessment.
Providing free parking in their central building (an extra incentive that any Sydneysider will appreciate), Smile Concepts have a variety of different payment plans available for those patients who might need more flexibility.
Whether that is due to their personal health insurance plan or another reason altogether, the team led by Dr. Manish Shah and Dr. Kinnar Shah are open to any of the following payment plans:
EFTPOS
HICAPS
Alternative option as discussed with Smile Concepts
What makes Smile Concepts such an attractive proposition is the depth of service and expertise to match. Each of the following fields are given their due attention:
Cosmetic Dentistry: cosmetic problems, teeth solutions, gum solutions, missing teeth solutions and smile analysis
Dental Implants: general information, number of missing teeth and grafting procedures
Orthodontics: types of allergens, brace options, lingual braces and functional appliances
General Dentistry: old fillings, laser and sleep, and children dentistry
Gum Disease: signs and symptoms, and types and treatment
Temporomandibular Joint (TMJ) Pain and Sleep: TMJ pain, and sleep medicine
Leaving no stone (or tooth) unturned in their quest for excellence, Smile Concepts come highly recommended.
Pitt Street Dental Centre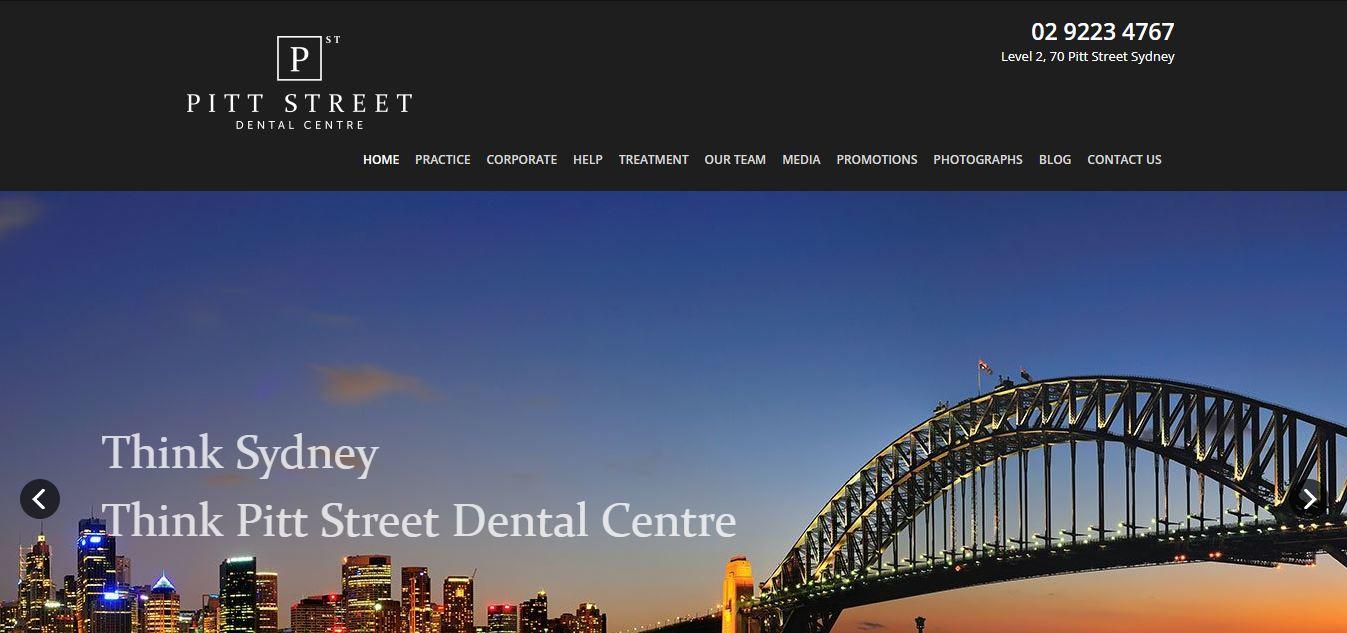 Featured on Channel 7's current affairs program Today Tonight and promoted by Australian entertainment personalities Sophie Monk, Manu Feildel and Sonia Kruger, Pitt Street Dental Centre is proud of their reputation and status as one of Sydney's leading outlets.
Dr. Michael Cai's team utilise the latest technology for both the diagnosis and treatment phases of care, undertaking the following types of dental treatment:
Computer-guided implant assessment and placement
Digital X-Rays
3D Imaging
Biocompatible, High-Tech Materials
High Magnification Microscopes
CAD/Cam Technology
Zoom Whitespeed
Bite Evaluation
Giving their consumers the chance to navigate their way to the practitioner via train, bus or offering two different parking options close by, Pitt Street Dental Centre happens to include a Corporate Care Program that caters to businesses wanting to give employees proper care.
Without any joining fee, the company outlines the multiple benefits to buying into this initiative:
Lifetime membership
First examination 100% free
Emergency dental available Monday to Friday
Priority given to lunchtime and after hours appointments
20% discount on fees for staff and family members
One aspect to look out for when you are analysing which dentistry is for you is the consideration around education. It should not be enough simply to pay over the counter for a quick consultation and an extensive clean.
So much of what determines your dental health will occur between visits and practitioners who arm patients with the right tricks of the trade should be championed and cherished.
Pitt Street Dental Centre outlines their expertise through their interactions with customers, but also provide a regular blog to update and inform their clientele. A series of topics will be covered on a monthly basis:
Gum contouring
Dental veneers
Teeth Whitening
Dental implants
Correcting teeth crowding
Weighing up orthodontic options
Dr. Michael Cai and his team of ten dental specialists are currently running a special on Philips Zoom WhiteSpeed running for very reasonable price that includes cash back. Another special is for patients arriving for a routine hygiene examination, with free fluoride given as part of the service.
Dr. Angelo Lazaris Aesthetic and General Dentistry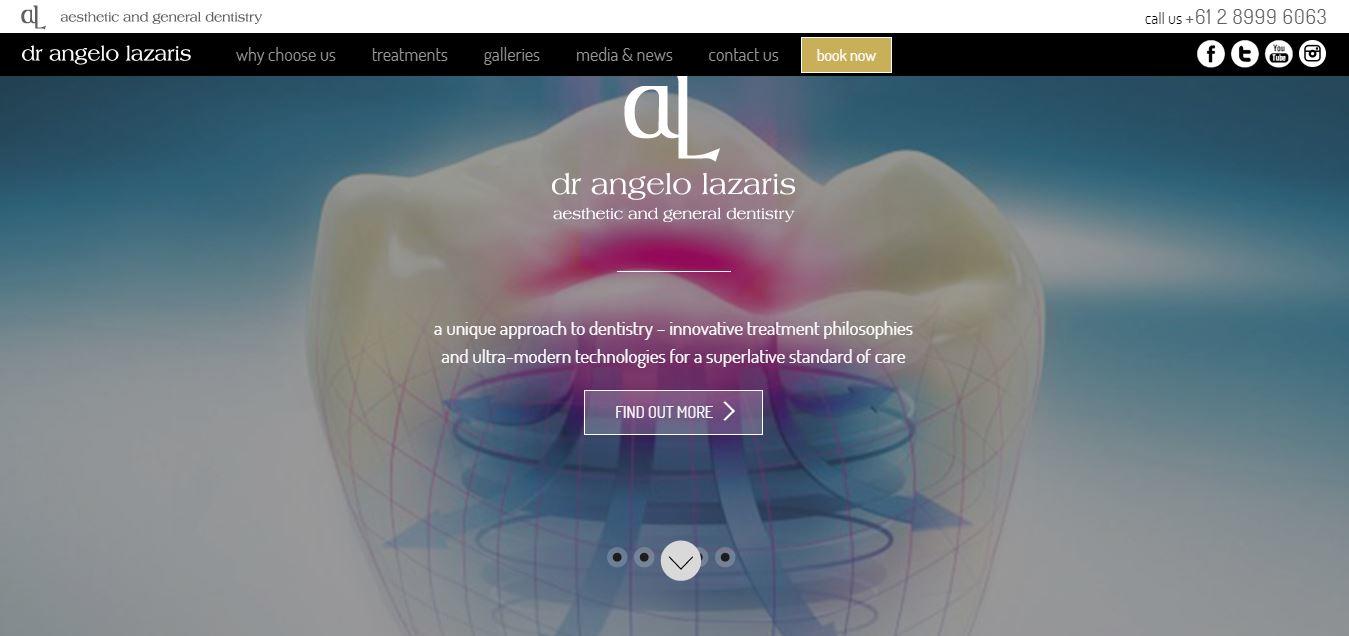 If you are on the lookout for a respected and acclaimed dental practice in Sydney that places the emphasis on quality individual care, then Dr. Angelo Lazaris' Aesthetic and General Dentistry has all the hallmarks of a worthwhile destination.
This operation spotted right in the heart of the city ensures that patient's comfort is taken as a priority, even when serious surgery is required.
From a private vanity room to issuing noise-cancelling headphones to eliminate distraction, Lazaris has geared his practice to cater to visitors overall experience, including the initial waiting room phase to the appointment itself. iPod docks, televisions, DVDs and internet radio all are perks that come inclusive with Dr. Angelo Lazaris' clinic.
Putting aside those neat bells and whistles that will apply to the casual patient, it is the detail where this operation excels. By combining preventative measures with educational tips on hygiene, aesthetic and beauty alterations and meticulous attention, there is no stone left unturned in the array of treatments under this name:
All on 4 – a permanent tooth replacement that involves a planning, surgery and prosthetic stage
Porcelain – dental veneers
Smile design – a comprehensive dental makeover process
Composite veneers and Composite resin veneers
Facial injectables
CERC – tooth-coloured restoration devoid of metal and biocompatible materials using nano-technology and a 3D CAD/CAM
Porcelain crowns
Cosmetic dentistry
Teeth whitening
Dental implants
Sedation dentistry
Should you be holding reservations about the type of service you are considering from a beauty or health perspective, Dr. Angelo Lazaris' image gallery gives the consumer an up-close-and-personal series of case studies to illustrate just how the end result will appear.
From gum lifts to porcelain bonding and lip enhancements, the practitioner's handy work is continually catalogued to ensure quality of service from the early planning stage to the end of surgery.
Premier Dental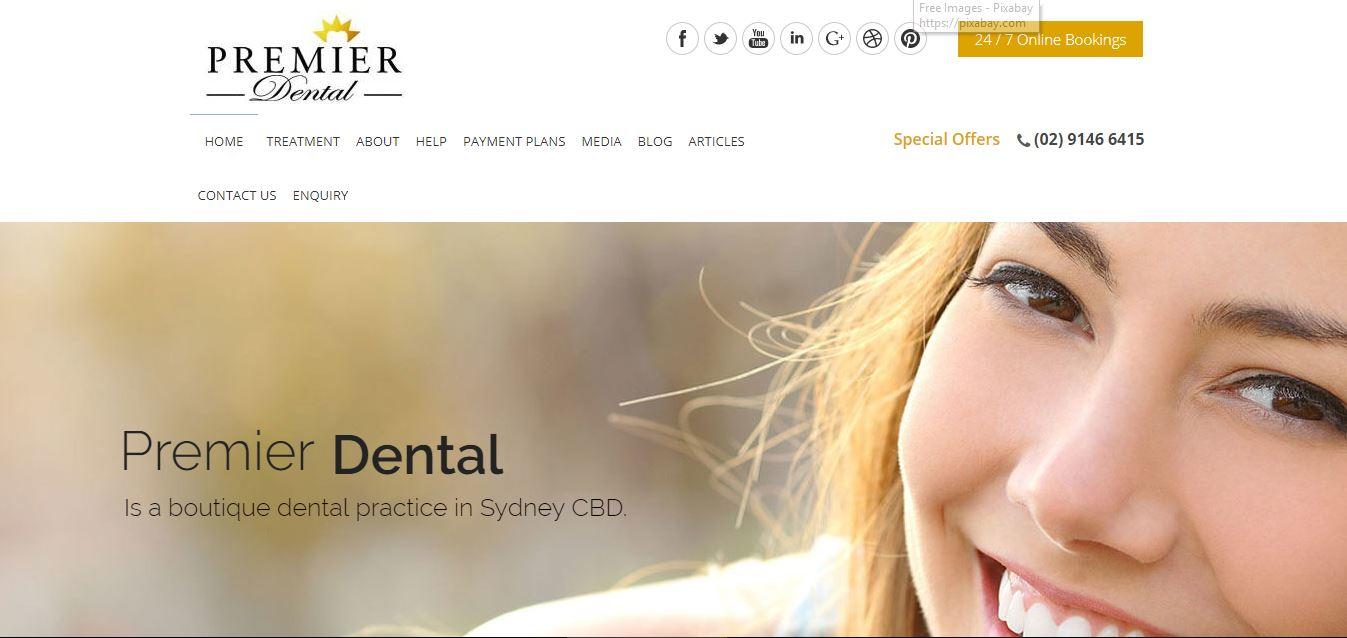 With over two decades of extensive experience in the field, Dr. Sid Afshar's practice Premier Dental stands as the premium service in Sydney.
Delivering online bookings that are open online 24/7, patients are offered a free 15-minute cosmetic smile makeover consultation. Yet if it is beautification that is your priority, then this enterprise may not be for you.
Yes Premier Dental certainly caters to the cosmetic field, but this is an operation that places hygiene and health top of the agenda, standing as a proud member of the Australian Society of Computerised Dentistry, the Australian Dental Association and the Australian Society of Implant Dentistry.
With some rebranding taking place in 2011, it can be easy to overlook the fact that the practice has stood as an institution as long back as the early 1900's.
At the forefront of every dental advancement that has occurred for over a century, Afshar's passion for his work translates across to those who visit him.
Regular blogs and articles will be a common feature for Premier Dental patients, keeping them up to date on all of the following topics and more:
Benefits of CEREC technology
Toothache relief
How to source the best dentist for your circumstances
Teeth whitening tips
Benefits of dental implants
Proving that health is a central prerogative for Premier Dental, oral cancer screenings are also available to ensure that maintenance and care is taken in that regard.
Which dentist will you end up choosing?
All of the practitioners listed above have been chosen for their shared commitment to quality dental care. Where the differences lie is in their specialisations, offers and bonuses.
Many people will take their teeth for granted until they encounter signs they need to see a dentist. Even if you do brush and floss regularly problem can still pop up from unexpected places.
That's why its so important to see one of the best dentists in Sydney to make sure you oral health is on the right track!