It's a lot more difficult to decorate an outdoor space than an indoor space. When decorating an outside area, there are many more variables to consider, such as the changing seasons and exposure to the elements. While decorating your home is vital, for many people, designing your outside space is just as significant. After all, your patio, porch, and deck are extensions of your house.
As we spend more time outside in the summer, we want our outdoor areas to be gorgeous and stunning with comfortable places to relax like outdoor benches and dining tables. This summer, you'll be spending a lot of time on your deck, so it's a perfect opportunity to show off your personality and flair. This article will provide you with some tips on how to enhance the appearance of your outside space.
Colour scheme
Colour schemes for outdoor space are a little difficult because the tones are more neutral and subdued. Even though you won't be painting or wallpapering your deck, the furnishings and decor you choose should all complement each other. A grey or cold colour palette will look best if your deck is flanked by a lot of stone. Adding decor that matches the colour of your deck's wood stain is a great way to bring out the wood's natural beauty. As an example, instead of stone sculptures and grey pillows, use terracotta pots and scarlet blankets on your porch.
Your deck's furnishings will be distinct from those in the rest of your home. A wide variety of outdoor-friendly furniture is available for purchase at various retail locations. You may need to store some of your deck furniture and decorations indoors during the winter months depending on where you live in the country. For the best of both worlds, choose outdoor furniture that complements your home's decor while making you feel like you're outside – outdoor benches made from weather-resistant teak or plastic are a great example.
It's also hard to go wrong with wicker furniture. If your deck is protected from the elements by an overhang, you may be able to be a little more creative with the design. Outdoor furniture and outdoor benches can be dressed up with seagrass baskets and a modest rug for added comfort. During the chilly evening hours, keep supplies like blankets and mosquito repellent in the baskets for quick access.
Accessories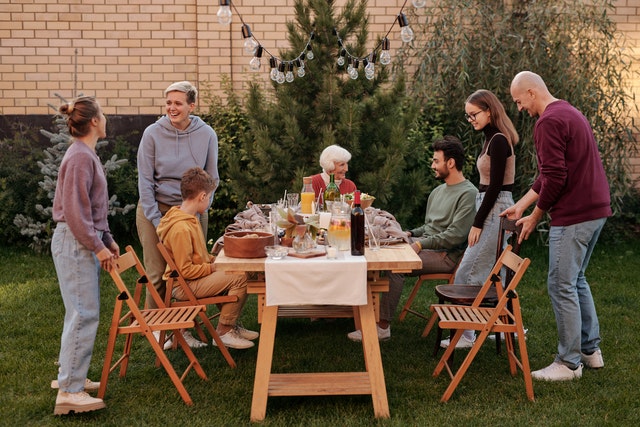 Your outdoor environment can be transformed into a work of art by adding deck accessories. Throw cushions are a great way to spruce up a deck. Choose a throw pillow in a colour or pattern that complement pieces like your outdoor benches. Choose weatherproof and water-resistant fabric for your throw pillows so that you don't have to worry about them getting wet every time the weather gets bad. Throw cushions can transform a dreary deck space into a showpiece with just the right arrangement.
Lanterns & candles
Another fantastic option to personalise and deck-out your deck is with lights and lanterns. Having dinner or beverages on outdoor benches while watching the sun go down is a common occurrence for many of us. You don't have to rely only on your outdoor wall lighting to brighten and enliven your deck space. You can change the entire mood and experience of the deck just by adding some large candles in attractive holders.
Nature
Plants are the simplest method to spruce up your outside environment. Plant some of your favourite flowers in pots that match the design of your deck so that you may enjoy them without ever having to leave. If you're a green thumb, you can use your plants to decorate the entire deck in a flowery theme or grow them over furniture items like outdoor benches.