Sydney City Crime has rapidly emerged as one of Sydney's most prominent criminal law firms, headed by Principal Joseph Harb and defence lawyer Mark Davis.
Joseph Harb is one of Sydney's most renowned drug lawyers. A criminal lawyer for more than 10 years Joe has secured multiple acquittals in major drug importations and commercial supply matters and has secured hundreds of section 10 non-convictions for drug possession charges in the local courts.
Mark Davis has a particular focus on Commonwealth offences involving drug importations, foreign fighter offences, high risk offender orders and cases with a political or civil liberties bent.
Sydney City Crime has a particular focus on pre trial preparation and in challenging facts and evidence before court.  Written representations to police and prosecutors to withdraw or downgrade charges are a highly successful part of their practice.
The team at Sydney City Crime have gained a startlingly impressive reputation in defending their clients to the nth degree. They leave no stone unturned and ask the right questions.
Cases They Cover
Sydney City Crime cover all criminal offences and all courts:
Contested not guilty trials
Sentence proceedings
Bail applications
Mental health applications
The team also have particular experience in:
Criminal Court Appeals
White collar and fraud offences
Large commercial drug supply
Cultivate prohibited drugs
Proceed of crimes proceedings
Diversion into drug rehabilitation
Civil actions against the police for false imprisonment, assault and malicious prosecutions.
At every stage of proceedings they take multi- faceted strategies to maintain the best interests of their clients – an approach that has kept Sydney City Crime at the top of recommendations for criminal lawyers in Sydney.
Free Consultations
If you have been caught on the wrong side of the law then you need the RIGHT team.  Sydney City Crime is that team.  Book a free consultation to discuss your matter and see how best to resolve your case.
Sydney City Crime – Reviews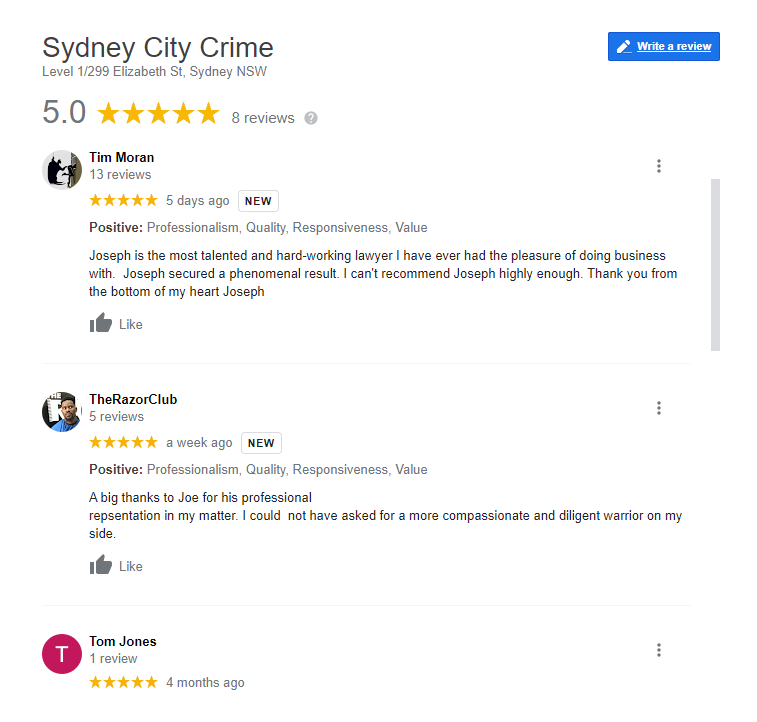 Google Reviews:
"A big thanks to Joe for his professional representation in my matter. I could  not have asked for a more compassionate and diligent warrior on my side." TRC – source
"More then overwhelmed at my end result due to the outstanding performance of my lawyers at Sydney city  Crime. Couldn't be more happy and highly recommend them" Celeste – source
"Joseph is the most talented and hard-working lawyer I have ever had the pleasure of doing business with.  Joseph secured a phenomenal result. I can't recommend Joseph highly enough. Thank you from the bottom of my heart Joseph" Tim – source