Entertainment personality Sean Borg has rubbed shoulders with some of the world's most famous women. He once had Hillary Clinton laughing along with him at a fundraiser, Kim Kardashian taught him how to take selfies, and the late iconic actress Elizabeth Taylor gave Sean her phone number back in 1996.
So it's no surprise to hear that Sean was the catalyst when it came to ex-soap actress and Australian singing star Natalie Imbruglia landing her first major record deal with BMG in the U.K.
Sean, who is known for his work on the popular FOX news show 'TMZ on T.V', said: "I knew Natalie long before she was a pop singer. In the summer of 1994, we went on holiday to Ibiza, Spain. Steve Strange was doing the 'China White' club over there. I was with singer Nathan Moore and Natalie, who was then a soap actress known for playing Beth on Neighbors. We literally spent every day relaxing on the beach together and out partying at night."
Sean, who was 24-years old at the time, said the former soap star's career was up in the air without much direction. The only offers Natalie had coming in were on the back of her Neighbors fame — such as pantos at Christmas and a touring production of 'Summer Holiday' opposite the musical performer Darren Day. Sean said: "Natalie wasn't keen on any of them."
Sean remembers quite clearly, a conversation with the world-famous beauty; he said: "We were on the beach, and Natalie was telling me music was her first love. She said she wasn't keen on doing the pantomime circuit, and she wanted a record deal. I hadn't heard her sing, but I told her I knew a good manager called Anne Barrett, who had once managed Betty Boo — a singer who was prominent in the late eighties."
He added: "I told Natalie I would be happy to introduce her to Anne when we got back to London. As a man true to my word, I did just that."
Sean arranged for Natalie to meet Anne at Bar Central on London's trendy Kings Road in SW.3. He remembers Anne telling him at the time she was reluctant to take on anyone from a soap opera as the music charts were overcrowded with T.V. actors and models trying their luck at pop stardom. But she was happy to meet Natalie to see if they clicked.
Sean said: "A lot of people have tried to take credit for introducing them over the years. But it was me who arranged that fated meeting between Natalie and Anne — the person responsible for getting Nat' signed to Mark Fox at BMG. Anne then became her manager, and that gave Natalie her break in the music industry."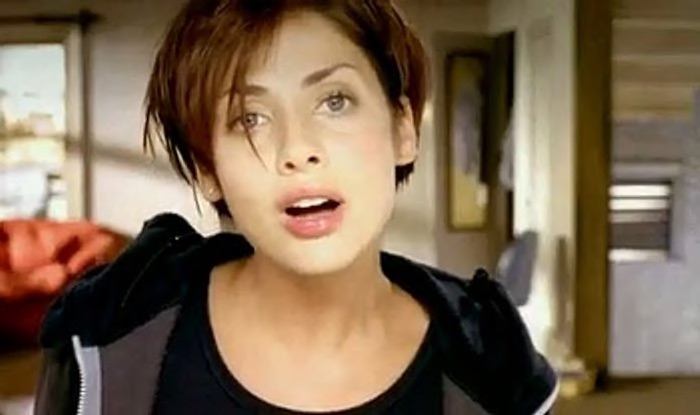 When it was released in 1997, Natalie's debut single 'Torn' sold over 1 million copies in the U.K. and stayed on the U.S. Billboard chart for 14 weeks. It is still one of the most-played tracks ever on Australian radio.
Sean always respected Natalie for not limiting her talents and seeing herself as more than a soap star. She had the ambition and drive to become a superstar. He said: "I was in L.A. when 'Torn' was released. You couldn't get away from the song. Everywhere I went, 'Torn' was playing on the radio."
Natalie and Sean always kept in touch, or they bumped into each other at showbiz parties. The star visited the West Hollywood home Sean was living at, and they often socialized when she was at No.1 in the charts.
Natalie even confided in Sean about guys she was seeing. Like when she was going on secret dates with 'Friends' actor David Schwimmer.
He continued: "I remember driving her [Natalie] over to David's [Schwimmer] house one day, it was all very hush-hush. I dropped her off at his front door just above Sunset Boulevard on Londonderry Place. My lips were sealed. The story didn't hit the press until months later."
Sean often wondered what would have happened had he not introduced Natalie to Anne that day. Would she have taken the pantomime roles on offer — or performed in musicals?
He said: "Natalie was always very down to earth and knew exactly what she wanted. I doubt she would have taken the panto jobs, and she wasn't content with being a soap actress. That's why she became an international star."
"I often wonder, though, what would have happened had I not set up that meeting. One thing is for sure; the story would have been very different. But I am happy to have played a part in Natalie's success story," Sean said.