Everything you need to know about Razor Kayaks R1 Ultra & R2 Ultra Kayaks
We took an in-depth look at the Razor Kayaks Ultra Series Kayaks to find out what they are like and how they work.
What we found was that they are stable, easy to manoeuvre and ultimately perform like a traditional kayak on the water. They are made from strong materials similar to those found on rescue boats and overall are just really fun to paddle.
So how do they achieve it? Using an industry leading Tech-Stich technology on the floor, hundreds of threads hold together the inside of the chamber. When inflated the pressure creates an extremely hard flat surface that won't bend with the motion of the swell allowing it to instead cut through the water. It's then reinforced with hard plastic moulds at either end to finish the strengthening and rigidity.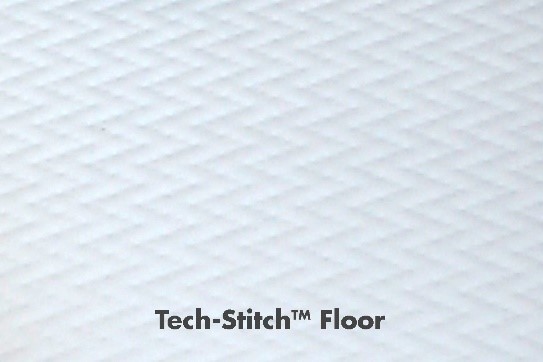 Key features
Comfort. Both the R1 Ultra and R2 Ultra kayaks have seats with adjustable straps and a footrest so you can adjust to the ideal paddling position. It has a padded foam seat and with the extra cushioning from the Tech-Stich floor it's actually very comfortable to sit in for a few hours.
Weight. Some of the more traditional kayaks we've used in the past weigh upwards of 30kg and are hard to get around. For the Ultra kayaks we were able to easily lift them with one hand. It was a bit of a squeeze to get the paddle and pump in the backpack with the kayak on the first go but still beats putting it on the roof racks!
Other key features. They are really easy to set up with the three pop up inflation valves all right next to each other. The inside of the kayak has hidden drainage channels and a bung valve that can release any water if a bit does get in. It comes with a detachable fin to stop drifting, a backpack and a repair kit.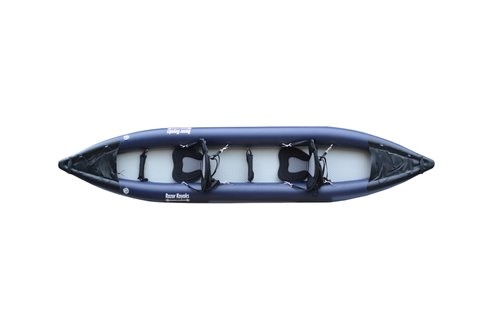 R1 Ultra Kayak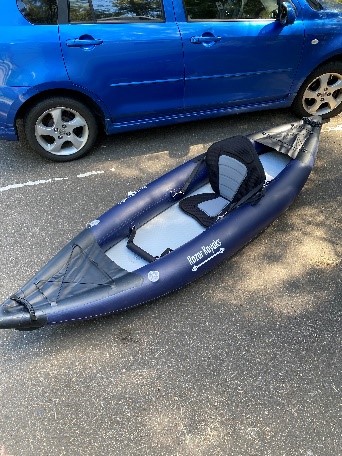 Initial impressions
Setup. Once everything was out of the bag it took about 4-5 minutes to set it up. It has three valves to inflate, and the chambers don't need that much pumping to fill them. The seat clips into four metal rings and the footrest attaches around the remaining two metal rings, then the fin slides in. With a bit of practice we could probably get it on the water in a couple of minutes.                                                     
What comes with the kayak. Included with the R1 Ultra kayak was the seat, footrest, fin, backpack, emergency repair kit and setup guide.  It's all really light and easy to carry. The lifejacket, pump and a 4-piece paddle were separate.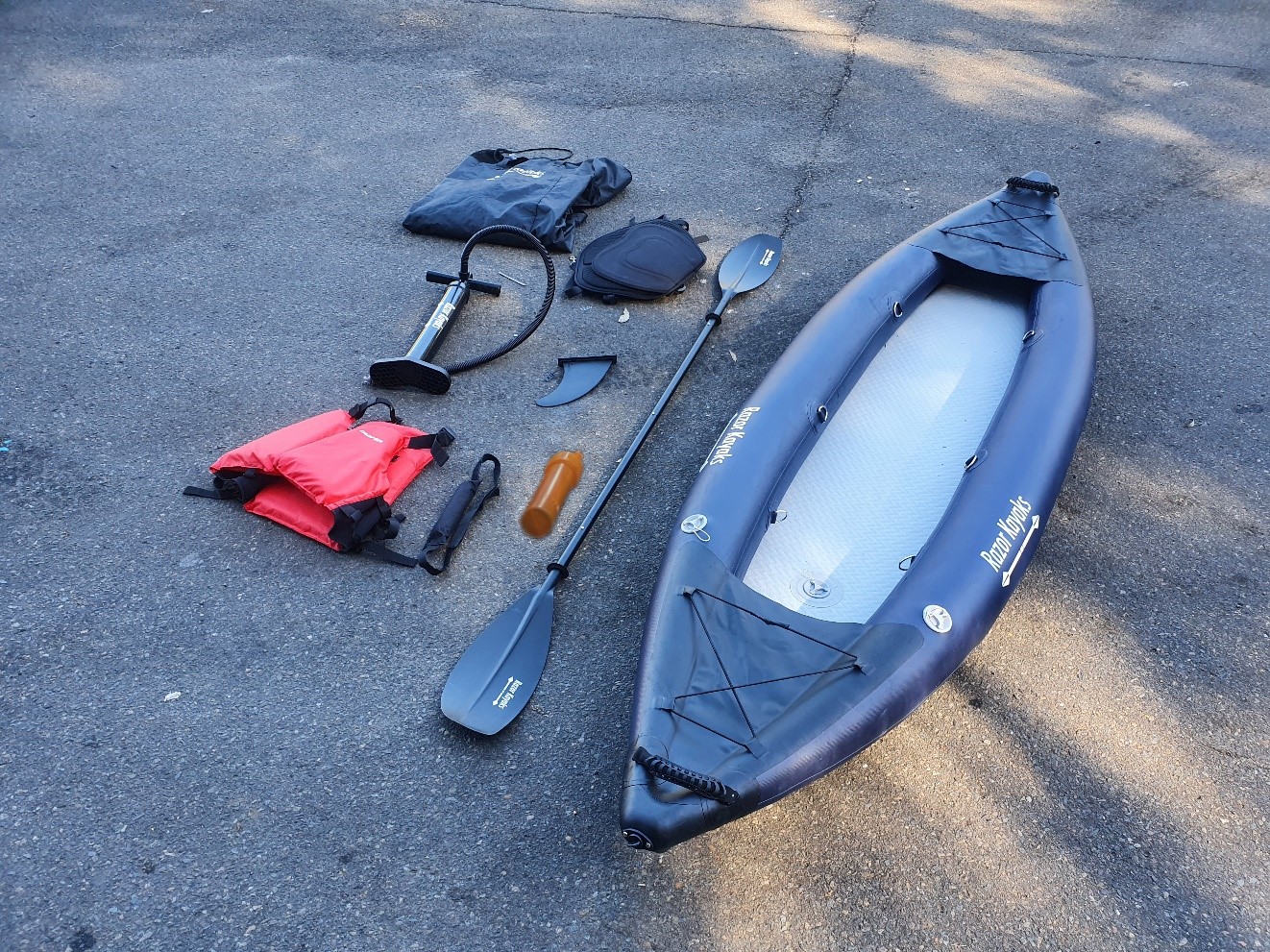 On the water
Stability. We were really impressed with how stable the R1 was. Its tubular sides and solid floor create a good amount of surface area on the water, so it's not easily tipped even if we try to. The floor also creates a really hard surface so it's rigid and doesn't at all undulate in swell. It really feels like paddling a good quality traditional kayak.
Handling and efficiency. Of all the things we liked about this kayak the handling was the highlight. You really notice how receptive it is to your paddle strokes, it's easily manoeuvred and fun to paddle. We were able to turn on a dime and also stop and start with ease. It moves quickly across the water, and we were impressed with its speed.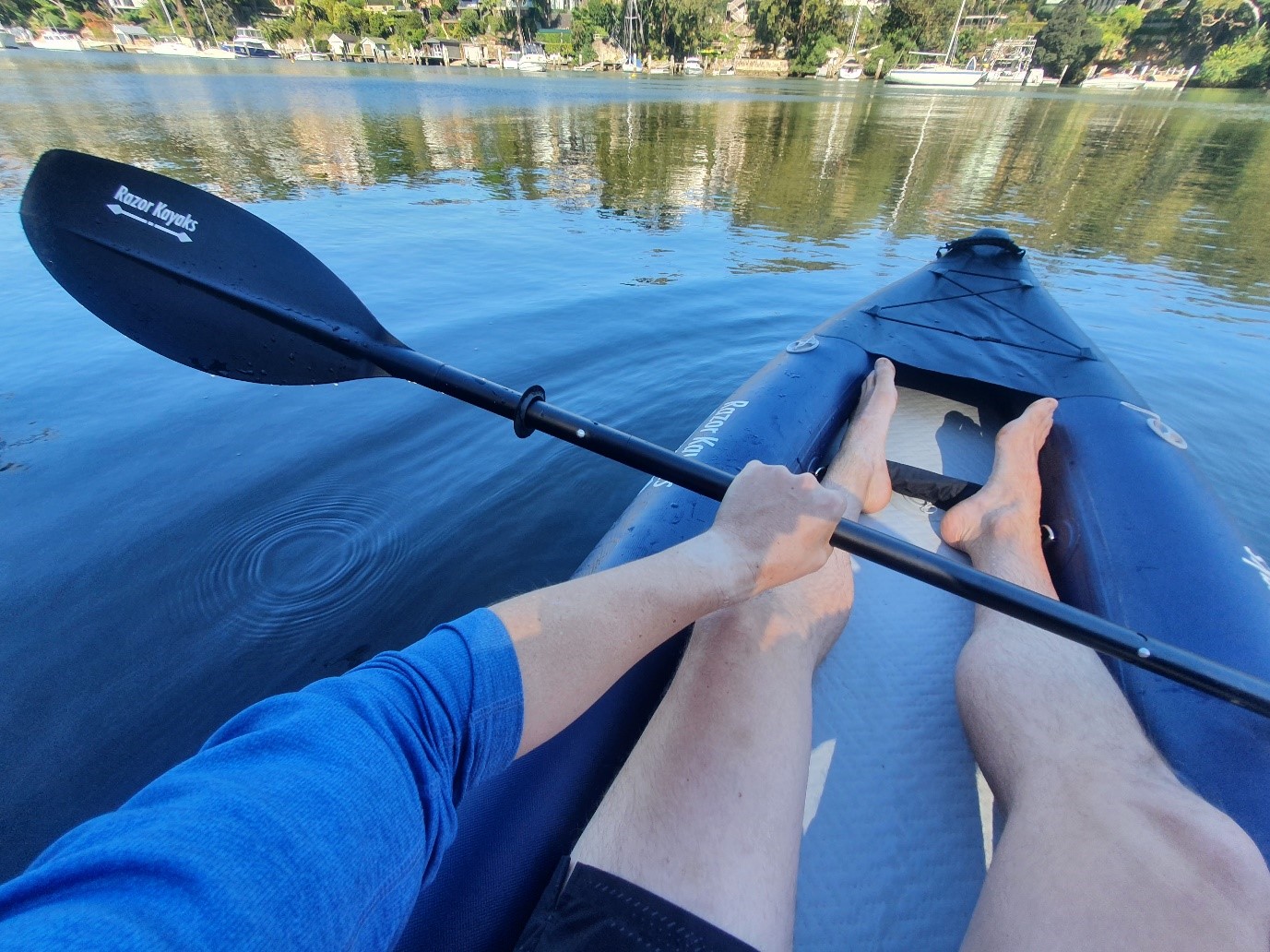 Other considerations
Punctures. It'd be pretty hard to puncture this kayak. You really notice the thickness and toughness of the materials. It's also reassuring to know that even if we did cut it on something the repair kit comes with extra strong fabric and with a bit of sealant it'd easily fix. Given it has three chambers we'd also have the other two chambers to get us back to shore in an emergency.
Packing down. You need to wipe down the kayak for long term care and detach the seat, fin and footrest before pushing the button on each valve to release the air. The air exits the kayak in less than a minute so we could easily roll it up and put it back into the bag. It was really quick to pack away.
Final thoughts on the R1 Ultra
This is an excellent 1-person Kayak. It's light weight and easy to carry, it handles well on the water and is really durable. With the tech-stitch technologies they've used to create the kayak it's strong and stable but has the benefit of packing down to a really small size. We love the flexibility and would happily take it to explore rivers, go fishing or paddle in choppier seas.
R2 Ultra Kayak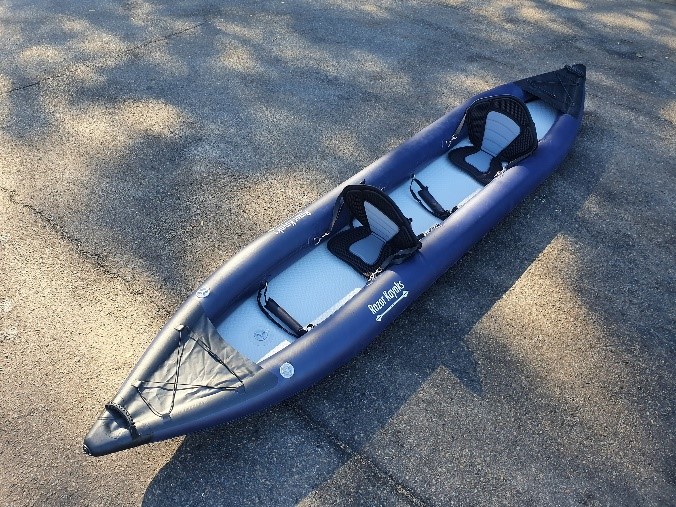 Initial impressions
Setup. In total it took about 5-6 minutes to set up the R2.  The pump screws into the three valves and we easily got it up to pressure. The seats clip in and you can adjust the straps to get a comfortable position. Depending on if you want to use it for 1 or 2 people you can clip in one seat in the middle or both seats at either end.  The footrests strap on and the fin slides on the bottom with a securing clip. It's light and one of us was able to easily carry the kayak on our shoulder.
What comes with the kayak. Included with the R2 Ultra kayak was two seats, two footrests, fin, backpack, emergency repair kit and setup guide. The lifejackets, pump and 4-piece paddles are separate.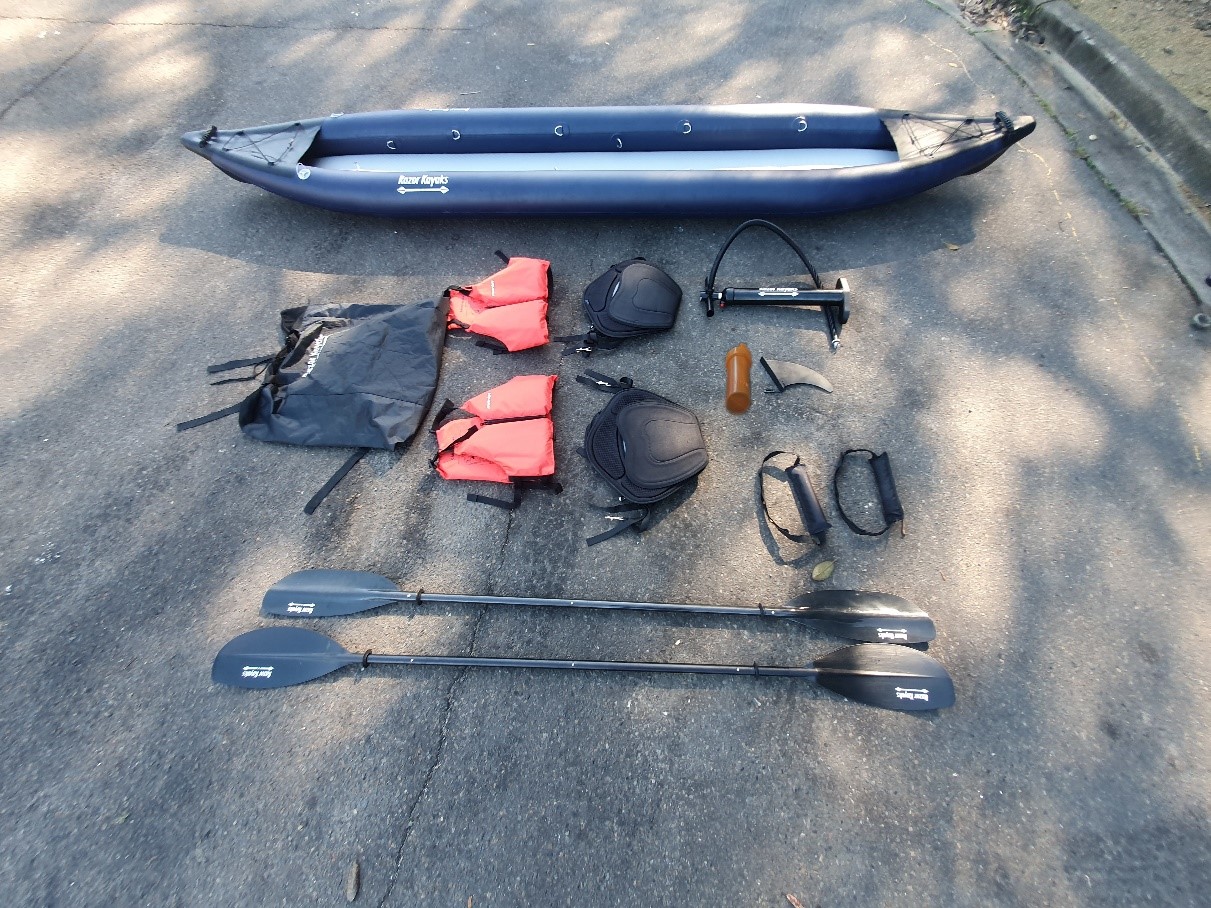 On the water
Usability. The R2 provides excellent control for a multiuse kayak. We love how easily it handles whether it's one or two people using it and the amount of onboard space there is. It handles well, holds in a straight line and is responsive to your movements. Like the R1 it moves quickly across the water, and we were impressed with its speed.
 Stability. The structure of the R2 with its length, tubular sides and Tech-Stich floor make this an incredibly stable kayak. It'd be really hard to tip it even in choppy seas and it doesn't rock from side to side. The hard floor is rigid but still light weight and It feels like paddling a traditional kayak.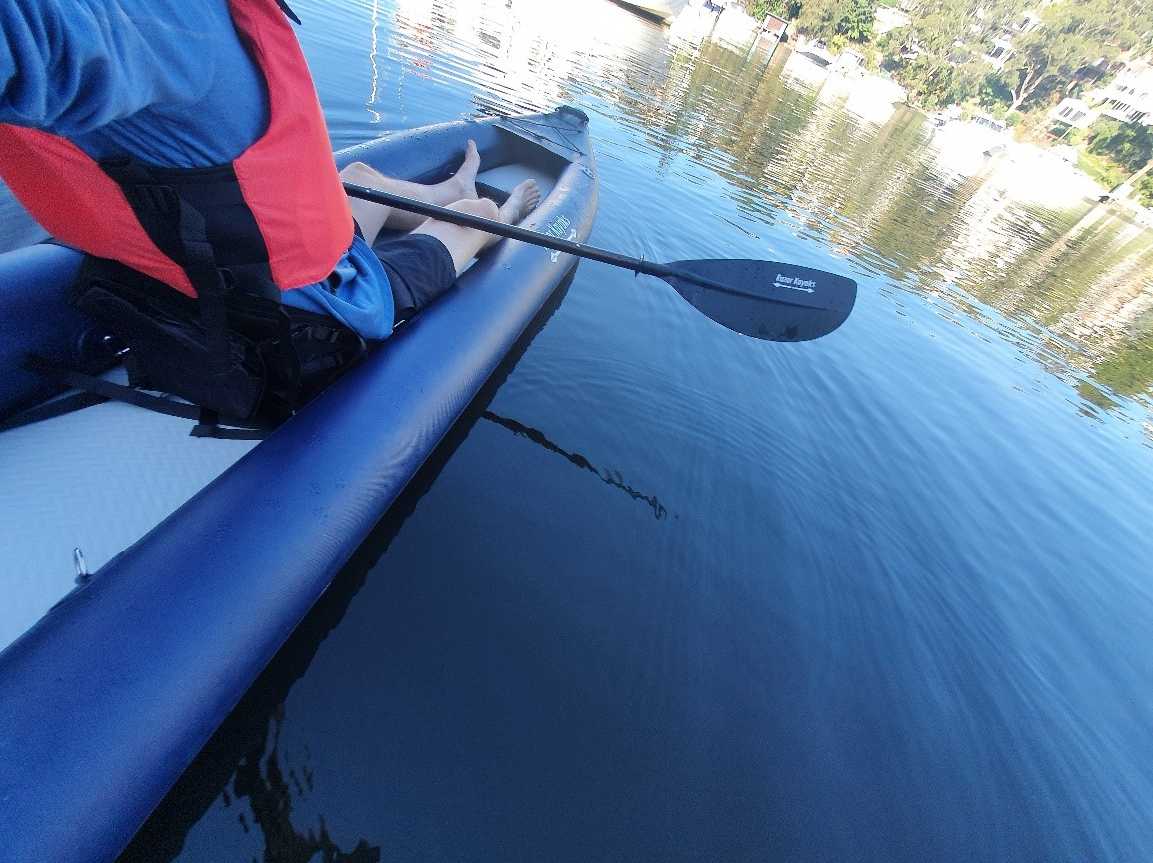 Other considerations
Flexibility. There aren't too many kayaks around that you can paddle comfortably as a one or two person kayak. For two people this is a really stable kayak with a bit of extra space for some fishing gear or a packed lunch. At 4.3m it's still manageable as a one person to comfortably paddle, turn and carry.
Packing down and care. As with the R1 the kayak can be wiped down then seats, footrest and fin removed. The three push button valves release the air. The air exits the kayak quickly so you can easily roll it up and squeeze it back into the bag. Durability doesn't appear to be an issue with the thick materials, but it does come with a repair kit for emergencies.
Final thoughts on the R2 Ultra
On top of the obvious benefits of this kayak being durable, compact and lightweight what we really love is its flexibility. You can paddle it comfortably with one person and with its 288kg payload and good length it's more than comfortable for two with room for a packed lunch. It's a stable on the water and great if you want to keep all of your options open for water exploration.
Conclusion
Technical reasons aside what we really love about these kayaks is that they have great flexibility and are great on the water. They are lightweight, compact, easy to set up and we'd happily take them out to explore lakes and rivers or go out on a fishing adventure. They are ultra-responsive on the water, comfortable and just downright fun to take out.