Everyone needs time away from the internet. Some in more need than most. In the case of rapper Iggy Azalea, deactivating her Instagram and Twitter accounts might be the best move. Her social media was intentionally taken down back May 27 after nude photos of her were leaked online.
The 28-year-old rapper did not make any comment or mention about the topless pictures that surfaced online May 26, Sunday. She neither confirmed nor denied if the nude shots belonged to her prior to deactivating her social media pages.
The images in question seem to be from an old photoshoot for GQ Australia taken by celebrity photographer Nino Munoz.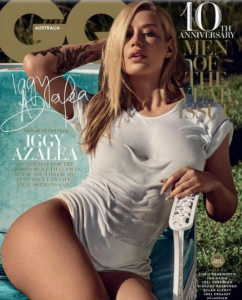 Censored versions of the photos are still posted on the magazine's website. According to US Magazine, the backstory of the photos explained that the pictures were given as a gift to Azalea's plastic surgeon Dr. Ashkan Ghavami by the rapper herself for his birthday. Dr. Ghavami performed breast augmentation surgery on the Azalea.
The year of her surgery, Azalea even thanked the surgeon in a birthday greeting she posted on Instagram. The rapper wrote: "Happy birthday @DrGhavami. It might seem obvious I'd hold the man I owe my fabulous nose and breasts to in high regard," The greeting was posted along with a photo of the two together.
Azalea is not one to shy away from admitting that she's had work done. She even addressed her breast enhancement surgery in an interview with Vogue magazine back in 2015. The rapper seemed to be ecstatic about having bigger boobs when she was asked if she would consider going under the knife.
Azalea has since reacted to the photo leak. "There was no reason for anyone to have kept the outtakes from the shoot. I'm surprised and angry that they were not immediately deleted after the final images were selected," the rapper said.