If you're a foodie, nothing quite compares to the opportunity to travel and to try local cuisine at every stop along the way. Every country around the world has something different to offer. In this post, we're detailing some local dishes from across the globe to add to your bucket list.
South Africa
Bobotie is a traditional South African dish that is rather similar to the famous Greek dish, Moussaka. Bobotie is a spiced meat bake that is topped with egg. It is the national dish of the country, which means that you're likely to find it on the menu of most restaurants in South Africa.
Another popular dish in when you visit South Africa is Bunny Show. Don't worry, there are no bunnies in the dish. It is a fast food, made of a loaf of bread that is stuffed with curry.
Mexico
Tlayudas, a street food popular in Mexico, is often referred to as a Mexican pizza. It is traditionally a massive tortilla with a spicy black-bean puree.
Toppings are then added to your preference, however, the most common are avocados, chorizo, chicken and baby tomatoes. Tlayudas is placed in the oven for around 10 minutes, and once baked, it is often enjoyed with slaw.
Chilaquiles is another popular Mexican dish which also includes tortillas. The tortillas are cut into small triangles, fried, and then simmered in a spicy salsa. They can then be served in a bowl with beans or egg and a sprinkle of cheese.
This meal is very much a Mexican comfort food, something that locals would only indulge on every now and again.
Vietnam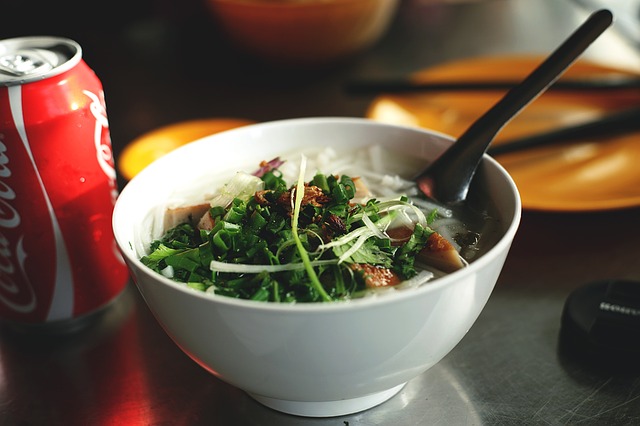 Vietnamese Pho Bo is a noodle soup and a popular dish to order for breakfast and lunch in Vietnam. The soup is made up of a very weak chicken or beef broth (some restaurants will only offer one type), ginger flavours are then added, the flat rice noodles are then added which soak up the broth. You can also pick a meat of your choice to add to the soup.
Banh Xeo is another popular dish thoroughly enjoyed by visitors and locals alike in Vietnam. It is a crispy pancake that comes with some of the most delicious fillings, including vermicelli noodles, meat of your choice, fish, mushrooms, spring onions, and bean sprouts to name but a few.
You can get Banh Xeo on street stalls or indeed, they can be found in restaurants.
Italy
When it comes to Italy we are spoilt for choice on the food we can recommend that you try but no trip to Italy would be complete without trying authentic Italian pizza or pasta. They say these dishes tasted in Italy are unlike anywhere else in the world.
But pizza isn't the only delicious bread type dish waiting to be tasted in Italy. Focaccia is a flatbread, similar to pizza dough, which traditionally has herbs added for flavouring. Chilli oil also works a treat.
Northern Ireland
It might surprise you to learn that the cuisine in Northern Ireland and the Republic of Ireland are different and there are local favourites in the North that are not easily available in the South or in the rest of the UK for that matter.
One such favourite is the Ulster Fry. We are all familiar with fry-ups, bacon, eggs, sausages etc. – the favourite of hangover sufferers around the world – but an Ulster Fry offers a little bit more.
In Northern Ireland the fry ups come with soda bread and potato bread and for the locals this makes all the difference. There are also locally made wheaten breads that can only be found in Northern Ireland and it's definitely worth a taste.
Jamaica
The most popular dish by far on the island of Jamaica has to be Jerk Chicken. This way of preparing and cooking chicken goes back centuries and is widely believed to originated in the Caribbean island.
When you visit Jamaica you will be sure to find Jerk huts all around you and if you can't see them you will probably smell them! Outside dining is a big part of the Jamaican culture and these circular huts are designed for you to enjoy your meal in the shade while still enjoying the Jamaican climate.