Below is a list of the top and leading Insurance Brokers in Melbourne. To help you find the best insurance brokers located near you in Melbourne, we put together our own list based on this rating points list.
Melbourne's Best Insurance Brokers:
The top-rated insurance brokers dealing and managing insurance depending on your needs and help you get the right coverage are:
FD Beck Insurance Brokers
Brokers National Insurance
McKenzie Ross Insurance Brokers
Scott Winton Insurance Brokers
FD Beck Insurance Brokers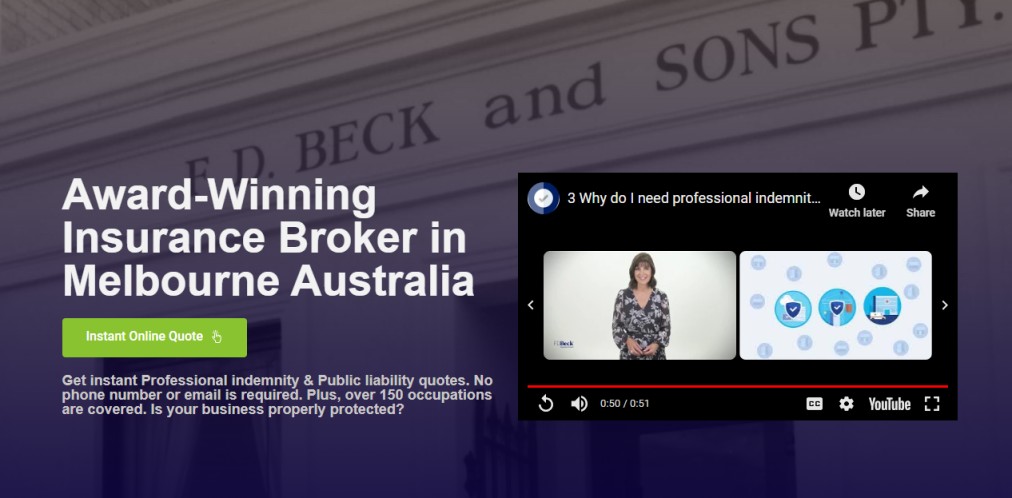 FD Beck Insurance Brokers, based in Melbourne, Australia, is a leading business insurance solution provider. With a proven track record spanning over a century, FD Beck Insurance Brokers specialises in offering tailored insurance packages that safeguard businesses against diverse risks. Their team of seasoned experts brings in-depth knowledge of the Melbourne market, ensuring clients receive personalised recommendations that align with their unique needs. Committed to transparency and excellence, FD Beck Insurance Brokers takes pride in simplifying complex insurance landscapes for their clients. Trusted by a wide range of businesses, from startups to established enterprises, FD Beck Insurance Brokers continues to deliver reliable, comprehensive, and innovative insurance solutions that contribute to the success of businesses throughout Melbourne.
Products/Services:
Public & Products Liability Insurance, Professional Indemnity Insurance, Property Insurance, Business Interruption Insurance, Cyber Liability Insurance, Product Liability Insurance, Commercial Vehicle Insurance, Management Liability Insurance, Employment Practices Liability Insurance, Marine Cargo Insurance, Equipment Breakdown Insurance
CONTACT:
Address: 18/286 Bay Road, Cheltenham, VIC 3192
Phone: 1300 155 338
Website: https://fdbeck.com.au
Review:
"For the last five years I have relied on F D Beck to manage my insurance requirements, and am repeatedly impressed with their outstanding level of service. Fast, friendly responses to new requests along with reliable renewal notifications, FD Beck have your back. And of course. the premiums on cover they source are always very competitive. I unreservedly recommend F D Beck to handle your insurance requirements! A special mention to Jason Langford, who has been my 'go to guy' at Becks for many years." – Shane
Brokers National Insurance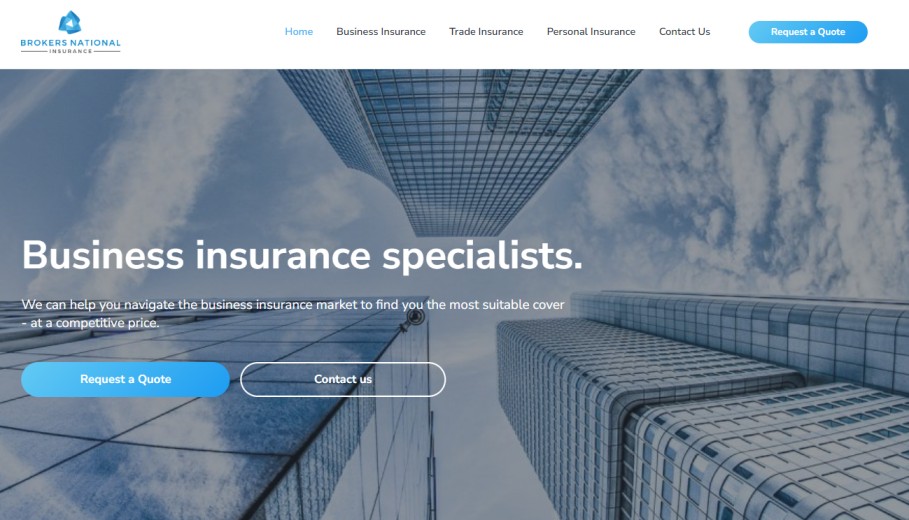 Brokers National Insurance is part of Australasia's largest general insurance broker network. Steadfast's scale and market leading innovation mean they are in a stronger position to secure the best insurance solutions for you, at a competitive price. They take the time to understand your insurance requirements and provide their professional advice for all businesses whether large or small.
Products/Services:
Business Insurance, Trade Insurance, Personal Insurance, Life Insurance, Finance Insurance.
CONTACT:
Address: 33/15-23 Langhorne St, Dandenong VIC 3175
Phone: (03) 9791 6688
Website: www.brokersnational.com.au
Review:
"Wow! I rang for a quote got to speak with Adam Kerr, not only did I get a written quote within a few hours Adam also added products that needed to be addressed.
I rang brokers national insurance because my insurance broker after 10 years fails to reply so thanks to Adam your strong customer service and knowledge base has been noted."- Mike Gibson
McKenzie Ross Insurance Brokers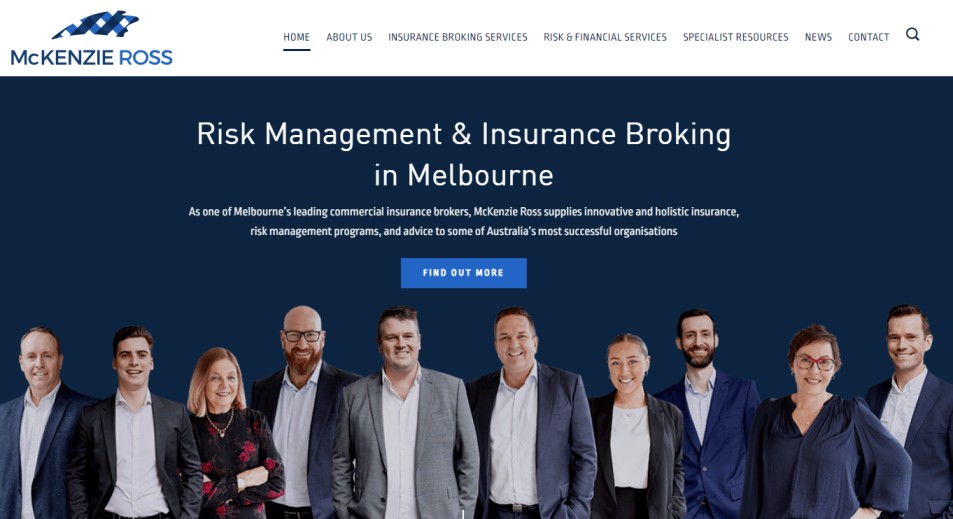 McKenzie Ross Insurance Brokers has been partnering with a broad range of clients, assisting them to reduce their exposure to risk, and ultimately achieve their unique strategic and operational objectives. In simple terms, McKenzie Ross supplies innovative and holistic insurance, risk management programs and advice to some of Australia's most successful organizations. They meet specific business requirements, undertake reviews as required and ensure your insurance program benefits from best in market products and remains updated with changing business needs.
Products/Services:
Commercial Vehicle, Life Insurance, Health Insurance, Travel Insurance, Home & Contents Insurance.
CONTACT:
Address: 4/501 La Trobe St, Melbourne VIC 3000
Phone: (03) 9691 2222
Website: https://mckenzieross.com.au
Review:
"We've been using McKenzie Ross for many years to cover all aspects of our insurance needs both for my Company and personal insurance requirements.
Premium management is always important but the advice and care they take is outstanding. Advice in selecting the correct insurance for our specific needs right down to advice regarding claims management should that be required. Andrew Payne takes a professional and personal interest in all our business , property and private insurance requirements. We would rate them 10/10 in all cases" – Norman
Scott Winton Insurance Brokers
Scott Winton Insurance Brokers is an award-winning insurance brokerage established in 1992. They're a client-focused broker that works with small business to large corporations. They're dedicated to serving the best interests of their clients through the provision of ethical and professional insurance broking services. Each member of their team has specific industry knowledge that equips them with the skills to ensure your interests are covered and they pride themselves on knowing your business intimately and will look after you every step of the way.
Products/Services:
Business & Office Insurance, Home Insurance, Trade Credit Insurance, Trade & Credit Insurance.
CONTACT::
Address: 1/222 St Kilda Rd, St Kilda VIC 3182
Phone: (03) 8598 9411
Website: www.scottwinton.com.au
Review:
"Thorough service and very understanding, I've used them for several years, and they have been a great help. They've been able to assist in both finding the right policy and understanding what I need as my work has changed. The support and service have been amazing, would highly recommend."- Anton Grimes
A guide to choosing the Best Insurance Broker
Insurance is an essential aspect of modern life, providing financial protection and peace of mind in the face of uncertainties. However, navigating the complex world of insurance can be overwhelming for many individuals and businesses. This is where insurance brokers come into play. An insurance broker acts as an intermediary between you and insurance companies, helping you find the most suitable coverage at the best possible price. Choosing the right insurance broker is a crucial decision that can significantly impact your financial security. In this article, we'll explore key factors to consider when selecting the best insurance broker for your needs.
Expertise and experience
One of the first things to consider is the broker's expertise and experience in the insurance industry. Look for brokers who have a strong track record of working with clients similar to your situation. An experienced broker will have a deep understanding of various insurance products, policies, and market trends. They should be able to provide insightful advice tailored to your unique needs.
Credentials and licensing
Insurance brokers must be licensed to operate in their respective jurisdictions. Verify that the broker you're considering holds the necessary licenses and certifications. These credentials indicate that the broker has met certain professional standards and follows ethical practices. You can usually check licensing information through your state's insurance department or regulatory authority.
Reputation and reviews
Research the broker's reputation within the industry and among their clients. Online reviews and testimonials can provide valuable insights into the broker's customer service, reliability, and overall performance. A reputable broker will have positive feedback from clients who have benefited from their services.
Range of offered services
Consider the breadth of services the broker offers. A comprehensive broker should be able to assist with a wide range of insurance needs, including property and casualty, life, health, disability, Professional Indemnity Insurance, and more. This versatility can be particularly advantageous if you require multiple types of coverage.
Independent vs. captive brokers
There are two main types of insurance brokers: independent and captive. Independent brokers work with multiple insurance companies and can provide you with a variety of options. Captive brokers, on the other hand, are associated with a specific insurance company and can only offer products from that company. Depending on your preferences, you might opt for the flexibility of an independent broker or the specialized knowledge of a captive broker.
Transparency and communication
Clear communication is vital when dealing with insurance. A good broker should be transparent about the policies they recommend, including coverage limits, exclusions, and deductibles. They should be able to explain complex insurance jargon in simple terms so you can make informed decisions.
Cost and value
While cost shouldn't be the sole determining factor, it's important to understand how the broker is compensated. Brokers usually receive commissions from insurance companies for the policies they sell. Make sure you're comfortable with their fee structure and that it aligns with your budget.
Personalized approach
Each individual or business has unique insurance needs. A top-notch broker will take the time to understand your circumstances, risk tolerance, and long-term goals. They should then tailor their recommendations to match your specific requirements.
Technology and tools
In today's digital age, technology plays a significant role in the insurance industry. A modern insurance broker should have access to advanced tools and software that streamline the process of comparing, purchasing, and managing insurance policies.
Availability and support
Emergencies and unexpected situations can arise at any time. Your broker should be accessible and responsive when you need assistance, whether it's filing a claim, making policy changes, or seeking advice.
Conclusion
Choosing the best insurance broker in Melbourne is a decision that requires careful consideration of factors such as expertise, credentials, reputation, services offered, and communication style. By conducting thorough research and asking the right questions, you can find a broker who not only helps you navigate the complex world of insurance but also becomes a trusted partner in securing your financial future.