Strata painting is the key attribute to any effective exterior maintenance plan.
Choosing the suitable strata painting service to employ the entire decorative painting requirements, extensively clean and maintain the whole building exterior is directly associated with your building's lifespan- visually and structurally. Therefore, high-end strata paint job can tremendously add value to your property in Sydney.
However, choosing the right service can be a daunting job, with many factors involved, in addition to a solid chain of command to meet the specific needs for your site. And you do not want to devalue your capital with faulty strata paint job.
So in this article, we will guide you through selecting a reliable, experienced strata painting service for your project.
Do your research
When it comes to undertaking a large-scale property service, nothing is more important than choosing the right strata painting service that improves your building's structural integrity. Moreover, to select the right strata painting service for your project, you need to understand the project objectives and other specifications.
Once you can get the complete picture of your strata project requirements, start your research by checking strata painting services in your area.
Get free quotes and review their portfolios and client testimonials. You can directly contact them and discuss the project outcome you want with the overall service package and possible estimates to get the most suitable deal and establish a clear communication channel.
Ask the contractor to specify the strata painting materials, equipment and techniques. If the strata contractor has not provided a detailed quote, prepare follow-up questions about important topics like appropriate fall protection or other work safety departments.
Try to gather as much information as possible about the local strata laws and regulations stated by local councils for high-rise buildings. Then, make sure your chosen strata painters strictly abide by the policies.
Last but not least, make sure to keep a realistic timeline in mind — strata painting service cannot be completed in haste, as it has certain weather condition requirements.
Evaluate license and credentials
Strata jobs involve a rigorous deep cleaning process and regularly scheduled maintenance of the building surface. So unlike traditional residential painters or commercial contractors, strata painters must have credentials and accreditations that justify the strata painting qualification itself.
Many professional trade organisations and painting certification programs offer strata painting licenses and certificates. Dulux accreditation, for instance, is provided to the best painting professionals with in-depth technical skills, industry knowledge, building safety, high-quality artistry and flawless records of accomplishment throughout Australia.
In addition, you can directly reach out to trade institutions like Dulux or Master Painters Association to know details about the strata painting crew you want to hire for your project.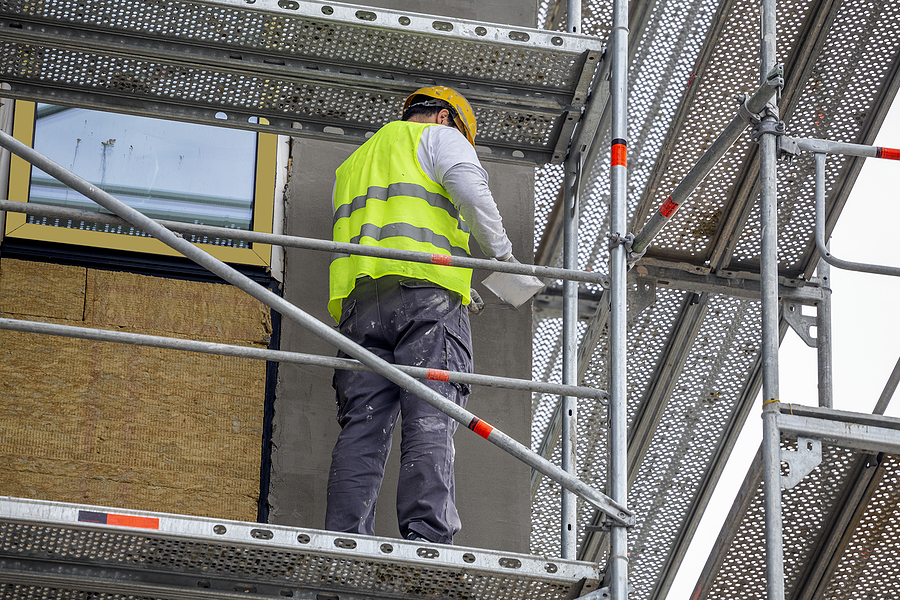 Verify industry knowledge and field experience
Strata painting professionals are not limited to working on only certain areas of a building project. Instead, their service ranges from rudimentary painting to the most advanced and complex painting maintenance to the highest and deepest corners, working across multi-story facilities that include scaffolding and abseiling.
Professional and experienced strata painters in Sydney should also be well informed about lead-based painting, asbestos and full painting coverage. So you need to make sure the strata painting service you're planning to hire has adequate knowledge about the extremities of your project.
However, instead of solely relying on the credentials, do not hesitate to ask the contractors about their similar field experience, the equipment they use and other facilities they offer to understand if they are qualified for the job.
Ask for references
Strata painting is indeed an expensive property painting and maintenance service. But with the exemplary service and reliable workmanship- it can be an investment of a lifetime. Every high-rise painting or restoration project has its facets of structural features. Poor artisanship and without hands-on experience on similar strata projects can leave long-lasting adverse effects on the building structure. That may be irretrievable in many cases.
On the other hand, cheaper quotes might involve low-quality materials and paints. A strata painter may not know every strata product on the market, but he must be aware of new painting technologies, trends and innovations.
So before you recommend a strata painting service to your committee, it's safe to ask other property owners or similar project supervisors for quality strata service recommendations to get an unbiased view.
Check for liability insurance and warranties
Strata jobs include an extensive range of safety and liability protocols. For example, an authorised report in 2016 by Safe Work Australia demonstrated the potential risks and fatalities your under-constructed building can possess.
So you must check your strata painting contractors or service crew are procured, licensed and insured to make sure they offer comprehensive business liability and are fully guarded in any accidents or unexpected occurrences.
While discussing the strata painting contract proposal with the service providers, consider asking them for an instance of a risk assessment they have previously managed for a similar type of project and what controls they plan on implementing to maintain safety on site. Along with the insurance, check if the service provides you with a warranty or guarantee covering labour and material defects.
Discuss your expectations
Ultimately, no matter how good or experienced the strata paints you hire, you will have to walk contractors through the requirements of strata properties and also the process, which involves clear communication, cooperation and mutual understanding.
So, one of the key traits to look for a strata painting service is if they give you enough flexibility to supervise and facilitate their work. Consider having an open discussion with the strata company about your project requirements with a systematic approach and complete transparency.
Reputable solution-based strata painting services also offer complete building inspection and condition report documentations to identify existing surface conditions and the best ways of remedial repairs. For even larger projects like structural repair, many strata painting services also provide structural engineers or strata managers to carry out the course of action meticulously with utmost precision.
As one of the most challenging and time-consuming building maintenance processes, strata painting has a significant impact on transforming your multi-storey building complex without any compromises in its upkeep for many years to come. So, choose an active member of Strata Community Australia; they have wide-ranging strata painting experiences with portfolios and testimonials of many satisfied clients.