Managing a rental property is not an easy task. Most property managers have to deal with different contractors to properly maintain the building and the units. There are plumbers, cleaners, roofers, and electricians, who are all involved in keeping the property in good condition.
One of the essential contractors that every rental property should have is a commercial electrician. There are many electricians around who are ready to render their services, but for rental properties, you need professional electrical services. Hiring an expert electrician with a license and appropriate certification should be first on the agenda. In the rental business, time is money, and a faulty electrical system can cost you more than calling a licensed electrician.
Top reasons why you should hire a licensed electrician
Repair and maintenance of the rental property is the responsibility of the landlord and, in most cases, the property manager. Part of their responsibility is making sure that all systems are maintained and in running condition, including the electrical system.
Rental properties need commercial electricians because the electrical system in rental properties and offices are more complex. The professional services that these electricians offer includes wiring, installations, lighting, safety checks, maintenance, testing, and many more. Only a licensed electrician has the proper skills and training to understand these complexities.
Electrical safety
The issue of electrical safety is a top priority for the government and rental managers too. Landlords are required to meet electrical safety requirements before they are allowed to rent their properties. To do this, they need a licensed electrician for all the electrical works and testing for them to obtain the necessary permits.
But the work does not stop there. Once the property has tenants, the landlord has to make sure that the electrical system is maintained. As a manager, you cannot entrust this work to just any electrician for safety reasons. The risk will be too high to leave the electrical repairs to someone without a proper license. If electrical faults are not detected early, the risk will be too high as electrical fires can damage the property and may cost lives.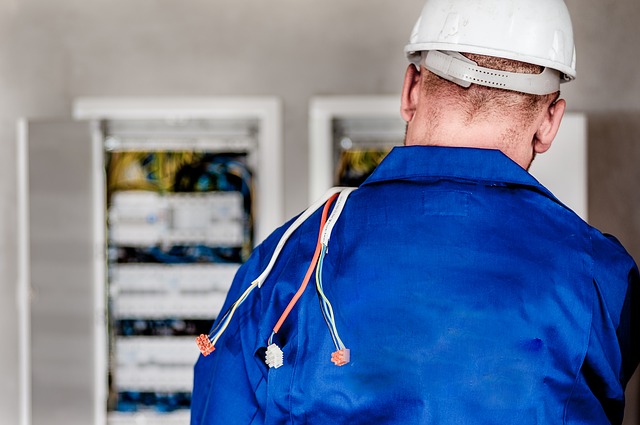 Quality of work
Some "electricians" may think that watching a few tutorial videos and reading books will make them an expert but no. The truth is, an electrician may have the skills, but little practice and no training make them unfit to render professional electrical services.
Hiring a licensed commercial electrician will ensure that the contractor is equipped to manage the electrical requirements of a commercial building in all levels. It can be as simple as lighting installation to as complicated as significant repairs on the electrical system. Only a qualified electrician can perform high-quality electrical work and can work on all facets of the commercial electrical operation.
Guarantee
When hiring a licensed contractor to provide you with professional electrician services, you know that this person will be responsible for any property damage or personal injuries that will happen while working on your rental property. They also have a reputation to uphold and will make sure that all the jobs are done well. The guarantee that they provide is an  assurance of high quality.
On the other hand, when you hire an unlicensed electrician, they are most likely uninsured. There will be no coverage on any damages, and in most cases, the landlord may have to pay the costs and the medical bills.
As a landlord or property manager, contracting a licensed electrician will take the stress from you. And when an electrical problem occurs, you will only have them to call.
Final thoughts
At a glance, hiring an unlicensed electrician may seem to be an affordable option because they have a lower hourly rate than licensed contractors. But as a rental manager, you should not risk the property. The amount you have discounted from hiring an unlicensed electrician will not be enough for the cost that you will have to deal with later on.
The smartest decision for the electrical needs of your rental property is to hire a licensed electrician. If you find yourself in need, get in touch with the Master Electricians at McIntosh Electrical. Whether it is a residential or commercial rental property, they can help.