Australia's top retailer for office, home and education products, Officeworks is part of the Wesfarmers Group and enjoys a huge footprint across the country with over 160 retail stores and over 7,000 employees. The company has more than 40,000 products on offer on their website, along with a national call centre team to cater to all enquiries from customers.
History of Officeworks
Officeworks first started in 1994 in Richmond, Victoria and was part of the Coles Myer Group. Check out the timeline of some milestones achieved by the business over the years:
The company grew massively and opened 30 stores by 2000.
Viking Office Supplies and Harris Technology were acquired by Office works in 2003 and 2004, as the company attempted to increase its online footprint.
The 100th Officeworks store opened in 2007.
2007 was the same year that Wesfarmers acquired Office works. A new leadership team was brought on board with several changes implemented – including the Officeworks Lowest Price Guarantee.
In 2013, the 150th Officeworks store opened.
Products Sold at Officeworks
Officeworks strives to offer the biggest range of products at the lowest prices with a commitment to good customer service. Customers have the option to shop in store, online or via phone to access heaps of products at low prices. Some of the products at Office works include:
Inks and toners
Phones and mobiles
Laptops, desktops, ipads and mobiles
Tech accessories like earphones, Bluetooth devices
Office supplies
Furniture
Cleaning supplies
Photo, printing and copy services
The company claims to be a sustainable and responsible business, supporting local communities where suppliers, employees and customers live and work.
Officeworks Local Community Footprint
Every Officeworks store is committed to supporting the local community through a range of activities, including local community groups, children's workshops and sausage sizzles. Some of them include:
Officeworks supports children's education through partnerships with The Smith Family and the Australian Literacy and Numeracy Foundation.
Officeworks is committed to protecting the environment through initiatives like Bring IT Back and Restoring Australia.
Officeworks sources products and services in a responsible and sustainable way.
Officeworks releases a sustainability report every year. This report includes information on environment impact, sustainable materials, learning and development, ethical sourcing, future priorities and much more.
Officeworks Price Beat Guarantee
Officeworks offers a 'Price Beat Guarantee' (PBG), which means that the company will offer a 5% discount if you find a lower priced identical item at a competitor's store. What do you do?
Record the price in a catalogue clipping or take a screenshot on your phone.
Call or walk into your nearest Officeworks store to claim the lower price guarantee. This cannot be claimed online.
The store will confirm the price and give you 5% off the matched price.
The PBG applies to all products stocked at Officeworks that are not excluded from the guarantee. Items excluded from the guarantee include cashback and coupon offers, commercial pricing and quantities, and stock liquidations.
Customer Privacy at Officeworks
Officeworks takes customer data privacy seriously and implements industry-leading practices to protect important information. Consider the following:
Data including messages, images and videos may be lost in the repair process of a product. The customer is responsible for backing up / deleting their own data.
Any personal information collected from the customer will only be used to process and verify the return.
Financial information collected for a transaction is secured in controlled facility servers.
Officeworks Free 2-Hour Click and Collect
Officeworks offers a free 2-hour click and collect service where online orders can be picked up in-store. All you have to do is select the click and collect button and select your preferred store pick up – it's easy! Here are some things to consider:
If you order products that are in stock at your local Officeworks store, your order will be ready to collect in 2 hours from the time you place it.
If you order products that need to be delivered to your local store, then you will have to wait based on standard delivery lead times. You will then be notified via email or SMS when your order is ready for collection.
When you pick up an order from a store, it's important you bring your tax invoice, a valid photo ID and confirmation of your order so it can be verified.
The 'click and collect' option is the preferred choice for many customers who know exactly what they want and don't want to waste time browsing in store.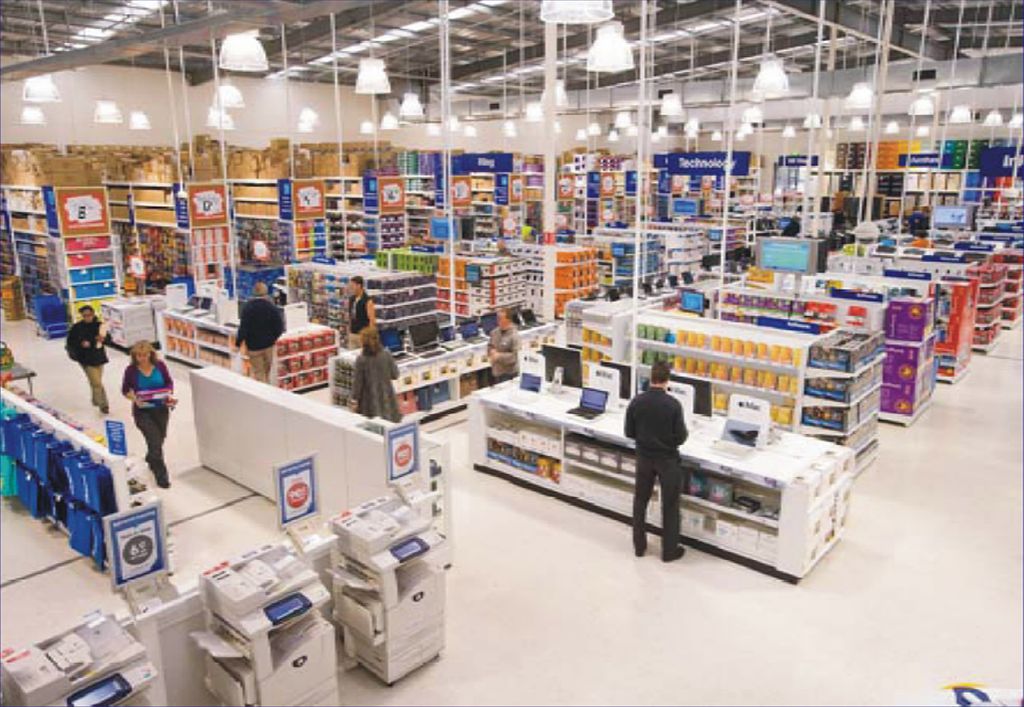 Officeworks Delivery Policy
Officeworks offers delivery services for products bought online, so customers find the experience quick and easy. Officeworks delivers to most business and residential addresses in Australia. But there are some places it may not be able to reach. Officeworks also cannot deliver to any Australian island, except Tasmania. The company will also not deliver to lockers and PO boxes. Here are some options you can choose from:
Metro Deliveries – Standard free next business day delivery can be offered to selected areas within Melbourne, Sydney, Adelaide, Brisbane, Hobart and Perth. Premium same day delivery is available free for orders placed before 11.30 am on weekdays. Orders below $55 will have a delivery fee. Delivery for large items will incur an additional fee of $39.95.
Regional Deliveries – Regional area deliveries have a fee of $5.95 and will reach customers between 1 and 3 business days. Large items are delivered separately with a delivery fee of $49.95.
Country Deliveries – Country deliveries have a fee of $25.95 and take about 1 to 5 business days. Large items are delivered separately with a delivery fee of $59.95 and take about 1 to 5 business days.
Deliveries for large items require special handling and different transportation, which is why there is a separate fee. If you choose the 'Authority to leave' option on checkout, your Officeworks order will be kept at your door. In this case, Office works is not responsible if any damage or theft occurs after the order has been delivered.
Returns Policy at Office works
Officeworks offers the widest range of products at low prices, but ever so often, something may need to be returned. The process is simple – you can return and exchange or even get a product repaired. Some of the terms and conditions include:
Consumer Guarantees – Officeworks products and services come with guarantees in compliance with Australian consumer law. Customers can cancel service contracts, get refunds and get replacements for major failures. For minor issues, customers are entitled to repairs in a reasonable time.
30-Day Change of Mind Returns – Customers who change their mind about a product or service are entitled to a refund or exchange within the first 30 days. Customers must also provide proof of purchase such as a receipt and the item must be in re-saleable condition in its original packing. Some purchases are not entitled to refunds:

Prepaid business services already used or activated – you can claim a refund for portions of the service that have not yet been used.
Gift cards or iTunes cards
Mobile phone recharges
Special orders and custom prints

Faulty Product Returns – If you have a faulty product, you can get a refund or replacement by providing proof of purchase. This can be the original receipt or credit card statement. Officeworks may choose to have the product assessed to determine the exact issue and may decline an exchange, repair or refund if the fault has occurred because of neglect or misuse.
How to Return a Product from Officeworks
You can return a product to any Office works Australia wide – no matter where you purchased it. Keep the following in mind:
Refunds are only paid in the same way as the original purchase. For example, funds returned to the account used to pay for an item.
If a credit card cannot be produced (related to the original purchase), the customer may get a refund in the form of an Office works Gift Card.
If Afterpay was used to make the purchase, refunds are only processed back to Afterpay. No credit card, gift card or cash will be given.
If PayPal was used to make the purchase, refunds will be processed only to PayPal. No credit card, gift card or cash will be given.
If Zip Pay or Zip Money was used for the purchase, refund payments will be made to Zip Pay or Zip Money only. If you open a Zip Money account and pay an account establishment fee, please note this will not be part of the refund.
In conclusion,
Officeworks is the top retailer in Australia for office, education and home solutions. Catering to businesses of all sizes, educational institutions and even homes, there are plenty of products to choose from at some of the best prices in the country.