Thai Beef Salad always impresses as a tasty, fresh dish – perfect for a packed lunch at work or dinner at home.
If you feel like a zingy meal that packs a flavour punch then an Asian salad is the perfect choice, it's great for a protein hit and is flavourful without all the cream and mayo that many salads use in their dressings.
Thai beef salads are a restaurant favourite and one of the better known Asian salads, and for good reason, they're delicious and relatively easy to make.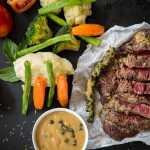 Print Recipe
Delicious Thai Beef Salad Recipe
Very delicious Thai Beef Salad Recipe
Ingredients
Dressing
1/4 - 1/3

tsp of

sliced mild red chilli (birds eye or similar works in a pinch)

3

tbsp of

freshly squeezed lime juice

2

cloves of

garlic (minced)

1

pinch of

salt

2

tsp of

sugar

2

tbsp of

fish sauce

1

tbsp of

sesame oil (grapeseed or canola also work)

1

tbsp of

soy sauce
Salad
300

grams of

sirloin steak (porterhouse, sirloin, scotch fillet steak work best)

1

tbsp of

oil (canola, peanut or vegetable)

2

cups of

lettuce

1/3

cup of

diced cherry tomatoes

1/4

cup of

sliced spring onions

1/4

cup of

cucumber, sliced in half and diagonally cut
Instructions
Crush chilli, garlic, coriander and salt and pepper in a mortar and pestle to release flavour

Grind until a smooth paste forms

Slowly add remaining dressing ingredients and then set aside

Preheat pan over high heat, until very hot

Oil up pan and then place beef in pan – cook to your liking (Thai Beef salad is great with medium rare meat)

Set beef aside to rest and cool

Slice salad ingredients and place in a bowl

Thinly slice cooled beef and place in bowl with the rest of the salad ingredients

Drizzle with salad dressing and toss lightly

Garnish with additional coriander and peanuts
Notes
The above video is to another recipe. 
Common questions about Thai Beef Salad
Asian cuisine has taken the world by storm where they have successfully been able to implement their dishes into many different countries across the world. When any becomes so wide adopted and popular, questions are bound to pop up. Below we will aim to answer some of the world's most pressing questions about Thai Beef Salad.
Where did it come from?
While it may sound a bit redundant to ask where a dish came from with the country of origin in its name, many people still ask. This is actually a good question to ask however as dishes adapt to the countries they are in and rarely stick to the traditional recipe that was used during its creation. The inspiration and origin for the dish obviously came from Thailand but the ingredients available in Australia push down a different path. We are very lucky here to have some of the world's best beef and fish products which means you will find that we focus on bringing out the flavours of our best ingredients.
Is fish and soy sauce good for you?
Many people always question whether what they are putting in their mouth is actually good for them. As much as it pains us to say it, fish sauce is not good for you and never will be due to its incredibly high sodium level. Soy sauce however can be good for you and if you get the variant that is closest to the plant based sauce you will find it is even healthier. You do have to watch out though for the sodium level as it is common for most brands to sell products with very low soy levels where the main flavour comes from the water and salt in it. One tablespoon of soy sauce contains about a third of your daily sodium intake so be careful if you already have a sodium rich diet.
Is coriander and mint good for you?
We mentioned that you garnish our recipe with coriander and if you don't have that lying around you can also substitute mint for it. The great thing about both of these herbs is that they are both very healthy and taste great. Both of them are packed with a tonne of anti-inflammatory properties which is a great benefit for your body and keeping it healthy. Mint has a long history of being used for improving the health of your gut and was even used to aid your digestive system. Many people who suffer from acid reflux and IBS have been known to improve when they include mint into their diets as well!