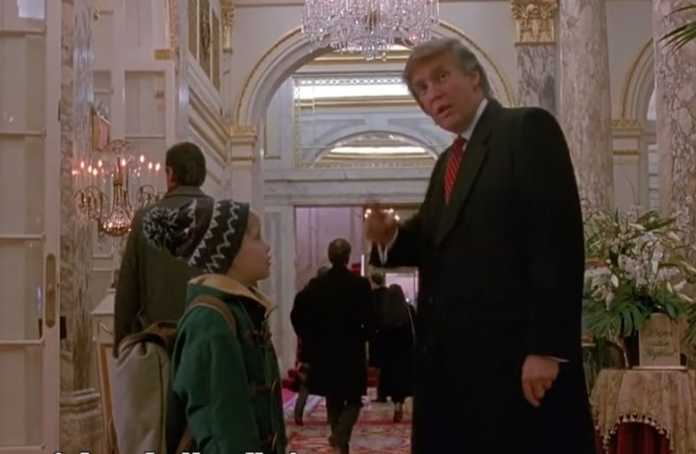 Canada's national broadcasting network has set off Donald Trump's conservative fan base. Supporters were angered when the holiday classic Home Alone 2 aired without the United States president's cameo.
The Canadian Broadcasting Company (CBC) confirmed that it cut out Trump's brief scene along with others that span eight minutes in total back in 2014. CBC cites the reason behind this is to reserve the time for commercial breaks.
At the time of the film's release back in 1992, Trump was a prominent figure in the media. The scene in question sees Kevin (Macaulay Culkin) innocently asking Trump where the hotel lobby is. The cameo made sense as Trump was one of New York City's prominent businessmen in the 1990s. His short dialogue went "down the hall and to the left".
A rerun of the movie aired on CBC without the aforementioned scene over the holidays. It wasn't long after right-wing news outlets picked up the cut, infuriating Trump supporters. His son, Donald Jr., even shared his two cents on social media last Friday calling the cut "pathetic."
President Trump himself has reacted to the matter. On Twitter he wrote:
"I guess Justin T doesn't much like my making him pay up on NATO or Trade!" He then added that Home Alone 2 will "never be the same again (just kidding)!"
The movie will never be the same! (just kidding) https://t.co/FogquK1ei7

— Donald J. Trump (@realDonaldTrump) December 27, 2019
CBC's spokesperson Chuck Thompson has responded to the issue saying, "The scene with Donald Trump was one of several that were cut from the movie as none of them were integral to the plot. These edits were done in 2014, when we first acquired the film and before Mr Trump was elected president."

Ben is is a senior journalist and sport columnist for Best in Australia. He previously worked for the BC and other radio stations.