Whether you are building, rebuilding or just redecorating your house, painting is a big job and you will have a lot of decisions to make. You will need to pick colours, shine and pattern, for both your interiors and exteriors. Of course you will probably already have an idea of what you want the end result to look like, but you will still have quite a journey to get there!
For the purposes of this article let's assume you have already decided to paint your rooms, rather than use wallpaper or tiles. We also won't get into the techniques of painting – these are the choices you will need to make whether you paint yourself or use a contractor.
Painting your interiors
According to Pizzazz Painting when you paint your interiors you will usually need two coats – a base and a finishing coat. Your base paint will essentially serve to flatten the wall in order for your finish to be smooth, and typically won't be brightly coloured. You will need to know if you want the walls to be light or dark, however, as different shades of primer have different effects.
You will have a choice between water and oil based paint for the undercoat, and they will effectively serve to turn your wall into a blank canvas for the top coat – which is the nice colour, and where any decoration should happen.
The water based undercoat will be good for repainting, or for most traditional building materials such as timber, plasterboard and masonry. The oil based sealer, on the other hand, is better for surfaces that are a bit more absorbent, as it will block any pours that might otherwise cause your finished wall to have odd marks. Just make sure the paint is safe!
Now you need to pick the colours and patterns that will actually go on your walls, because it's time for the final coat. Once you pick the colour and any patterns you want (remember different rooms can have their own décor) you will need to decide on what type of finish you want to paint on your walls.
Your options are flat, eggshell, satin, and gloss. The look of the paints are differentiated by how much shine they give (the names are a bit of a giveaway) as well as how durable they are. Contrary to what you might assume, flat paint is the least durable while satin and gloss are the strongest, with eggshell in the middle.
Because of the durability and ease of cleaning, satin and gloss are popular choices for bathrooms and kitchens. Flat paint is generally popular for bedrooms, because it will reflect the least light. Eggshell is good for rooms that will be lived in, particularly if there are kids or pets in the house.
Painting the exterior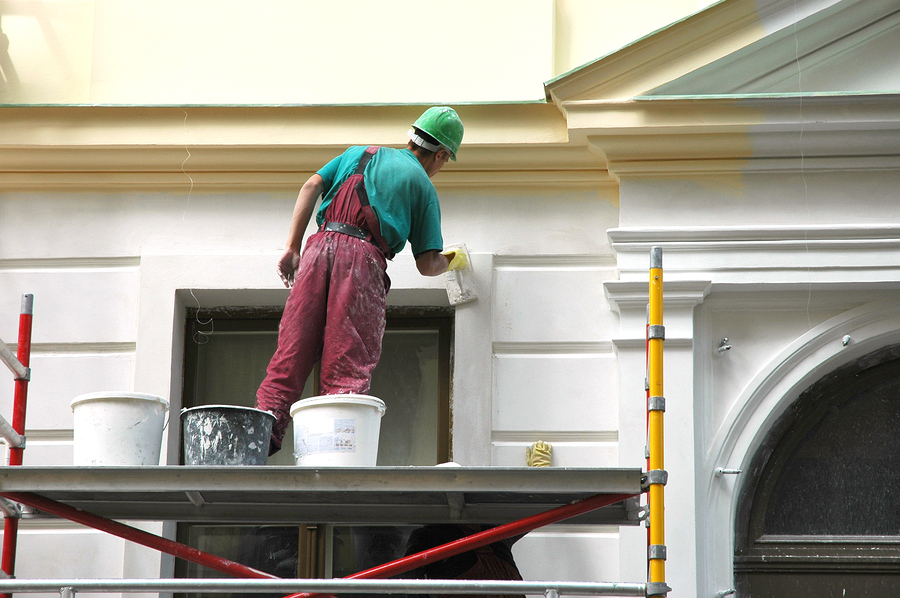 Unless you live in a strata unit you can paint the outside of your house whatever colour you like. When you do, however, you will have a number of steps to go through. First of all, you will need to chip off all of the old paint (if you are repainting), and prepare the surface for a new coat.
You will generally need to prime your exteriors as well, typically with an oil based undercoat. Several acrylic based paints, however, will be thick enough to paint straight on. Similar to interior walls, you will need to know whether you will have a light or a dark finish coat before you put the base coating onto your house.
You can use matt, low sheen, semi-gloss and gloss paints on your exteriors. Again, the names describe how reflective they will be. All exterior paints will be significantly thicker than your interior choices, because they need to be durable and withstand the elements.
When you pick your paint, make sure that it won't yellow as it ages – otherwise you will find your house changes colour over time. You will also probably need a finish, which will not affect the colour but will make the paint last longer. The finish can also texture your exteriors if you want. You can also find a heat resistant paint if you want.
Painting your house is a big job, but once you have picked the right paints you will be ready to get underway. Your primer will depend on what shade you want your walls to be, while your second layer will be the actual colour you want. In the second coat you will also need to decide how shiny you want your walls to be, and how durable the paint should be.