Massage chairs provide the ultimate in personal luxury, allowing you to enjoy the benefits of a rub at your leisure. Tired after a long day at work? Plonk yourself down in your massage seat at home and relax! InTouch Massage Chairs provide a wide range of high quality therapeutic equipment to match your budget and lifestyle.
Confused about the differences between models? Unsure where to find the right one for you? Fret no more – this article outlines everything you need to know about getting the perfect chair.
Know your budget and reasoning
There are a wide range of massage chairs on the market, ranging from $150 to upwards of $10,000. Selecting the right model for you starts with knowing what price range you're looking for. The main factors that affect the cost of each chair are materials (some models come in real gold!), size and special features.
Considering your reasons for wanting a massage seat is also important – do you have a chronic back problem that requires therapeutic treatment, or do you just want something to help you unwind at the end of the day?
Decide which features you want
The abundance of features available are almost endless – from MP3 players to zero-gravity technology, it's important to be savvy when deciding which features will be of most use to you (and which ones look cool but are unlikely to end up being used). Some of the features to consider based on your needs include:
Massage technique
Most chairs provide customisation of the technique you want, though some cheaper models may only offer a single setting. Techniques include kneading, Swedish, Shiatzu, knocking and tapping.
Therapeutic technology
Mid-range chairs tend to offer some therapeutic features, such as deep-tissue massage and zero-gravity seating. Your choice may depend on your particular therapeutic needs.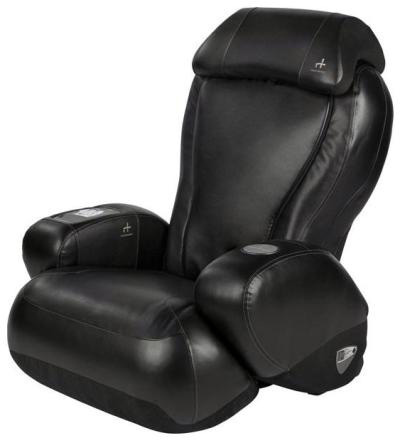 Massage track
Chairs tend to come in three different track options: L-shape, S-shape and fixed frame. Fixed frame is considered inferior and associated with cheaper models, S-shape is the industry standard (it follows the curve of the spine), and L-shape is the newest technology offering an even better massage that travels from the neck to the back of the thighs.
Heat
Some massage chairs offer a heat feature, allowing you to enjoy a warmer experience. The extensiveness of the heat will generally affect the price of the chair, with cheaper models usually only providing heat to the lumbar region.
Body stretch
The body stretch feature is highly therapeutic, providing instant pain relief through relieving pressure on the spine.
Size
The size of the chair and whether or not it has space saving features (i.e. it can be folded up after use) may also affect the overall price, with larger chairs usually costing more.
MP3 support
With many people wanting to listen to music during their massage, chairs which are MP3-compatible by offering Bluetooth compatibility, an SD card reader and/or USB support may be preferable.
Choose the right supplier
Finding a supplier that meets your needs may depend on the proximity, value and reputation of the business you are considering. In addition, it may be preferable to select a business that offers good product warranties, Australia-wide delivery, and advanced technology.