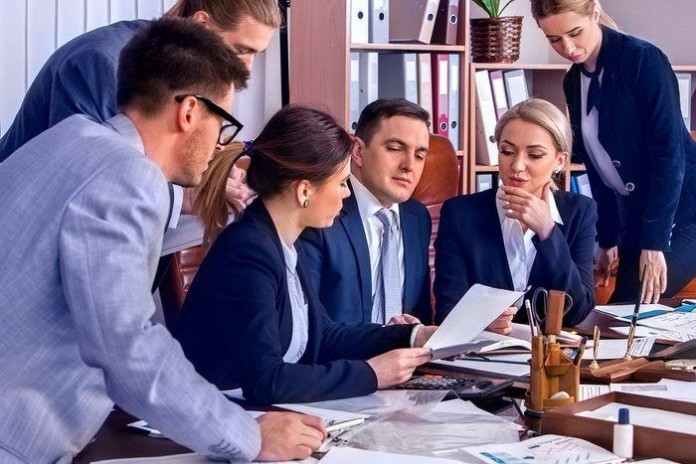 If your business has a website (which it really, really should so you aren't left behind) you need to utilise SEO techniques – either on your own or through an SEO company. SEO makes your business easier for potential customers to find, by increasing your Google ranking, and will increase your sales (if you do it properly).
While you can find plenty of instructions on how to do your own SEO, we recommend using a professional agency for two reasons. Firstly, SEO is such an important thing to get right that you really can't afford to use trial and error tactics – especially since search engines like Google will penalise you if you make big mistakes like keyword stuffing.
Secondly, an SEO campaign takes a lot of time, even for the experts. If you try to do it yourself you will either be taking time away from actually running your business (which only you can do) or significantly cutting into your free time at home.
It is important to make a note about SEO prices. As was said above, an SEO campaign is time consuming and requires a lot of hard work. This means that an SEO company probably isn't going to offer their services for dirt cheap prices.
What are the best SEO companies in Australia?
The top SEO companies in Australia are:
SEO Shark – located in Sydney, Melbourne and Perth
Foxtail Marketing – based in Beaconsfield.
Dejan SEO – based in Sydney.
Below is a list of the top 3 SEO companies in Australia:
Rank
Company
Year founded
Fulltime
employs
Active clients
Major Clients
Costs/pm

1

SEO Shark
2008
29
250+
Optus, Strata Community Australia
$2,000+

2

Foxtail Marketing
2008
24
250+
Tech Crunch
$2,500+

3

Dejan SEO
2000
35
250+
iSelect, Flight Centre
$4,000+
How Much Does SEO Cost?
When it comes to SEO there are usually 3 different ways that agencies will base their prices around. Each pricing strategy has its own advantages and disadvantages for different businesses, so it is important you understand how an SEO company's pricing works so you can make a more informed decision.
Here are the 3 typical forms of SEO prices:
1. Hourly SEO Rates
Usually hourly rates for an SEO service start from $80 p/h and can reach prices as high as $160 p/h.
This is probably the most common method SEO services choose for pricing. It is a common method because it ensures each client has a unique package. High quality SEO firms will get to understand the company first and gauge how much work they think will be required to see results.
In a highly competitive industry for example, more hours per month will need to be spent on a campaign in order to see results in a certain time frame. This pricing strategy also allows for greater flexibility as your SEO campaign changes and develops over time.
2. Monthly Retainers
On average, an SEO retainer will cost anywhere between $2,000 and $4,000 p/m.
This pricing strategy is recommended for businesses who wish to completely outsource their SEO to another business and develop a long term relationship with their SEO company. As SEO should be seen as a long term investment, is it quite a popular option.
The great thing about monthly retainers is that it is a set and forget kind of option. So if you are a highly busy business owner and you trust the work your SEO company can do, this will be the most beneficial and time saving option for you.
3. Pay for Performance
This is the most dynamic and affordable – if the SEO agency doesn't perform (i.e. you don't rank) then you don't have to pay.
Pay for performance is one of the newest SEO pricing strategies that companies are providing, but it is quickly rising in popularity. This is because it almost completely removes the risk to consumers. However, this does place a heavy burden on an SEO agency to provide you with results.
This method can result in SEO agencies taking shortcuts to ensure they are profitable. For example, they could use black hat tactics to boost your ranking or even choose poor, non-competitive keywords that are essentially irrelevant to your business, but are easy to rank highly for – therefore meaning you have to pay.
What is important to understand about SEO is that it does take a lot of work. Therefore quality SEO businesses will not be willing to put in for a cheap price. SEO costs may seem more on the expensive side, especially for small businesses, but there has been research to suggest that it is one of the strategies that has the highest return on investment.
It is a proven long term strategy that will give you the desired results if you stick with it long enough and hire an search engine optimisation agency that are true experts and actually want to see your business succeed, not just in it to make a quick buck.
What are the SEO monthly costs in Australia?
As described above search engine optimisation depends on your budget, on average an SEO campaign in Australia costs $2,500 per month.
Here are average costs per month form best SEO agencies in Australia:
SEO Shark – min. $2,000 per month.
Foxtail Marketing – min. $2500 per month.
Dejan SEO – min. $4,000 per month.
On average, if you are looking for a successful SEO campaign, you will probably be spending min.  $2,000 per month. Be very wary of SEO businesses that offer their services for a couple of hundred dollars. They are probably outsourcing their services overseas and using unreliable and dangerous SEO tactics.
The list of the best 3 SEO agencies: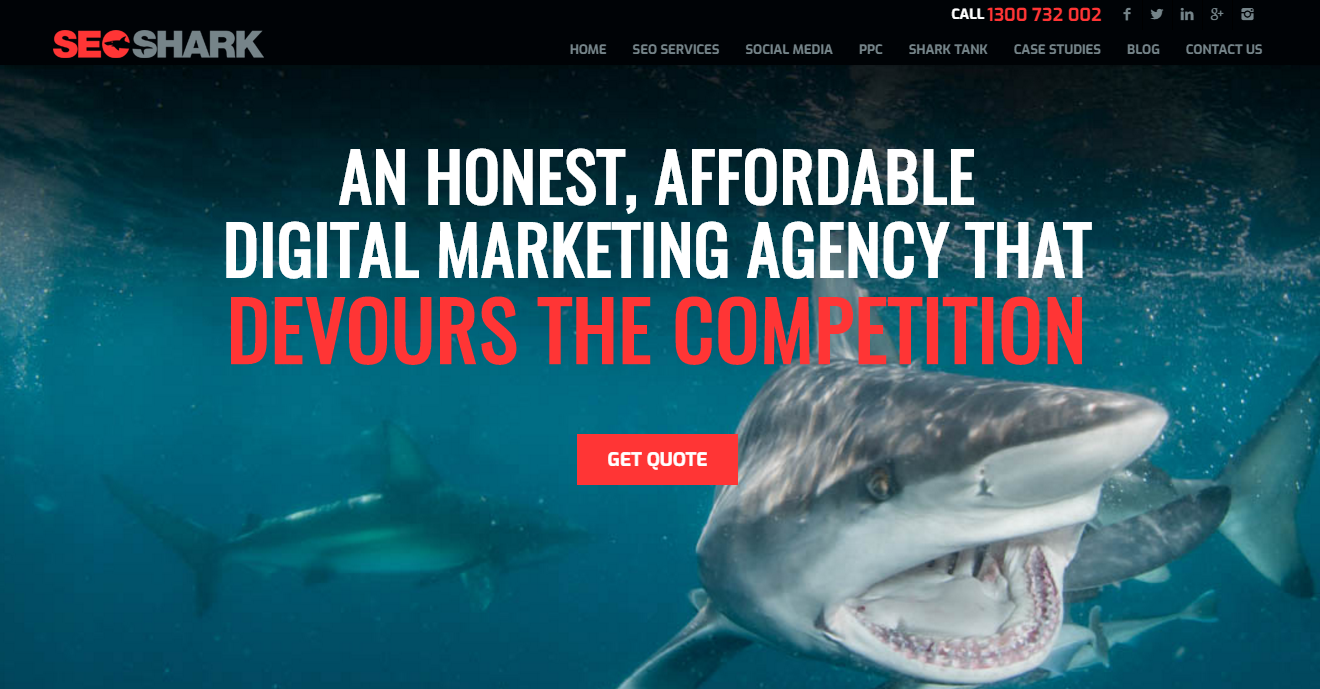 SEO Shark – www.seoshark.com.au is a Sydney based digital marketing firm with offices in Melbourne and Perth, established in 2008. They specialise in moving their 250+ active clients onto the first page of Google for their chosen keywords, in order to increase their exposure and reach more customers.
They have 24 full time employees who are solely dedicated to ensuring the success of every campaign. This is one of the major reasons explaining how they have caught the eye of major businesses including, Optus and Strata Community Australia, who currently use their services.
As a certified Google partner, SEO Shark is a fantastic agency for managing your online marketing campaign – they understand how the Google algorithm works, what will make pages more attractive to the Google search robots and how to best use PPC (pay per click) advertising to boost your traffic.
In addition, SEO Shark offers a series of excellent social media packages designed to increase your online presence and brand recognition. Social media is often under-utilised as a tool by smaller businesses, which see it as primarily a way for larger brands to interact with their customers as a collective group.
However, a well conducted and organised social media campaign which involves posting quality content can be a source of increased interest in your business and traffic to your website. Increasing your traffic will also help your SEO, as a large part of Google's rankings is based on how much traffic a website gets.
PPC (pay per click) is also utilised by SEO Shark, particularly in the initial stages of their SEO campaigns before they have had time to improve your keyword rankings. This is done mostly through Google AdWords, and simply involves your website appearing on the first page of Google results with you paying Google every time someone clicks on the link.
AdWords can be a good way to generate more traffic for your website while you wait for your keywords to climb in the rankings, but you shouldn't have to rely on them forever. SEO Shark aims to both get your business to the first page of Google through an intensive campaign, and then keep you there through regular content posts and link building.
SEO Shark will also help you with on-page optimisation, as well as helping you with keywords and link building. On-page optimisation involves making sure that your website will be liked by Google, which mainly involves making it easier to navigate and use.
Things like making your site mobile friendly, fast loading speed and a clear structure will all help you to get a rankings boost from Google. In addition, making these changes will help your site to be more user friendly and encourage visitors to stay and look through your services, rather than getting frustrated and clicking away.
The keyword strategy utilised by SEO Shark is similar to the one Foxtail Marketing use, however they tend to have a broader strategy in addition to using specific, targeted keywords. SEO Shark also research more competitive, generic keywords for their client's industry and aim to boost their ranking for these, in addition to the more specific terms that are not often searched but that have a high conversion rate.
SEO Shark also creates high quality content for their clients. This will normally take the form of blog posts, however they can also create videos for clients who feel that this is an appropriate path to follow. The content will all be of high quality as this will both enhance the Google ranking of the site and make the website more informative and professional.
To see how SEO Shark operates, have a look at a case study they provide on their website, detailing their SEO campaign for O'Sullivan Legal (a Sydney law firm). The case study shows a very successful campaign, and explains the basics of how SEO Shark achieves their goals.
If you don't have a website for your business yet, SEO Shark can also work with you to make sure that you follow the best practices for ensuring that it is good quality and well ranked from day one.
Without a website, or with a poor website, you will struggle to reach potential customers, so it is very important that you get input from someone who understands web design and the Google algorithm when you set up this arm of your business.
Unlike Foxtail Marketing, SEO Shark does not focus on specific industries. They take on and help clients from numerous areas, and this breadth of experience enables them to plan and deploy quality SEO campaigns when they encounter a new client or challenge.
The best SEO campaigns will combine website optimisation, link building, content writing, keywords, PPC AND social media – and this is what you get with SEO Shark. It may take a few months to start seeing your ideal results, but once you do then your page visitors, enquiries and revenue will all increase.
If you are thinking that SEO Shark is the SEO company for you, then the prices you are looking at are on average $1,500+ per month. This is about the amount you will need to pay to ensure your SEO campaign is actually successful.
Foxtail Marketing – https://foxtailmarketing.com, founded in 2010, is a large digital marketing firm who offer services ranging from SEO to specialised content marketing. They tend to specialise in B2B (business to business) and SaaS (software as a service) marketing, and they have developed very effective techniques for these types of SEO. They have almost 30 full time employees all working towards keeping their 250+ active clients happy.
Regarding SaaS marketing, Foxtail Marketing are experts at helping smaller companies being found amongst the giants like Microsoft and Oracle. They do this by utilising highly specific keywords, so that everyone who finds a software service website is looking for exactly what the company is selling.
For example, rather than suggesting that a company who provides CRM (customer relationship management) software try to beat companies like Oracle, Salesforce and Microsoft on "CRM software" as a keyword, Foxtail Marketing will create multiple specific keywords like "CRM software for hospitals" so that people who need specialised CRM software will find the smaller company who provides it.
Foxtail Marketing also focuses on B2B digital marketing services, with one of their major clients being none other than Tech Crunch. They similarly utilise specific keywords for this, using the logic that a business is likely to have a clearer idea of what it wants before it starts looking for a service than a regular consumer will.
Foxtail Marketing has also developed their own specialised techniques for increasing sales among B2B agencies. Rather than simply creating endless amounts of content and hoping that something works, they work out what kind of content makes sense for your website and business and work on that.
To that end, they do far more than simply write blogs! The Foxtail Marketing team can also make videos and podcasts for your business, as well as eBooks explaining what you do to people who reach your site.
Rather than simply trying to make you easy to find and then hoping some of the people who see your website hire your service, Foxtail Marketing helps people who need your specific service find your website. They also help to make your website informative, easy to use and professional looking in order to convince them to contact you.
Foxtail Marketing also doesn't see keyword rankings as the be all and end all. Of course it is important for your keywords to be on the first page of Google (when was the last time you went beyond the first page of results, for example) but if those results don't convert to increased business then the whole exercise is a waste of your time and money.
The fact is it's easy to increase your search ranking with keywords that almost nobody will ever search for. What makes keywords effective is when they are ones that your target market will search for, and that's what Foxtail Marketing focus on.
Additionally, when you factor in location services, mobile searches and social connections, a website that isn't officially ranked in the top 10 results for a particular keyword can still turn up on the first page of search results.
The Foxtail Marketing team have the experience to know what works and what doesn't, and are fully up to date on all of Google's requirements for SEO practices (as well as Bing's, which is a nice bonus). If you are thinking about choosing Foxtail Marketing, the prices on average are about $4,000+ per month.

Dejan SEO – dejanseo.com.au is another Australian SEO company, founded in 2000, with slightly different focuses to SEO Shark and Foxtail Marketing. In addition to the standard keyword services common to all three firms, Dejan SEO use digital PR to try and get their client's mentioned by journalists or in popular blogs, and offer SEO training services.
They have about 35 full time employees that all work hard to meet the needs and requirement of their 250+ active clients. Dejan SEO takes pride in their work and dedication. This hard work has ensured that they assist major businesses like iSelect and Flight Centre with their digital marketing needs.
Dejan SEO also has a focus on snippet optimisation, to help your website to stand out on the search results page. This will mean that your website gets more clicks from the Google search page, and is a way of maximising your reach even after achieving first page results.
Technical SEO elements like snippet optimisation are a major part of the Dejan SEO strategy, which is designed to increase clicks even if your rankings are not as good as you had hoped. Tactics like this can be effective, but the website still needs to be on page one for them to be really useful.
They also use PPC advertising heavily to boost your traffic. In addition to Google AdWords, Dejan SEO offers PPC services on Yahoo, Bing, YouTube and Facebook. A campaign utilising all of these platforms can be expensive, however it will ensure maximum penetration for your site and, due to the nature of pay per click services, will only really start to cost you if it works.
Just as SEO Shark and Foxtail Marketing, Dejan SEO offers content marketing services in addition to SEO and PPC. Their content is mainly blog based, and they place great stock in writing blogs that will appear trustworthy to your site visitors.
The main point of difference for Dejan SEO is their digital PR. They find something interesting or newsworthy about their client, and then try to get that fact picked up by bloggers and journalists to increase brand awareness for their client. This strategy will ideally lead to people looking for your website and thus increase your number of visits.
Dejan SEO also differentiate themselves by offering SEO training services. They aim to educate entire marketing and PR departments about the benefits of SEO, and to develop a combined strategy. This is especially effective for larger corporations, who will often already have a web design department but might not have a clear SEO strategy or understanding of how SEO can benefit a business.
In addition to the broad education about what SEO is, why it is effective and developing a strategy given to entire marketing departments, Dejan SEO trainers will work with teams within the department to improve their skills and help them to work towards the goal.
In order to do this the trainers will work separately with the social media team, web designers and developers, content creators, PR managers and with any external consultants who are brought in to help.
Dejan SEO is a different kind of firm to SEO Shark and Foxtail Marketing, with a different, more technical focus to their strategy. Their training services are also useful for larger firms, who can be reluctant to outsource web design services.
If you like the look of Dejan SEO and the services they have on offer, then you are probably looking at spending on average $4,000 per month. This is the amount you should be paying to ensure the services are successful.
So there are the top 3 SEO agencies in Australia. No matter what type of services in particular you are looking for, one of these companies is more than equipped to assist you. If you are looking for a comprehensive SEO business then it is certainly recommended that you choose one of these 3 companies.
Disclaimer: This article is a private opinion and does not constitute advice or any suggestion. We encourage you to seek your own professional advice to find out which businesses, products, services, websites or places are the best for you. Read full disclaimer.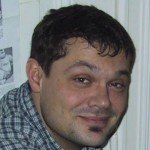 Oliver has over 10 years of experience in marketing, communications and public relations. His primary focus is to drive business growth through increased brand awareness. Contact: [email protected]