If Australia has always been on your bucket list, it's about time you finally visited it and explored its natural wonders! One of the things you must explore is Australia's marine life, so here's a list of the six best places where you can make that happen. Check it out and enjoy!
The Great Barrier Reef: the outstanding diving adventure
Did you know that many people think of reefs as rainforests of the ocean? That's right, and the Great Barrier Reef is no exception to this! This reef system is the largest structure on our planet built by living organisms. Also, it isn't a single reef – it includes over 2,800 individual entities that cover around 350,000 square kilometres. These facts themselves should be more than enough for you to take this wonder of nature into consideration. The Great Barrier Reef prides itself on over 250 shrimp, 400 coral, 2,000 fish, and 4,000 mollusc species. Apart from these, there are also larger species such as sea turtles, dolphins, sharks, and dugongs. This place is a great choice for a marvellous diving adventure all year round, so give it a try and you won't regret it!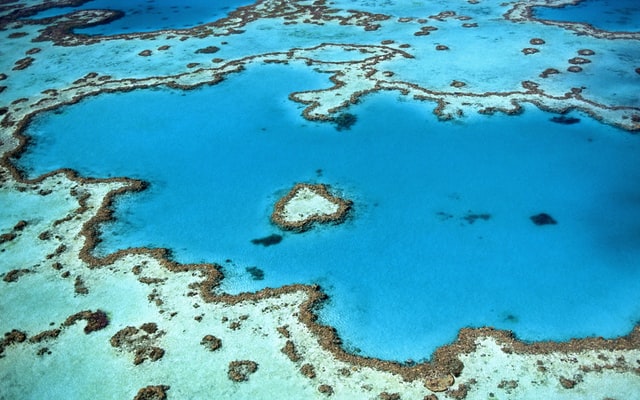 The Neptune Islands: a thrilling plunge with great white sharks
The Neptune Islands are situated close to the entrance to the Spencer Gulf in South Australia. These are very popular all across the globe as a place with great white shark tourism. So, if you want to explore Australia's marine life – with an exciting twist – this is the perfect destination for you! When we say that, we obviously think about watching great white sharks that undoubtedly will get your heart racing. However, you don't have to worry about your safety. You'll be safe and sound in an underwater cage where you'll get a chance to see these predators that can grow up to 4.5 meters in length! Remember that you don't need to have any experience with scuba diving to take a plunge with great white sharks. Bear that in mind and go for an adrenaline rush you'll never forget! 
Sydney: the extraordinary whale-watching experience
If you've always been intrigued by whales, we must say that you should definitely go for an extraordinary whale-watching experience. In case you didn't know, tourists from all over the globe simply adore exciting whale watching in Australia. We highly recommend opting for a cruise in Sydney. It is the perfect place to experience the southern hemisphere humpback migration, so don't wait and book your ticket. There will be around 30,000 whales migrating this year. This is a quite shocking number – especially because these incredible creatures were almost hunted to the point of extinction 40 years ago. This cruise will take around 4 hours, which will be more than enough to enjoy the outstanding view and see whales in their natural habitat!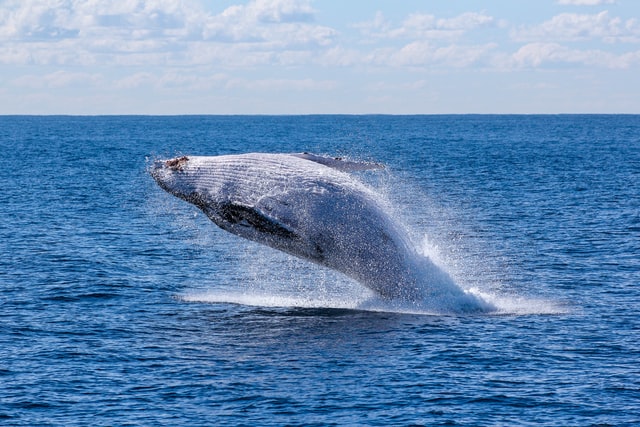 Port Stephens: ride the waves with dolphins
On the other hand, if you think that sharks and whales will be a bit too much for your personal taste, you should opt for a close encounter with dolphins instead! That's right, so go for an exciting adventure 150 km north of Sydney and explore this area that is also popular as Australia's 'dolphin capital'. That is because this harbour is home to over 140 bottlenose dolphins. So, if you're up for a magical swim with these intelligent mammals, be sure to head straight to Port Stephens. This is the only place in New South Wales where you can swim with dolphins on an organised tour. If you choose to visit a different part of Australia, you'll find such tours in Bunbury, 170 kilometres south of Perth, and in Port Phillip Bay, south of Melbourne!
Montague Island: an exciting get-together with seals
Did you know that Montague Island actually is a national reserve? We bet you didn't, so do your research on this destination as soon as possible! Montague Island National reserve is situated on the far south coast of New South Wales. This is a truly incredible location you'll instantly fall in love with. Aside from its picture-perfect environment, this place is also famous for Australian fur seals. That's right – fur seals in Montague Island are the largest of their kind in the world. Well, that's a good enough reason to visit this island, right? You can visit this place any time throughout the year to meet the fur seals and possibly have a close encounter with them. However, if you want to see humpback whales in these waters, too, make sure to visit this place between May and November!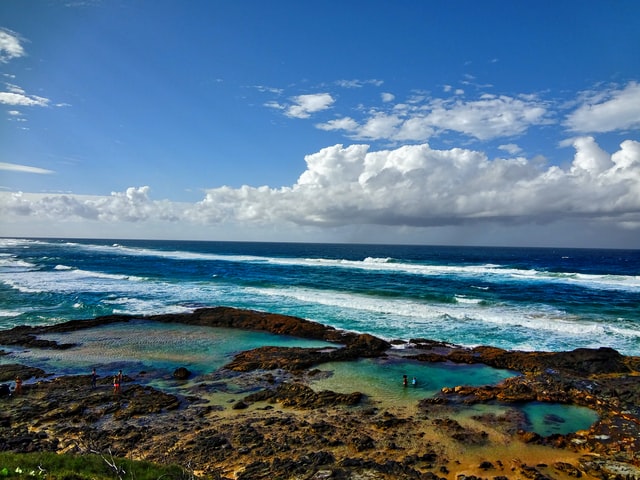 Fraser Island: a relaxed fishing session at the beach
Last but certainly not least, we mustn't skip Fraser Island that unquestionably is one of the most beautiful places to visit when touring Australia. With its 1.849 square kilometres, this is the largest sand island in the world. In fact, it's a 120-kilometre long beach, so wait no longer and plan your visit to this gorgeous island! There are many great things that'll make your visit truly awesome. Some of them are sand dunes, tidal pools, and fascinating shipwrecks. All of these will make your trip unforgettable – as well as a relaxed fishing session at the beach! This island is a top spot for beach fishing, especially when it comes to tuna, mackerel, bream, whiting, trevally, sharks, and many other species. Just remember that fishing in the island's streams and freshwater lakes is prohibited!
As you can see, there are so many amazing places in Australia when it comes to enjoying marine life to the max. These six undoubtedly are the best ones out there, so bear them in mind and give them a fair shot. One thing is certain – you won't regret whichever destination you opt for!