Below is a list of the top and leading Hypnotherapy Services in Wollongong. To help you find the best hypnotherapy services located near you in Wollongong, we put together our own list based on this rating points list.
Wollongong's Best Hypnotherapy Services:
The top rated hypnotherapy services that offers the best services and outcome are:
Illawarra Hypnotherapy
Healthy Hypnosis
Poetry of the Soul
Illawarra Hypnotherapy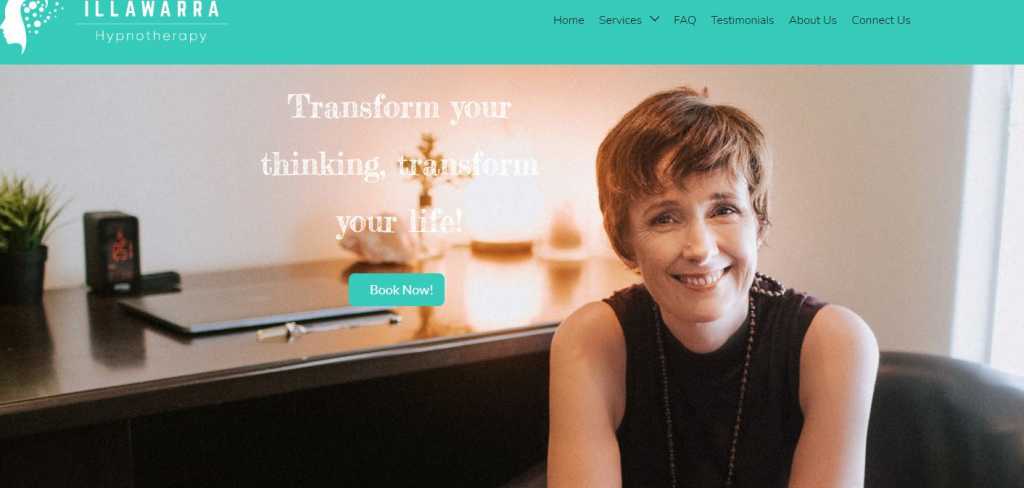 Illawarra Hypnotherapy three years ago, having worked extensively with people wanting to lose weight, Anne Goodall became fully aware that if you want to change your body weight or really win the battle with anxiety then the solution is a combination of brain and gut health. It became very obvious that giving people meal plans, setting them goals and giving education on what to eat, simply wasn't enough. Most people cannot stick to a regime or program for a prolonged period of time. So, what's going on? Why as a population are they struggling more today with anxiety, stress, weight issues and addictions than any time before. How come they know more but seem to be able to achieve less. Why is it with all the knowledge that is now available, that it appears to be still as difficult to handle the stresses of life. Part of the problem is that they are largely not working with the part of the brain that is the 'boss'. The area responsible for all of unconscious habits, processes and actions is 'unconscious mind'. She went back to further her studies in Strategic Psychotherapy and Clinical Hypnotherapy with one of Australia's leading education providers the Institute of Applied Psychology. She also completed her Nero Linguist Programming (NLP) and Time Line Therapy course to Master Practitioner level with the US founder of Time Line Therapy Dr Tad James.
Products/Services:
Intuitive Eating, Science and Dieting, Deal with Anxiety, Deal with Gambling, Compulsive Behaviour, Deal with Smoking, Build Self Confidence
Location:
Address: 60/62 Harbour St, Wollongong NSW 2500
Phone: 1300 463 084
Website: www.illawarrahypnotherapy.com.au
Review:
"Five stars is not nearly enough for my review. I would give Anne a galaxy of stars for always knowing exactly what my soul needed. I am so grateful to have crossed paths with such a kind and wonderful woman and I couldn't recommend Anne enough – I just wish I'd seen her sooner! "-Shannah Louise
Healthy Hypnosis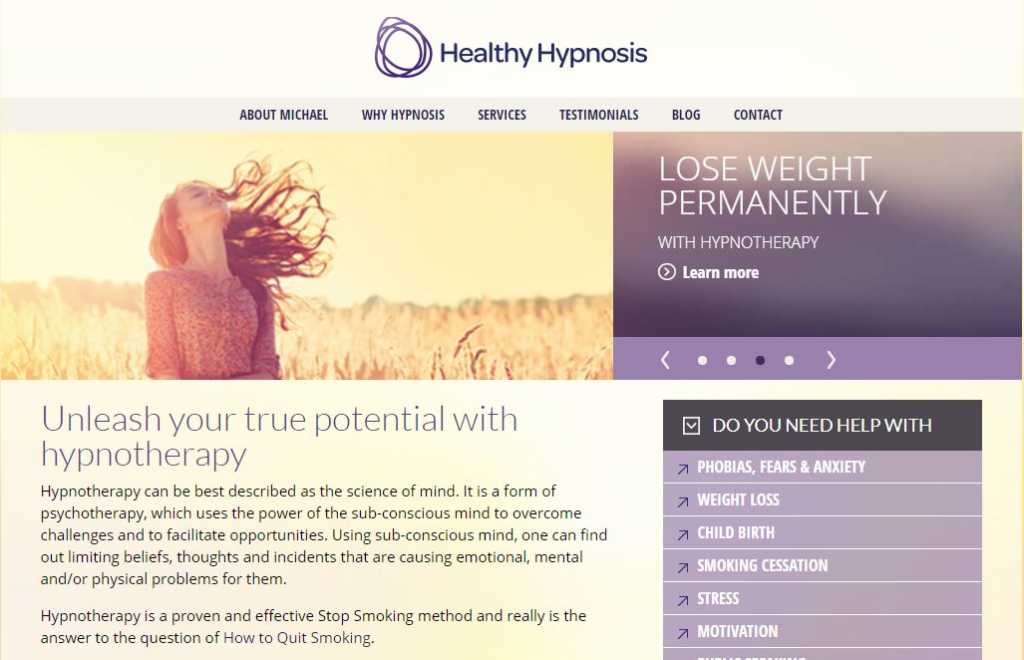 Healthy Hypnosis being a Clinically Trained Hypnotherapist and having a diploma in Neuro-Linguistic Programming is validation for a long period of time for the hypnotherapy road traveled previously. Michael Haber remember clearly his first course for hypnotherapy, as exciting as it was once the 2 day course was complete, it left me with more questions than answers. After paying just $125 and two days later he was certified? What? This allowed him, to start seeing people? Crazy! It definitely sparked his interest however, did little to comfort him in understanding what it was that he was doing? This, unfortunately for a lot of people that are in this kind of profession is as far as they have progressed. Partly because the industry is self-operated at a Clinical level and no further request from those that are not clinically trained.
Products/Services:
Phobias, Fear and Anxiety, Weight Loss, Child Birth, Smoking Cessation, Stress, Public Speaking, Insomnia and Sleep Disorders, Self Esteem and Gain Confidence
Location:
Address: Suite 1/15 Cedar Terrace, Woonona NSW 2517
Phone: (02) 8005 7080
Website: www.healthyhypnosis.com.au
Review:
"I am more than happy with my results after seeing Michael. I will be recommending him to my family and friends without hesitation."-Toni Worth
Poetry of the Soul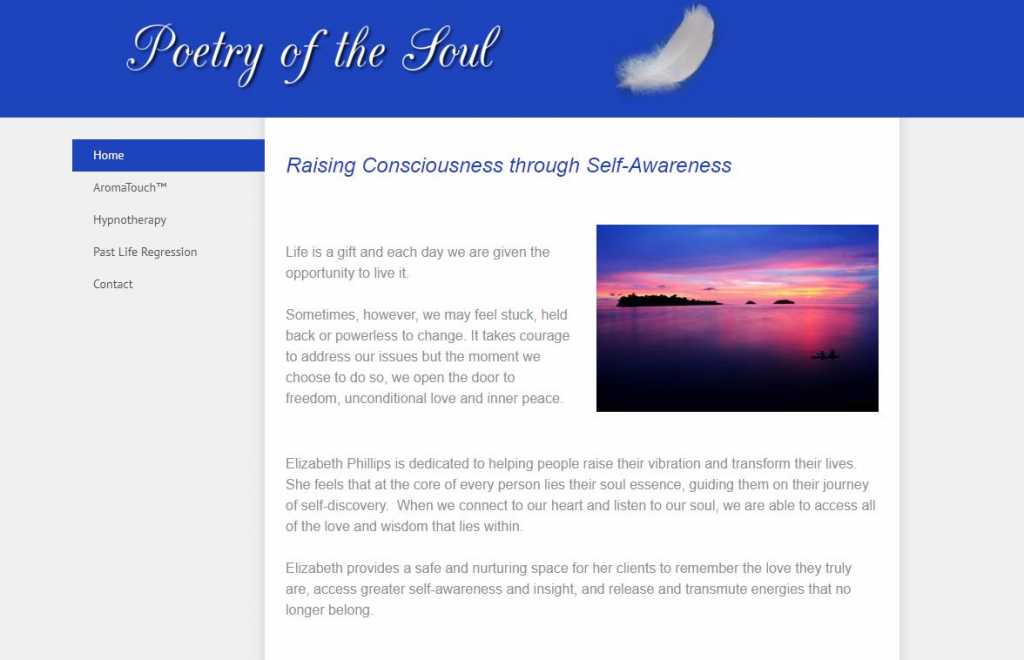 Poetry of the Soul Elizabeth Phillips is dedicated to helping people raise their vibration and transform their lives. She feels that at the core of every person lies their soul essence, guiding them on their journey of self-discovery. When you connect to your heart and listen to your soul, you were able to access all of the love and wisdom that lies within. Elizabeth provides a safe and nurturing space for her clients to remember the love they truly are, access greater self-awareness and insight, and release and transmute energies that no longer belong. ​
Products/Services:
Aroma Touch, Understand and Balance Emotions, Improve Motivation, Confidence and Self-Esteem, Reduce Stress and Anxiety, Break Habits and Addictions, Discover Life, Purpose/Direction, Overcome Fears and Phobias
Location:
Address: Bellambi NSW 2519
Phone: (02) 433 787 717
Website: www.poetryofthesoul.com.au
Review:
"This was my first time doing hypnosis and it was amazing. Elizabeth is fantastic to work with and I would highly recommend her. She does great work if you are trying to lose weight or quit smoking. But we worked some big issues I was having at work and the change has been miraculous."-Tanya Giddings