Home
Authors
Posts by Tony Taylor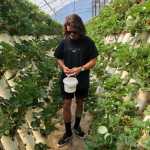 Customer service representative at 
SleepX Australia
, student and live music enthusiast.
Streaming giant Netflix will expand its catalogue of animated films, this time from Japan's legendary art house Studio Ghibli. 21 features will be added...
Martha Stewart gave some sort of a backhanded comment when she was asked about her thoughts on Goop's "This Smells Like My Vagina" candle. The...