Home
Authors
Posts by Hania Syed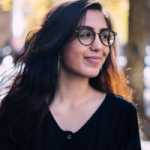 Hania is a Melbourne-based writer currently blogging at www.mydeal.com.au. When she's not blogging, you can find her with her nose buried in a book or exploring Melbourne's foodie scene.
Jennifer Connelly is taking on the love interest role once again in the forthcoming Top Gun: Maverick. Now, the actress is sharing what it's like...
Lili Reinhart gushes about working with Jennifer Lopez and Cardi B in the forthcoming Hustlers movie. The Riverdale star plays Annabelle in the film...