Officewear says a lot about a person's character as well as about their attitude towards work. Starting from the first job interview and going all the way to your actual work position, the way you dress for work will impact your career and the way others perceive you as well.
Therefore, it's essential that you know exactly what dress code your company requires you to follow so that you can dress accordingly. Whether it's business formal, business casual or a mix of the two, you'll need a few guidelines to help you find your way around dashing officewear that will help you leave a good impression on everyone.
Business casual
Business casual still has to maintain a certain dose of formality, regardless of the fact that it's casual wear. You're still supposed to look serious, trustworthy and professional enough for the job, so don't think you should wear sweatshirts, sneakers or jeans, just because the dress code says casual. Stick to the classic, crisp, and neat clothing, and avoid anything that is too tight. Long or short-sleeved collared shirts, as well as polo shirts,  are something you should definitely consider, just make sure you stick to classic colours. Light blue solid and white are the safest choices, while a conservative-striped shirt can look refreshing too.
Even though shirts don't necessarily have to be tailored, they should still look form-fitting without being too baggy. Anything slack and loose won't look professional. Avoid shirts with logos, or words and prints on the front, and always tuck them in your trousers. A corduroy jacket, a navy blazer, a conservative and solid-coloured V-neck sweater, a tweed sports coat will all go amazing with your trousers. Neatly pressed cotton, gabardine or khaki pants are all good choices, as long as you keep them appropriately hemmed, so they rise past your ankles when you sit and don't touch the ground when you walk. Aim for maintaining a smart, streamlined look even when the dress code says casual.
Business formal
When it comes to business formal, you'll need to bring out your best suit game and always look sharp. A well-tailored suit, a tie, dress slacks as well as dress shoes are inevitable parts of business formal attire, so long as they're not too loose or too tight. They should be snug enough to fit your figure, without feeling constrictive. One of the best ways to make your suit look like it's been made exactly for you is to invest in made to measure suits and have a personalized suit that will be tailored to your physique. Pastel shirts in solid colours or with subtle stripes will look great with your black, grey, or a navy-blue suit. A tie should match your shirt or your pants, ideally both.
Avoid loud colours, and go for conservative hues with simple designs. Some people might find brightly coloured ties too distracting or off-putting. The bottom corners of your tie should go just above the top of your belt, and it's imperative that you don't leave the tie too short. Trousers should sit tightly around the waist, and always above the hips. Saggy dress pants will look unprofessional, so make sure they're the right size.
Mix and match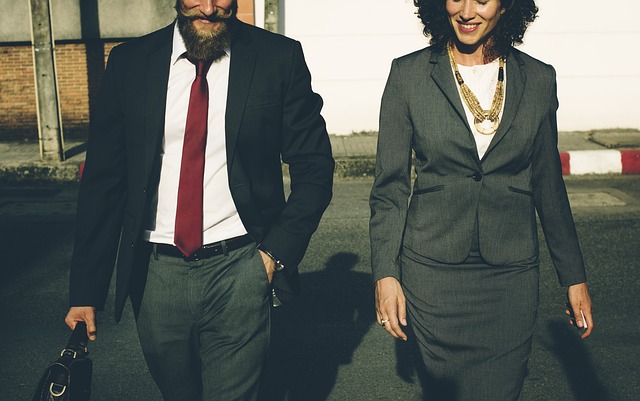 If you'd like to mix and match simple with classic, you can go for a single-breasted suit and turn it up a notch with the use of colour and pattern. Try matching a brightly coloured shirt with a simple suit to add a bit of interest to it. Alternatively, mix a pinstripe, or check suit with a plain shirt and tie. As long as it's simple and classic, it'll be business appropriate.
If you'd like to match smart separates, instead of wearing a complete suit, pair a smart jacket with a more casual pair of chinos. Complete the look with a shirt and if you're aiming for a casual workwear look, leave the tie out. To pull off a relaxed look, you can also swap the shirt for a fitted crew neck T-shirt. Add an element of informality with a roll neck, while still maintaining the professional appeal. If your workplace allows jeans, feel free to dress them up with a white shirt and crew neck jumper. Create an easy smart casual look by pairing dark blue slim fit denim jeans with Chelsea boots and an Oxford shirt.
Accessorise
A classy watch will always make a nice addition to your work attire. However, don't go too far by investing in a shiny gold watch just to show off, because this type of accessory shouldn't be put on display at your office. A black or brown leather belt with a standard size buckle is all you need to make that suit look sharp and your entire outfit professional. A briefcase is always an appealing accessory, but it does not have to cost you a fortune. As long as it looks like it's meant for an office, it'll be appropriate. If you're accustomed to a backpack, this will be the perfect opportunity for you to say goodbye to that type of bag, and embrace the new business bag.
Final thoughts
Dressing up for work may seem like a challenge, but with a few ground rules, you'll have no trouble matching all the main pieces together to pull off the perfect officewear. Just make sure your clothes are well-fitted, not too flashy and always ironed, so that you can look professional, serious and trustworthy.